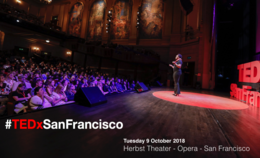 TEDxSanFrancisco is a full day of live TED talks and performances in the heart of San Francisco with inspirational speakers in the field of tech, science, philosophy, design and entertainment. Since 2016, it is a yearly event with the recurrent theme DareToKnow.
October 9th will be a day when we push the frontiers of our knowledge and guide you through an evolving mesh of ideas and practices, a rich mix of citizens, scientists and culture and where you will make lifelong connections with fellow idea explorers.
Speakers
Speakers may not be confirmed. Check event website for more information.