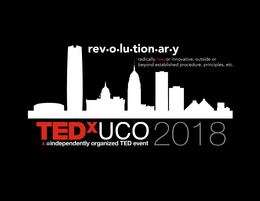 We are excited to announce our TEDxUCO 2018 theme is REVOLUTIONARY! This year we are focusing on out the box talks, innovation driven presentations, and radical ideas. Tickets will go on sale Wednesday, August 22nd!
Speakers
Speakers may not be confirmed. Check event website for more information.
Antoniette Castillo
Antoniette Castillo
Bucky Dodd
Bucky Dodd, Ph.D. is the Chief Learning Innovation Officer and Director of the Institute for Learning Environment Design at the University of Central Oklahoma. Dr. Dodd is an innovator, master teacher, and visionary of the future of education. He holds a Ph.D. in Education from Oklahoma State University and graduate and undergraduate degrees in Adult Education and Corporate Communications and maintains an active research and development agenda in these areas. As a prolific writer, teacher, and speaker on the future of education, his research focuses on visualization, innovation, and the design of learning environments. Dr. Dodd is the creator of Learning Environment Modeling™, an award-winning visualization system for the design and evaluation of learning experiences, and has been recognized internationally for his research and design expertise. He has a proven record of leading innovation initiatives in corporate, government, and education organizations and is consistently sought out as a thought leader on the future of learning.
Catelin Morris
Catelin Morris is currently a senior at UCO. Aside from attending the University, Catelin is also involved with the Miss Oklahoma Organization, and currently holds the title of Miss Nichols Hills. Through her social impact initiative, A D.O.S.E of Prevention: Combatting America's Opioid Epidemic, Catelin aims to bring awareness to the importance of narcotic safety. Her efforts have lead her to work closely with the Oklahoma Bureau of Narcotics and The Oklahoma Commission on Opioid Abuse. She currently serves as an ambassador for Oklahoma's narcotic take-back program, "Safe Trips for Scripts", which provides Oklahoma's with a safe and effective way to dispose of expired and unwanted medications. Most recently, Catelin has partnered with the Children's Hospital to help infants born into drug dependency. Catelin also teaches a suicide prevention program to middle school and high school around the state. Her mission is to help bring an end to the epidemic claiming thousands of lives yearly while also rallying for adequate funding for mental health and substance abuse services.
Debbie Ozment
Dr. Debbie Ozment has been a private-practice dentist since 1985 and is founder of Oklahoma Dental Wellness Center. A graduate of Oklahoma University College of Dentistry, she served as adjunct faculty there for seven years. Dr. Ozment completed a Masters' degree in Metabolic and Nutritional Medicine from the University of South Florida Morsani College of Medicine and is a Diplomate with the American Academy of Anti-Aging Medicine. Trained at Mayo Clinic, she is a Nationally Board Certified Health and Wellness Coach.
Jesus David Muñoz
Jesus David Muñoz is a salsa dancer, instructor, latin percussionist and choreographer based in Oklahoma City. At and early age he began his training as a Latin percussionist in Denver. He was exposed to Latin dancing at local band gigs and he immediately take on Latin Dancing as his biggest passion. Soon after, he began traveling to learn from professional dancers. He constantly travels to Miami and New York to learn the roots of Salsa such as Afro-Cuban, Rumba, Son, Mambo, Cha-cha-cha, Pachanga and Boogaloo. Jesus David has played along side Tito Puente Jr. and has trained with artists such as, Marisol Blanco, Franklin Diaz, Tropical Gem, Yamulee, Sekou McMiller, Marco Ferrigno, Terry SalsaAlianza, Alma Latina, Charlie Garcia, Eddie Torres and Vanessa Lacedonia. He is currently working on his B.F.A dance major (Ballet, Modern and Jazz based program) at the University of Central Oklahoma.
Mike Knopp
A passion for rowing and paddling and a vision for bringing national and international sports to the Oklahoma River have been the driving force behind Mike Knopp's leadership in developing the Oklahoma City rowing and paddling community, the Boathouse District, national and international sporting events, and ultimately, the master plan development of the Oklahoma River. Originally a practicing attorney, Mike left his legal career in 2003 to establish the Oklahoma City University varsity rowing program and assume the position of executive director of the Oklahoma City Boathouse Foundation. In just over a decade, Mike has led Oklahoma City to the forefront of the national and international rowing and kayaking communities while also developing significant community interest and participation in the sports.
Rosemary Nyirumbe
Sister Rosemary Nyirumbe, a Catholic nun whose humanitarian work has drawn the attention of Bill and Chelsea Clinton, Forest Whitaker and other high-profile supporters, has dedicated her life to helping girls formerly held captive by warlord Joseph Kony and the Lord's Resistance Army. A native of Paidha, Uganda, she began serving the people of her country after joining the Catholic order of the Sacred Heart of Jesus in 1976. As director of St. Monica's since 2001, Sister Rosemary has given hope to more 2,000 young women, many of whom were abducted, raped, tortured and forced to kill their own family members as soldiers in Kony's army. In addition to providing a safe harbor for the former abductees, who are often shunned and persecuted by the people of their own villages, she has given them a way to support themselves through job training in tailoring, catering and other skills. Currently, approximately 250 girls and 250 children live at St. Monica's. Sister Rosemary also oversees a second school in Atiak, Uganda.
Samuel Corrales
Samuel Corrales is a classically trained contemporary dancer, choreographer, and instructor based in the OKC Metro. He will complete his B.F.A. in Dance Performance from the University of Central Oklahoma come December 2018. Proficient in Ballet, Modern, and Jazz techniques, he favors Dance Improvisation and Aerial Dance. During his undergrad he has had the privilege of training under guest dance masters such as Desmond Richardson (N.Y.C.), Chip Abbott (N.Y.C.), Mike Esperanza (N.Y.C.), Noa Shiloh (Tel Aviv), Christina Woodard (L.A.), Kellie St. Pierre (L.A.), James Gregg (L.A.). He was a member of the UCO Spectrum Dance Ensemble for 3 performance seasons. Samuel enjoys spending his time out of the studios volunteering. He is a proud brother of Tau Kappa Epsilon Fraternity — Epsilon Sigma Chapter. Upon graduation he has plans to move to NYC and begin a longterm professional dance career.