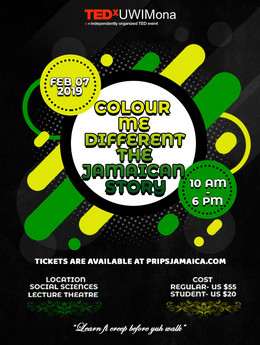 This event will welcome you as you are, with opinions, beliefs, and ideas (your colour) and we aim to show the world the people of Jamaica and their stories and ideas and we hope that after attending the event you will be coloured differently with new ideas, perspectives, and understandings of Jamaica and its people.
Speakers
Speakers may not be confirmed. Check event website for more information.
Andre Haughton
Lecturer and CEO of Scarce Commodity
Andre Haughton is a Senior Lecturer at the UWI. He earned his PhD from the University of Essex. He is KPMG Peat Marwick, Thomas De La Rue& a British Commonwealth Scholar. He is also an IMF Distinguished Academic Fellow& the UWI Most Outstanding Researcher 2017 for the Faculty of Social Sciences. He is the founder& CEO of Scarce Commodity a firm that markets& provides technical support to the Caribbean's Cannabis Industries. He was honoured as the Most Outstanding UWI Alumni for the decade 1999-2008. He is Member of the Private Sector of Jamaica Economic Policy Committee& publishes an article in the Jamaica Gleaner, that simplifies& opens for discussion, economic issues affecting Jamaica& by extension the Caribbean. He is the founder of the Valley Foundation a charity organization that provides resources for at-risk youth across Jamaica. He is the Author of Developing Sustainable Balance of Payments in Small Countries: Lessons from Macroeconomic Deadlock in Jamaica: Palgrave 2017.
Christopher Tufton
Minister of Health
Dr Christopher Tufton was appointed Minister of Health in Mar 2016 following his election as Member of Parliament in 2016. He served as minister on 2 previous occasions, as Minister of Industry, Investment & Commerce from June to December 2011 & Minister of Agriculture & Fisheries from Nov 2008 to Jun 2011. For his impact on the agricultural sector he was named by the Jamaica Gleaner as Man of the Year for 2010. He served as the Co-Executive Director of the Caribbean Policy Research Institute, a UWI Think Tank, while also serving as an Opposition Senator (2012–2016). He is a business strategist with expertise in International Business & Marketing Strategy. He has lectured & conducted business consultancy in Jamaica, the UK and the USA. A graduate of the University of the West Indies & Georgia State University, he received degrees in Management Studies & Marketing respectively. He completed his Ph.D. in Business Administration at the University of Manchester, UK in 2002.
Floyd Morris
Lecturer, Political Communication Specialist, Disability Advocate, Motivational Speaker, CARICOM Special Rapporteur on Disability, and Director of the UWI, Mona Centre for Disability Studies
Floyd developed glaucoma in 1983 at age 14& it led to his blindness at age 20. He decided that he was going to reclaim his life& sought assistance from the Jamaica Society for the Blind where he learnt to read& write Braille. He sat& successfully passed 7 O & A' Level exams. He moved on to the UWI to pursue a BA in Mass Communication, then his MPhil in Government& recently completed his PhD. He was called to national duties in 1998 when he became the first blind Senator in Jamaica. He was appointed a Minister of State in 2001, re-appointed to the Senate in 2012& was promoted to the position of President of the Senate in 2013: the first person with a disability to occupy this high office in Jamaica& was again reappointed as a Senator in 2016. Floyd is also the author of 'By Faith, Not By Sight' a book that chronicles his life. He is the 2012 recipient of the Prime Minister's Life-Time Award for Excellence in Disability Reform& the 2017 Jamaica Gleaner Education Personality of the Year.
Kenia Mattis
Founder, CEO of ListenMi
Kenia Mattis is a founder of ListenMi, a creative design lab using animated storytelling& technology to create immersive experiences that inspire social change. ListenMi reinvests part of its profits into producing original projects such as League of Maroons, a digital graphic novel, part ad proceeds of which have been contributed to Jamaica's indigenous people. She was the Spark the Fire Pitch Winner at the 2016 Global Entrepreneurship Summit at Stanford University, hosted by President Obama. She was also the awardee of the Development Bank of Jamaica's Ignite Grant that same year. She has been developing Mek, an online adventure platform for Kid Inventors, tailored to improve their creativity& caring. She secured a bilingual MBA in Marketing in 2009& was a marketing manager& consultant. A creator at heart, she is a published songwriter& lyricist for global reggae artistes such as Etana, Romain Virgo, Andrew Tosh& featured on the Grammy-nominated album, Kingston Morning by Dave Eggar.
CEO of University & College Ambassadors
Kristofferson is the 25 year old CEO and co founder of UCA Youth Marketing. In only a year, he has become a Prime Minister Youth award Nominee, speaker and mentor and now leads a company of Youth-minded individuals who are quickly disrupting the ever-changing social sphere. By 23, Kristofferson had completed his Bachelors in Economics & Statistics. While at UWI, he was the past president of the Entrepreneurship club, and having the pleasure of being invited to the Young Leaders Initiative by Barack Obama. Kristofferson is often asked, why he does it. Unlike a lot of his entrepreneurial peers, it has very little to do with projecting his image into the public sphere. He does this, to prove to his 18 year oldself, that it can be done. You can pull yourself from some of the darkest places, both mentally and physically. If you have the right drive and determination, it can be done.
Krystal Tomlinson
Author, Communications Consultant, Entrepreneur, Internationally Ranked Speaker, Self-Management Strategist and Mother
At just 28, Krystal is a power-broker& thought leader with a career that spans the fields of media& comms, social entrepreneurship& politics. Her Professional Development& Productivity Training clients include some of the leading Financial Institutions& Government Agencies in the Caribbean. She has engaged thousands of students in high-impact motivational& training sessions. She holds certification from Australia's Curtin University in Reputation Management in a Digital World& The Science of Happiness certification from UC, Berkeley. She was ranked the #1 Public Speaker in the world (2011-2012) by the World Universities Debate Championships-the 1st woman in the Caribbean. She is a former Ms.Jamaica Festival Queen& is the CEO of the Centre for Self-Management& Founder& Lead Mentor for Teens on Purpose. A newly minted author, her book Kill Fear: The Art of Courageous Living looks at our 3 biggest social fears& provides emotionally intelligent strategies to inspire bold& purposeful living
Melanie Wynter
Co-founder and Head of Elizabeth Sloane & Company Limited
Melanie Wynter has 18yrs of Business& people management experience& has sourced, structured, managed, and/or invested in over 8 lower middle market transactions with a total enterprise value of over $450 million. She started her career as a Ship Navigator in Canada& in 2014 she returned home& cofounded Elizabeth Sloane and Company Limited, a business development company in Kingston, Jamaica. In 2017, she cofounded Jamaica Rural Youth Foundation which provides positive opportunities to Rural Youth of Jamaica, in career& professional acceleratation, breakfast feeding& mentoring. She has served as senior management for over 11+ companies with revenues of between $10mil-$250mil annually. She is also the founding Partner of iSAN. She is a former member of World Economic Forum Global Shapers Kingston Hub. A holder of an Officer of the Watch Ship Navigation license, a certified business development expert, an Advanced Sales Management Certificate& Lic. Degree in Marine Navigation Technology.
Nicholas Kee
Executive Director of Next Gen Creators
Nicholas learned how to code at the age of 12 yrs old. Since then, he has grown into becoming a computer programmer, serial entrepreneur & innovator. Since the beginning of his career, he has worked on projects in the realm of Artificial Intelligence, Virtual and Augmented Reality & Blockchain. He has launched companies in the sectors of education, big data and 3D & 4D printing. He has had the honor of working with NASA, CERN, Red Cross International and the United Nations on renewable energy-related projects and policy reform. He is now the Co-Founder and Executive Director of Next Gen Creators, a non-profit organization aimed at promoting technology and tech-entrepreneurship for youth in the Caribbean. Nicholas is also the Jamaica Youth Ambassador to the Commonwealth & primarily focuses on Economic Development & Opportunity, Technology & Education. In his role, he highlights the importance of technology & digital literacy in societies of developing countries in the Commonwealth.
Rene Williamson
Management Consultant, Educator and Chemical/Biomedical Engineer
Rene Williamson has more than 14yrs experience in teaching& scientific research. At Cambridge, he studied the evaporation of liquids from a fluidized bed which could lead to improved design of hospital beds for burn patients. At Yale, he developed one of the first acoustically active polymer particles capable of delivering drug& genetic materials in vitro& in vivo. At NYU, he developed a novel molecular imaging nano-particle capable of multi-modal imaging using a biodegradable polymer& a patented targeting technique. He has worked with a team to develop the first prototype for a vascular access device that will reduce the need for re-intervention surgery for patients who suffer from end-stage renal disease. He led the establishment of the Biomedical Eng Program at UTT, the 1st in the Caribbean. He has BA/MEng/MA degrees in Chem. Eng. from Cambridge Uni, MSc in Eng. & Applied Science from Yale, PhD in Biomedical Eng. from Yale& did his Postdoctoral Fellowship at NYU School of Medicine.
Co-founder and Head of The Leap Co.
Saffrey is the CEO of a Jamaican based social enterprise start-up which acts to build the capacity of anyone seeking to implement inclusive& market-driven solutions to triple bottom line challenges. Considered the architect& leader of the social enterprise movement in Jamaica, she designed& implemented the first social enterprise franchise in Jamaica, followed by the first social enterprise incubation programme in the Caribbean, which is credited as the catalyst for the rapid growth& expansion of the social enterprise sector. Saffrey was elected Chairperson of the CVSS in 2017& is the VP for North America& Caribbean for the ICSW. As someone who is purpose-driven, she has always aligned her values with her work& ensures that her efforts result in positive change for the communities with which she works. She believes that change must be sustainable and that sustainability is achievable. Creativity, innovation& grit are required to achieve a transformed, sustainable& inclusive society.
Santana Morris
Executive Director of Jamaica Intensive Reading Clinic and President at the Kiwanis Club of Young Professionals, Western Jamaica.
Santana Morris is a Jamaican educator, education development specialist& Jamaica Youth Ambassador to the UN. She earned a diploma& B.Ed. at Shortwood Teachers' College& her Master's in Management from the University of Technology, Jamaica. She earned a Professional Certificate from the International Centre for Parliamentary Studies in Strategic Economic Diplomacy. Despite her vocational responsibilities as Services Manager for a Caribbean based organization, she finds time to serve the wider community. She has been closely connected to literacy education over the years, having served as the organizer for three annual Summer Reading Camps across Jamaica, an initiative that impacts over two thousand children annually. She recently published six literacy books to help children develop critical thinking skills. She is a recipient of the Governor General's Achievement Award, Prime Minister's Award& the 30 under 30 Emerging Leaders Award.
Stephen McCubbin
Founder & CEO - Cheer Sensation JA Ltd
Stephen McCubbin, born and raised in the volatile community of Jacques Road, was a child with a penchant for trouble who would see to rise to become Founder & CEO - Cheer Sensation JA Ltd, Co Founder - Impactiv Brands, Prime Minister's Youth Awardee for Excellence - Youth Development, Ardenne Alumni Association Board of Executives, Disciplinary Mentor Ardenne High School, Program Advisor - Jamaica Constabulary Force Community Safety and Security Branch and Cast of Talk Up Yout S8. A slew of accolades and a redemption story quite like no other, Stephen has overcome adversity, donship and garrison politics to be a pillar, youths of similar backgrounds can look up to and believe that their goals and dreams are attainable.
Creative Director, Designer, Photographer and Videographer
Yannick has been the Creative Director for Jamaican Reggae artiste Protoje since 2014, however, he also freelances and does a great deal of work for a variety of clients. He was influenced by art from an early age. His father is a renowned Photographer and his mother is an exceptional Interior Designer. His natural abilities were bolstered by the movies and music he consumed as a child. He always had an overwhelming desire to recreate enduring pieces of art. He is a graduate of the Edna Manley College of Visual and Performing Arts (EMC) where he earned a B.A. in Fine Arts specializing in visual communications. Prior to enrolling at EMC, he worked at the 2008 staging of Reggae Sumfest, this experience afforded him the invaluable hands-on experience that undoubtedly shaped his creative prowess. He has a passion for creating work that impacts viewers, this passion motivates him to focus on multiple mediums of art thus creating pieces that transcend time and manmade barriers.