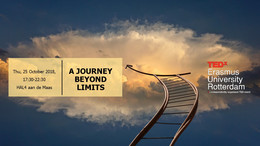 RSM brings you one of the most anticipated events of the year. The annual TEDx event. This year's theme will be about 'A Journey Beyond Limits', focusing on a wide array of topics ranging from social psychology to blockchain to robotics and the future of mobility and transportation. Speakers list to be shared shortly.
Speakers
Speakers may not be confirmed. Check event website for more information.
Ananda Groag
Ananda Groag is an independent expert in smart, sustainable and share mobility, who wants to invite people to open their minds and think outside of their fixed patterns. She is passionate about how we move. She believes mobility is the network through which we connect to the rest of the world, not a mere question of getting from point A to B. "We are all in the driver seat to transform our own worlds."
Arvid Keemink
Arvid Keemink is an assistant professor at the department of Biomechanical Engineering at the University of Twente, the Netherlands. He is specialized in the control and mechanics of exoskeletons that support movements of the human body.
Arwen Smit
Arwen Smit founded several blockchain companies, including DOVU and MintBit. She believes that decentralised technologies will be the foundation of new economic and political models. She writes and speaks about blockchain internationally, is an advisor to Tomorrow's Journey, and mentor to female entrepreneurs at Rotterdam School of Management, London Business School and Berkeley University.
Bart van Riessen
Bart van Riessen works for Hutchison Ports Europe Container Terminals (ECT) Rotterdam, responsible for the development of digital information services for the container supply chain. He has worked on integrated transportation services, called synchromodality, since 2013 and did his PhD research on the same topic. During these years, Bart developed several mathematical models to address practical issues of implementing synchromodality.
Filip Vermeylen
test
Test. Licensee needs to fill out
Iris Casteren van Cattenburch
Iris Casteren van Cattenburch is a communications strategist and entrepreneur, holding a PhD in Shakespeare and Sustainability from Utrecht University (2015). She advocates the effectiveness of allegory and how Shakespeare can be applied to topical business challenges today.
Jan-Peter Doomernik
Jan-Peter (JP) Doomernik is a serial co-creator, exploring disruptive powers that will be beneficial for our society. He looks for disruptions before they happen, in order to protect and design critical infrastructures. Together with the nature2.o community (http://nature2.ooo) he explores and builds ecosystems deemed unimaginable by most, but which can be beneficial for society. As a track-host of the world's largest AI and blockchain hackathon (http://odyssey.org), he helps/enables the participating teams to focus not only on technology, but also on the belief systems driving change. Playing with paradigms, asking crazy questions and building the unimaginable are his biggest passions.
Maaike Hakker
Maaike Hakker is a girl in the world of technology and she is passionate about the future of transportation. She has had one passion since she was young: building something that improves the world. Which is why she is part of a team that is inventing one of the newest ways to move people and goods around. Maaike is working with cutting edge technology: high speed energy efficient, frictionless transportation.
Matthieu Campion
Passionate about technology and its impact on people and the way they live, Matthieu Campion spent his 15-years career in the automotive industry, either working for car manufacturers or technology suppliers. He is especially interested in the role of cares in our lives, and how our perception of these products is fundamentally changing with the computers increasingly taking the wheel.
Maurice Taylor
Maurice Taylor is an industrial designer currently working on how to make people move faster in the sporting goods industry. "Life requires movement". Being a designer by trade, he is passionate and relentlessly dreaming about the future.
Rodolfo Groenewoud-van Vliet
Rodolfo Groenewoud – van Vliet is co-founder of In4Art, an organisation that creates space for artistic experimentation and translates this into responsible innovations that will benefit our future society and economy.
Toby Newman
Toby Newman is Learning & Development Lead in a leading technology company. His goal is to take you on a thought-provoking journey in which you have to ask yourself: just because science allows you to do something, did you stop to think if it should be done?