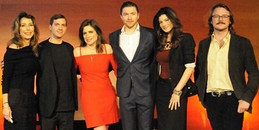 In the spirit of ideas worth spreading, TEDx is a program of local, self-organized events that bring people together to share a TED-like experience. At a TEDx event, TEDTalks video and live speakers combine to spark deep discussion and connection in a small group. These local, self-organized events are branded TEDx, where x = independently organized TED event. The TED Conference provides general guidance for the TEDx program, but individual TEDx events are self-organized (subject to certain rules and regulations).
Speakers
Speakers may not be confirmed. Check event website for more information.
Social entrepreneur and designer
Katherine Parr is a social entrepreneur and designer. She works with artisans and farmers globally to bring her luxury designs and products from developing countries to developed markets. She is a graduate of Villanova University School of Business. She began her career as a fashion model and spent five years as a schoolteacher in an inner city.
Cultural producer and advisor, lecturer, writer, and curator of contemporary art
Lauren Prakke founded Restless Buddha -cultural producers and advisors working on projects across a broad spectrum of the arts to embrace its power to raise social awareness. Ms Prakke is a lecturer, writer, and curator of contemporary art, a theatre producer and a social activist with a focus on the womens issues. She founded and chaired The Tate Young Patrons at The Tate from 2007-2012. She proudly served as co-chair of The Women for Women International Leadership Circle in the UK for 8 years. She was chairman of The Whitechapel Patrons 2012- 15. She was an Interest Rate Swaps broker on Wall Street NYC and in The City in London. She also holds degrees BA/ MA in 19th Century English Literature and in Contemporary Art.
Artist
Massimo Agostinelli is an Italian American, London born artist from Manhattan New York, now living and working in Switzerland. Graduated from Webster University whilst pursuing apprenticeships in typesetting and typography as well as other forms of printmaking processes. Agostinelli specialises in drawing, painting and printmaking, primarily working with 'text art' using various forms of 'word play'. Incorporating found objects and performance art installations. Focusing on traditional and innovative cutting edge technologies using a wide variety of mediums and techniques within a diverse spectrum of crafts. Agostinelli is also a founding patron of the Zeitz Museum of Contemporary Art Africa and partner of Menē.
Nicolas Niarchos
Fact checker
Nicolas Niarchos is a writer who lives in Harlem. For the past half-decade, he has worked as a fact-checker. Much of that time has been spent working at the New Yorker's fact checking department. His work has been published by the New Yorker, the Nation and the New York Times.
Gallerist
"my love for art was passed on to me by my family. Avid collectors, they instilled in me great admiration for the old masters, endless curiosity for the new and an insatiable appetite for the treasure hunt. Our house was always open to artists. I didn't develop a formal education in art, I developed an instinct and a passion for it at a very young age. After graduating from Uni, I went on to work in corporations, but as the art world became more dynamic, I found myself wanting to follow my own aesthetic compass and explore the incredible potential for renewal offered by new social interactions, technology and pop culture. This is how I came to create HG Contemporary at a captivating moment in art history. I feel truly privileged to be doing what i am doing and to have built relationships with some of the most provocative and rawest talents of today." In addition to owning the gallery, Philippe is actively engaged in non-profit work.
Authority on Latin American politics and security
Dr. Vanessa Neumann is president of Asymmetrica, a political risk firm with a specialty in Latin American politics and security. Asymmetrica is a member of the Global Counter-Terrorism Research Network (GCTRN) for the UN Security Council's Counter-Terrorism Committee Executive Directorate (CTED). She is the author of Blood Profits (2017, St. Martin's Press; its Brazilian Portuguese edition: Matrix, November 2018), and co-author of The Many Criminal Heads of the Golden Hydra (May 2018). Dr. Neumann served four years on the OECD's Task Force on Countering Illicit Trade. She holds a Ph.D. in political philosophy from Columbia University, and fellowships at Yale University, Columbia University and the Foreign Policy Research Institute. She was the academic reviewer for USSOCOM's ARIS Series teaching manual on counterinsurgency (COIN) in Colombia, and is advising Venezuela's Interim President Juan Guaidó's team. She is a widely sought speaker.