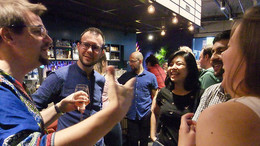 You are cordially invited to the next TEDxTheHague salon! Our July edition — themed What's The Problem? — is curated by TEDxTheHague:
"Everybody loves answers. Unfortunately, that very tendency can prevent us from coming up with truly delightful ideas. When faced with a problem, we tend to stop as soon as we think we've found an answer. So let's stay with the problem for a while. It could cause a lot of solutions."
We'll explore this theme by watching and discussing the following videos:
Alejandro Sánchez Alvarado: To solve old problems, study new species
Nature is wonderfully abundant, diverse and mysterious — but biological research today tends to focus on only seven species, including rats, chickens, fruit flies and us. In this visually captivating talk, Alvarado calls on us to interrogate the unknown and shows us the remarkable discoveries that surface when we do.
Tom Wujec: Got a wicked problem? First, tell me how you make toast
Tom Wujec loves asking people and teams to draw how they make toast, because the process reveals unexpected truths about how we can solve our biggest, most complicated problems at work. Learn how to run this exercise yourself, and hear Wujec's surprising insights from watching thousands of people draw toast.
James Veitch: More adventures in replying to spam
James Veitch has spent years doing the tireless, thankless work of replying to spam emailers so you don't have to. He returns to TED to tell the tale of yet another spam email adventure, this time with a vital lesson attached: How to annoy your way off any spammer's mailing list.
David Grady: How to save the world (or at least yourself) from bad meetings
An epidemic of bad, inefficient, overcrowded meetings is plaguing the world's businesses — and making workers miserable. David Grady has some ideas on how to stop it.
RSVP if you want to attend
We hope this theme will resonate with you, awaken your curiosity and make you decide to attend TEDxTheHague. To stimulate conversation, we admit up to 25 guests. If you want to be put on our final guest list, please RSVP. First-come, first-served!
We look forward to a stimulating evening filled with spirited conversation and new discoveries.
Don't miss it, till TEDx!