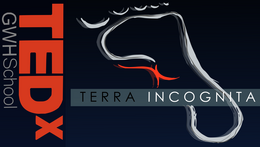 In the spirit of ideas worth spreading, TEDx is a program of local, self-organized events that bring people together to share a TED-like experience. At a TEDx event, videos of TED Talks and live speakers combine to spark deep discussion and connection in a small group. These local, self-organized events are branded TEDx, where x = independently organized TED event. The TED Conference provides general guidance for the TEDx program, but individual TEDx events are self-organized (subject to certain rules and regulations).
TEDxGWHSchool 2018 was a TEDxYouth event hosted at the Greenwood High International School campus on August 18, 2018 for 100 high schoolers.
Our theme, 'Terra Incognita - Unknown Odysseys' stemmed from the idea that the world around us is full of unknowns, and navigating these unknown paths can seem intimidating. After all, if there is one constant in life, it is its unpredictability. Through our speakers, we hoped to bring out the notion that embracing the unknown is not necessarily a bad thing.
Speakers
Speakers may not be confirmed. Check event website for more information.
Bhaktha Keshavachar
Founder & CTO of Ezetap
Founded in 2010, Ezetap is a startup based in Bangalore delivering a complete mobile payment solution, from hardware to mobile app to cloud software. Ezetap enables merchants and individuals to accept many forms of payments through app, web or a convenient API, and also provides a rich set of services which reduce friction for the merchants and increase the value of the transaction for the merchant and the end consumer. Bhaktha started Ezetap from scratch and has taken it through angel and three rounds of institutional funding. As CTO, he led the architecture and development of the flagship mobile payment product.
Dr. Sudeshna Adak
CEO & Director at OmiX Research and Diagnostics Laboratories Pvt. Ltd.
Dr. Adak is an independent consultant and entrepreneur in clinical diagnostics, genomics and bio-statistics. With over 20 years of experience, she has previously been an R&D Manager at GE Healthcare and an Assistant Professor of Biostatistics at Harvard University. She obtained her PhD in Statistics from Stanford University in 1996.
Ganesh Kohli
Chair, International Career and College Counseling Conference
Ganesh Kohli is a teacher and counsellor who has founded, nurtured and led multiple education focused organizations over the past 20 years. An engineer by education, Ganesh started his career teaching Mathematics and helping families find the best fit education globally for students. His journey has led him to visit over 450 universities, present workshops at 300+ high schools, help 4000+ students with higher education decisions and present at numerous global conferences. In 2015 Ganesh envisioned the IC3 Movement to impact 175,000 high schools over the next 15 years. Serving as the Chair of IC3, Ganesh has helped build a platform that is providing much needed focus on career and college counselling within high schools. The IC3 Movement now attracts leaders from 500+ educational institutions to its Annual Conference, has 30 regional events across Asia and supports free education for school teachers to become trained career and college counsellors.
Kiran Anandampillai
Founder & CEO, Drishti
Kiran is a telecom engineer and was a founding member of OnMobile, a company spun out of Infosys. He helped build OnMobile from a 10 people startup to over 1200 people with revenues over 550 crores. He quit OnMobile in Dec 2010 to work on projects that deliver social impact. He was a Technology Volunteer at UIDAI until August 2012. Drishti is a social impact enterprise that provides affordable eye care in under-served markets. Drishti is currently setting up hospitals and vision centers in markets that have limited or no provision for eye care.
Rakesh Mishra
Angel Investor, Life-rebuilding Coach, Startup Game Planning Coach & Corporate Venture Consultant
After 6 years of personal coaching for senior professionals for corporate to startup transition, Rakesh realised something deeper and concerning going on with professionals in the 40+ age group that is silently disturbing their personal and professional lives. He curated a life-rebuilding program that has been working well for many professionals. The second core dimension of his professional life is startups. Rakesh works as advisor and coach to startup-founders and helps them navigate the early developmental journey of the venture. He also helps institutions and corporates build and operate best-in-class startup engagements. This coaching assists startups in building high-impact stories, appropriately highlighting the significance of their solution and getting business case right for potential investors and corporates.
Satadeepa Som
Consultant Psychologist
Satadeepa currently works at the Department of Psychiatry, MVJ Medical College and Research Hospital. She also consults privately at Caveo, Geriatric Counseling Centre and is a certified adolescent counselor. Her research interests lie in the areas of sleep related disorders and lifestyle hazards, having presented papers at international forums. She also takes keen interest in employee wellness and behavior in the field of organization/industrial psychology.
Somya Suri
Co-Founder of Gubbachi Learning Community
Somya moved into education, after a career in consulting in the garment manufacturing sector, to understand and contribute to equitable education of the under-served. She has been working with a team of academicians and practitioners in creating and disseminating knowledge of educational change to various stakeholders and geographies in the country.