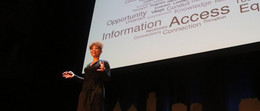 In honor of Reentry Awareness Month, TEDxPhiladelphiaSalon is hosting a 2nd salon-style conversation on criminal justice reform and reentry, featuring guest speaker, Luis Gonzalez. Come join community members and experts to explore how policy, criminal justice, poverty, and systemic racism intertwine and impact the lives of those incarcerated, their families, and their communities - and what we can all do about it.
Evening Schedule:
6pm: Doors open, pizza, and drinks
6:30pm: Welcome and TEDx video screening
7pm: Luis Gonzalez
7:30pm: World cafe-style community discussion session
8pm: Discussion harvest
8:30pm: Community networking
9pm: Close
This conversation invites community members, activists, the formerly incarcerated, and local leaders to come together to learn, discuss solutions, and mobilize action toward positive change in Greater Philadelphia. We hope to see you there!