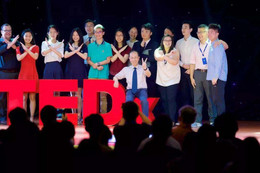 Just look to history, Thomas Jefferson Once said Our greatest happiness does not depend on the condition of life in which chance has placed us, but is always the result of a good conscience, good health, occupation, and freedom in all just pursuits. As for our speakers, besides happiness, six speakers will tell you about their ideas and experiences towards pursuing.
Speakers
Speakers may not be confirmed. Check event website for more information.
Guming Xia
Center Principal
Mr. Guming Xia was the Center Principal of Hangzhou Foreign Languages School Cambridge A-Level Centre, an expert in education.
Hengyi Xu
Student
In this world, some species are born with the advantage of "congenital learning". Is this a kind of injustice? What is the meaning of exploration to surroundings and ourselves humbly? I hope you can find the answer from my speech.
Ke Xue
Student
Humanity matters to me as i regard justice and fairness as a perpetual quest of myself and the society. transnational crimes like human trafficking camouflaged themselves under pretty lies. i hope that my speech could raise public awareness and educate those who lack knowledge about global crimes.
Yanshi Wu
golf amateur
I always believe that we all share something in common——we all have our beloved, and it inspires us with something similar——the pursuit of being different. I was once playing on courses in St.Andrews, I was also struggling with time management from time to time, but above all, golf had taught me something far more precious.
Yuxin Ying
Student
Resilience cycle is a concept in positive psychology, which illustrates different stages we are going through in the face of adversity. In today's world where pressure from all areas of life disturbs us oftentimes,keeping a grateful and resilient mind paves us a way to thrive.
Zihang Xia
Bitcoin Investor
I am strong!!! The virtual currency represented by bitcoin may completely change our consumption patterns and habits in the future. Its origin, development, merits and demerits are the problems I have further discussed.