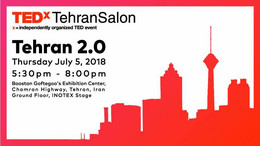 Tehran is the capital of Iran. With a population of around 8.8 million in the city and 15 million in the larger metropolitan area of Greater Tehran, Tehran is the most populous city in Iran and Western Asia, and has the second-largest metropolitan area in the Middle East. It is ranked 29th in the world by the population of its metropolitan area. Supporting the transportation of the locals, Tehran's transportation system includes conventional buses, trolleybuses, bus rapid transit (BRT), taxis, railway and subway systems.
Having all this, Tehran suffers from severe pollution. Our big and beautiful city is screaming for help and needs all of its inhabitants take part in a game-changing initiative. Together, we can upgrade Tehran's version, making it Tehran 2.0.
Speakers
Speakers may not be confirmed. Check event website for more information.
Founder & CEO at Peeyade
Born and raised in Tehran. Moved to Canada when she was 18 to start her bachelor's program in Geotechnical Engineering at the University of British Columbia. During her undergraduate years, she spent a semester on exchange in London, UK and a semester in Toronto, Canada, where she first started exploring cities and connecting with the endless possibilities that they had to offer. She then moved to Manhattan, New York to start a masters program in Architecture and Urban Design at Pratt Institute. However, after initiating Peeyade in 2015 during her first year at school, she decided to withdraw and dedicate her full attention to the project. Since then she has been a full-time CEO at Peeyade and has decided to dedicate her life to the empowerment of citizens in the making of their cities.
Reyhaneh Vahidian Sadegh
Urban Researcher
She was graduated in master of urban design from IUST. She especially concentrates on social, innovative & technological aspects of Urban Issues and now work as Head of City Innovation & Technology Center at Tehran Municipality. Her research abstract was published by Cambridge University Press in Urban Planet, Knowledge towards Sustainable Cities book as title "The Shift in Urban Technology Innovation from Top-Down to Bottom-Up Sources". She was introduced as a Selected Researcher by UN-Habitat and participated in The City Iranians Need project as Urban Thinker. She was referee for Iran Municipalities Competition in field of Smart City at Iran Smart City Summit. Also, she is Co-founder of Wise Up Community that organized Wise Up Breakfast. Indeed, she was organizer of SWTehran Woman's Edition and mentor of SWTehran Social Innovation & SWUrban.
Shadnaz Azizi
Urban Thinker
Shadnaz Azizi is an urban thinker, deeply interested in management during change. She is Local Pathways Fellow at UN SDSN Youth. She was a consultant to UN Habitat's National Urban Campaign in Tehran, having contributed to the release of the book "The City Iranians Need" and she has obtained her Ph.D. through her authorship of the book "Innovation and Urban Liveability". Shadnaz is currently involved in the project "Move Humanity" a new global initiative of UN SDSN to raise philanthropic funding for the SDGs, while serving as the Lead Socio-Ecologist in Negin Shahr Ayandeh Consulting Engineer Co.
Organizing team
Baharan Molaie

Curation

Davoud Elmi Ghiasi

Team member

Farokh Shahabi

Partnerships/Sponsorship

Golbahar Shakerin

Team member

Hafez Jokar

Team member

Hasan Noori

Team member

Hesam Sanei

Team member

Mohsen Adli

Team member

Narges Hajifathaliha

Team member

Parsa Salamipour

Operations

Tadeh Alexani

Team member