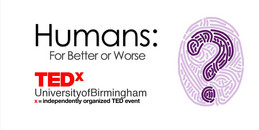 We want to create an event which focuses on humans and our impact on each other, the world around us and the past, present and future. Our TEDx event will host a range of TEDx speakers on this theme from a variety of different academic, cultural and sociological backgrounds. We really want to make our event as engaging and wide-ranging as possible to generate interesting and thought-provoking discussions
Speakers
Speakers may not be confirmed. Check event website for more information.
Aaron Jones
Physics PhD Student
Aaron is a PhD student at the University of Birmingham who has worked in collaboration with Leon Trimble to create the Gravity Synth.
Deborah Youdell
Biosocial scientist
Professor Deborah Youdell investigates politics through analysis of everyday life, drawing upon a variety of philosophical thoughts to investigates the practicalities of teaching in a progressive way. Her most recent studies investigate the biosocial that is ,the interdisciplinary application of biology and sociology, in order to address how inequalities are connected to subjectivities, everyday practices, pedagogy, institutional processes and policy.
Conservational Innovator and Designer
Duncan is a designer and engineer based in London, with interests spanning data driven and computational design, artificial animal products, and cradle to cradle sustainability. He is currently based in London, working as the Co-Founder of abnormal, an algorithmic art and design studio. As part of his work, Duncan has developed the concept of Augmented Nature, described as 'a set of robotic tools that help animals adapt to the mass extinction'.
CEO and Cultural Innovator
Gary Topp is CEO of Culture Central, a development agency for creative organisations in Birmingham and the surrounding area, encouraging collaboration between different cultural entities. Recently, Gary was appointed as Honorary Professor of Cities and Cultures at the University of Birmingham in recognition of his groundbreaking work on the secondary status of the cultural sector in city-building. He believes that cultural institutions and organisations are vital to city-making for the 21st century, contributing to the city's narrative as much as economics, sustainability, democratic politics, digitisation, and infrastructure.
Hamid Dehghani
Professor of Medical Imaging
Hamid is Professor of Medical Imaging in the School of Computer Science and the Healthcare Technologies Institute and Leader of Horizon 2020 project, BitMap (Brain injury and trauma monitoring using advanced photonics). Professor Dehghani works with diffuse optical imaging of breast tissue to identify cancers, neonate brains, and adult brains after traumatic injury.
Jenny Phillimore
Professor of Migration and Refugee Integration
Professor Jenny Phillimore is a world leading scholar on Migration at the University of Birmingham. Her work focuses on refugee integration, super-diversity and access to social welfare with a particular focus on public health. Currently she leads the international SEREDA project which aims to understand the incidence and nature of sexual and gender-based violence experienced by refugees who have fled conflict in the Levant Region.
Leon Trimble
Artist
Leon is an artist working predominantly in Birmingham, with a particular interest in synthesising art and science, which has led him to develop the Gravity Synth instrument with Aaron Jones.
Marianne Wade
Reader in Criminal Law and Co-Director (Law)for the Centre of Crime, Justice and Policing.
Speaking about the challenges for law protecting key facets of and liberties faced with the complexities of modern life. Her work focus on transnational crime particularly terrorism and trafficking human beings, cross-border criminal justice cooperation and rights within such contexts and the potential of true citizenship to provide solutions.
Nikk Effingham
Philosopher of Time Travel and Senior Lecturer
Dr Effingham is Senior Lecturer and Head of Research in the School of Philosophy, Theology and Religion at the University of Birmingham. Nikk's main research interests are in metaphysics, philosophy of time (predominantly time travel), philosophy of religion, and philosophy of epidemiology. He is currently finishing a book on the philosophy of time travel, arguing that whilst time travel may be logically possible, we should never, ever expect to see time travel take place.
Rob MacKenzie
Director of Forest Research
Professor MacKenzie is the Director for the Birmingham Institute of Forest Research (BIFoR), with a specialist interest in atmospheric science, focusing especially on how plants affect air composition. BIFoR are conducting research focused on two challenges: the impact of climate and environmental change on woodlands; and the resilience of trees to pests and diseases. As a result, Rob will be talking at TEDx about the future of forests, and how forests are being used as part of the grander global strategy to manage climate change.
Tom Sperlinger
Pioneer of Higher Education Reform and English Scholar
Professor Tom Sperlinger is a scholar of English Literature and Engaged Pedagogy at the University of Bristol. He helped to develop the 'Foundation in Arts and Humanities' course at Bristol, and recently co-authored 'Who Are Universities For?' which argues for a radical shake-up in how we organise higher education, with the whole population studying at university but in different modes and at different times of their lives. His interests include radical models of access to education, new curricula, community engagement with research, the role of universities in society and how literary works are read in different contexts.
William Chaplin
Astrophysicist and NASA Mission Leader
Dr William Chaplin will be speaking about the impact of the sun on our every day life on earth. Leader of the programme of the NASA Kepler Mission devoted to the asteroseismic investigation of solar-type stars, managing and coordinating the work of 170 international scientists. As part of this project, his work involved listening to the sounds of the stars and using this data to deduce information about the environment of stars and their impacts on nearby planets. He has co-authored over 150 research papers in scientific journals, in the fields of solar and stellar physics.