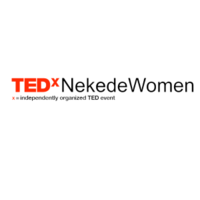 TEDxNekedeWomen provides a stage for women who are working hard to change their community and the world through their work. At our TEDxNekedeWomen event, TEDTalks video and live speakers will combine to spark deep discussion and connection in a small group.
Speakers
Speakers may not be confirmed. Check event website for more information.
Chioma Ngaikedi
Creative Writer
Chioma Ngaikedi is a poet, a creative writer and a filmmaker. She is the CEO of Ixora Productions Ltd and the author of Sahara's Claws.
Ekenedirichukwu Ahaneku Blasingame
Founder of BLAS Initiative
Ahaneku Ekenedirichukwu Blasingame is a Nigerian doctor in training. He is the founder of BLAS Innovative Minds (BLAS Initiative), a social enterprise building leaders and ambassadors of standard through education. He is an emergency health care and cancer advocate, UNICEF primary health care youth leader, YaLa young leader and a member of Pan African universities Debating Council. He currently serves as the Director, Standing Committee on Professional Exchange , Nigeria Medical Students Association(NiMSA) and volunteers with Breast Cancer Association of Nigeria (BRECAN).
Engr Cosmas Ifeanyi Nwakanma
Lecturer, Federal University of Technology Owerri
Engr. Cosmas Ifeanyi Nwakanma (ND, MSc, MBA, MCPN, MNSE, MNIM, C.Eng) is a lecturer at Department of Information Management Technology and Center for Entrepreneurial Studies, Federal University of Technology Owerri
Theodora Isola
Information Systems & Tech Strategist
Theodora is the Founder/Team Lead at TivaCreatives, Product Manager at Touchabl Pictures, HealthTech Writer at FemTechNg, a Board Member at NodejsAfrica, a two-time independent organizer for Women in Tech Week, Port Harcourt and a volunteer at the StartitUP Show. Her work daily involves researching, strategizing, designing roadmaps and working with teams to build efficient Software Products that users love. She is passionate about building/promoting new "stuff": products, markets, and business relationships as well as empowering and teaching youths digital skills, helping them start an Information technology career.