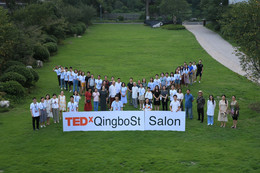 For thousands of years, cultural practices and lessons have been taught and passed down through generations. Hardships and prosperity have acted to sculpt these into examples such as Zhejiang School of Guqin, Ten Bamboo water-woodblock printing, the court embroidery of Hangzhou, etc. It's difficult to distinguish whether Hangzhou city makes these into cultural heritage, or whether the cultural heritage has created the city.
People often seem to forget that romanticism is a strong compulsion amongst human discourses, people find that in this world which is becoming increasingly disintegrated, they want to preserve the most vulnerable thing.
"Throughout the long river of time, romanticism has been forgotten as a part of humanity", we have found some people that show "the desire to save the most vulnerable things in this disintegrating world."
Today's people are still walking on the same road as people were walking thousands of years ago. Even though we understand that the effects of time wash away most of history, we still believe that some can outlast the erosion of time and thus we attempt to preserve the unseen Hangzhou.
Speakers
Speakers may not be confirmed. Check event website for more information.
Junyue Xu
Representative inheritor and professor
Xu Junyue, Master of Guqin of the China Conservatory of Music, was born in a Guqin family. He is the representative of Hangzhou G20 and Hangzhou City Propaganda Films. He is currently a master supervisor of Zhejiang Music College, a representative inheritor of Zhejiang Intangible Cultural Heritage Zhejiang Guqin, Honorary Chairman of the Australian Chinese Music Association and President of Xihuqin Society. He has communicated and cooperated with artists around the world such as those come from Europe, America and Germany, and held personal concerts and lectures. He is the author of the book of Zhejiang Guqin Art, and he is the composer of Lakeside Maple and West Lake Dream Search etc. He was reported by a numerous media such as CCTV and was named one of the 2011 China Four Artists of the Year by the American Robb Report. In 2014, he was awarded the Asian Art International Communication Award by the Asian Art Education Association.
Lizhong Wei
Representative inheritor and curator
Wei Lizhong, good at painting, carving, photography, is also a printmaker and representative inheritor of the national Intangible Cultural Heritage Ten Bamboo Hall Woodblock Printing. The master supervisor of Chinese ancient books protection research institute of Fudan university, the instructor of Woodblock Printing Center of national library, the curator of Ten Bamboo museum in Hangzhou , the teacher of Ten Bamboo woodblock experience center at Hangzhou Changjiang Experimental Elementary School . Mr.Wei , as an excellent folk talent, is a member of Hangzhou Democratic National Construction Association.
Wenhui Liu
Entrepreneur
Wenhui Liu, engaged in art painting and design after graduation in 2004, worked in Shanghai Yipin International Design Group from 2005 to 2007, and he was appointed to work in Southeast Asia in 2007-2012. After he was back in 2016, he took a master's degree at the China Academy of Art, studying traditional painting art. meanwhile, he founded Wanfeng bookstore culture brand and established his own traditional Art factory, engaged in the production of miniature models of ancient architectural art, as well as design and research and the development of traditional cultural wood art.
Yijun Zhao
Representative inheritor
the inheritor of Hangzhou court embroidery, disciple of Zhang Jinfa, a member of Hangzhou craft and art and Zhejiang civil artist association, distinguished teacher of China Academy of Art and Hangzhou Normal University Qianjiang College, representative inheritor of Intangible Heritage Project. Master of Hangzhou arts and crafts. He has created many works about Buddhism theme, and his representative works are Vairocana, Sutra of the Buddha of Limitless Lifespan, Amitabha Sutra, Samantabhadra Bodhisattva, etc. These works won many prizes and are colloected by many institutions. In 2013, his own embroidery exhibition held in Dharma Hall of Lingyin Temple was extensively influential. In 2014, he edited the material—Hangzhou Court Embroidery Originated from the Southern Song Dynasty, which has been a reference for teaching.