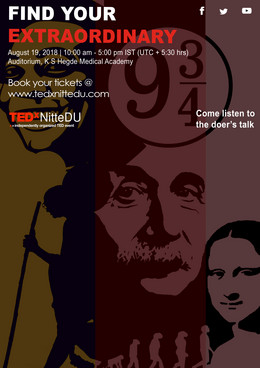 "There isn't any such thing as an ordinary life."
- L.M. Montgomery
You need not be the crown jewel to keep the ocean alive and alluring. Neither do you have to be the beating heart to sustain a human body. You can be any of the other 2,42,500 species that dwell the oceans or any of the numerous cells that aid and abet life. Find your extraordinair`e in every pursuit of life, notwithstanding the stature of your impact.
Come meet the minds who made a difference- not just with might or magnificence, but with small, extraordinary acts that unassumingly changed lives for the better.
Speakers
Speakers may not be confirmed. Check event website for more information.
AISHWARYA RAJA
Dancer
The elegant and graceful dancing diva Aishwarya Raja is a classical dancer trained under Sri RLV Anand , Kerala. Her achievements include: Gold cup for bharatanatyam in state youth festival consecutively for 4 years , "Yuva Nrithyapratibha" award by Kalabharathi india in 2013 and a recipient of CCRT scholarship in Bharatanatyam . She has acted in a tamil film "Pallikoodam pogamalae" and has been awarded "Nritya Kala Vidushi" at All India dance fest in Jan 2017 by All India Dancers Association in AIDA fest.
AROONA BHAT
Producer/Image Consultant
A woman of substance, Ms.Aroona B Bhat is a Marathi film producer and self taught image consultant . She holds a record in the Limca Book of Records for her distinctive ability of creating bindis and for using the forehead as a canvas. Ms.Bhat will be sharing her thoughts on how tradition never goes out of vouge !
DIANA JOSEPH
Social Activist
Diana Joseph, Director of Fourth Wave Foundation, started her career in the Development Sector with Action Aid and has over 10 years of experience working with international organisations like UNESCO. She has been actively championing the cause of inclusion with special focus on children with special needs, issues of right to education and child rights. A researcher by interest and passion, she has also co-authored several papers and journals which have been presented at international forums. Diana holds a Masters in Human Resource Management and has completed an advanced management program in Corporate Social Responsibility Leadership from Swedish Institute, Sweden.
Dr. ARVIND KASTHURI
Doctor
Not your run off the mill doctor, Dr.Arvind Kasthuri is a professor of community medicine at St.John's Medical college, Bangalore and an active part of the CAUSE foundation, promoting musical theatre and supporting charitable causes. A wizard in merging his passion with profession, he is here to inspire you on how nothing should stop you from doing what you love!
DR. KEN YEANG
Architect/Ecologist
Best known for his green architecture, masterplans and research differentiated by an ecology based approach and their distinctive green aesthetics , Mr. Yeang's key buildings include Mesiniagia tower , National library Singapore and Spire Edge tower, India. Mr.Yeang is here to shed light on upcoming concept of sustainable architecture to bring out the perfect balance between nature and design.
HARI MARAR
CEO of Bangalore International Airport Limited
Committed to changing the average airport experience into a futuristic and innovative one, Mr.Hari Marar has been a part of the Greenfield Airport project and championed the 'Airport in your pocket' initiative, which he visions to implement across the country. Come, listen to him speak on the digital transformation of air travel in India.
INCREDIBLE MALLAKHAMB
Mallakhamb artists
Incredible Mallakhamb artists are one of the most distinguished in the world that has an experience of more than 18 years in the field of Mallakhamb. Incredible Mallakhamb was established in 2014 they have a team of more than 15 talented artists who can perform spectacularly at any platform. Incredible Mallakhamb artists have participated in many international festivals and competitions. Some of the highlights are -Festival of Mondial |India's Got Talent Finalist |Dance India Dance|Georgia's Got Talent Finalist| Ferrari World Abu Dhabi| Asia's largest festival-Setouchi Triennale 2016-Japan | And many more...!!!
MOHAMMED MANAN ANSARI
Activist/Student
Manan Ansari hailing from Jharkand was forced to drop out of school and had to face the hardships of working in mica mines.Fate changed for Manan when he was rescued under Bachpan Bachao Andholan and has today completed Life science course from Delhi University . Today he works on spreading awareness about child trafficking and sexual abuse on various platforms. Come, listen to his incredible story!
NAMAN GUPTA
Entrepreneur
Naman Gupta, founder of CODE which aims at upcycling cigarette butts. The process employed is not only very simple, but convenient as well . Their idea has become a succes story in national and international platforms. Come listen to him making sense of cigarette waste.
NOSTALGIA DANCE CREW
Dance Group
Kudla's very own dance crew who became a national sensation by getting in the top 12 in 'Dance Plus 3'. These boys are mesmerizing India with their unique style and spunk. 'Nostalgia', Mangaluru's popular dance group consisting of Gavin Rodrigues, Leo Sequeira and Nicky Pinto were in the Top 12 in 'Dance Plus 3' making them a national sensation. Gavin Rodrigues was the finalist of Boogie Woogie International , Leonel Sequeira,choreographer at the Mangalore Excellent Dance Academy and Nritya shakthi ,Bombay while Nicky Pinto has won several dance competitions including Adrenaline - 2017, Dance Mania, Dance Face-Off, Battle-2016 etc.
VAGEESH PATIL
Engineer
Mr.Vageesh Patil has lead various campaigns like 'Lead regionally and support globally', 'In India for India' and 'Reverse innovation'. Being a strong believer of converting knowledge into economy through flawless execution he is here to speak on why professional aspiration should be to solve complex problems and not migrate for an easy and better life.