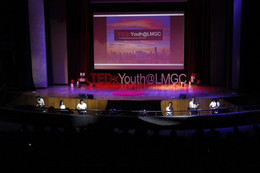 In the spirit of ideas worth spreading, TEDx is a program of local, self-organized events that bring people together to share a TED-like experience. At a TEDx event, TEDTalks video and live speakers combine to spark deep discussion and connection in a small group. These local, self-organized events are branded TEDx, where x = independently organized TED event. The TED Conference provides general guidance for the TEDx program, but individual TEDx events are self-organized (subject to certain rules and regulations).
Speakers
Speakers may not be confirmed. Check event website for more information.
Abha Singh
Advocate
Mrs. Singh left a promising career in the Indian civil services to start her life and career as a lawyer in 2012. After 20 years as a bureaucrat, it was time to speak up against injustice and the various issues plaguing the country, and she decided becoming a lawyer was the right way to go about it. Since then, she has gone on to participate in a number of cases involving celebrities and those in power. Through her NGO, RannSamar Foundation she also offers free legal assistance advocacy to helpless women and slum dwellers who have been unfairly persecuted by local authorities and builders for land that is rightfully theirs. Former bureaucrat, lawyer, activist – Mrs. Abha Singh has many epithets to her name. But one thing that ties them altogether is her incessant fight for justice, her will to right many wrongs and work for the underprivileged.
Darpan Inani
Chess Champion
According to the World Chess Federation, Mr. Darpan Inani is one of the highest rated visually impaired chess players in India, and has an ELO rating of 1956! He has come a long way since winning his first tournament when he was a 14-year-old. He started representing Gujarat in National level chess championships, beating sighted chess players. He became the youngest player to win the National Blind Chess Championship at the age of 16 in 2010. He has represented the country four times in World Blind Chess Championships. He bagged the Bronze at the World Junior Blind Chess Championship (U20) at Serbia in 2013, the first ever individual medal to have been won by India in blind chess. He is also the only Indian visually impaired chess player to have ever won an international prize at the Creon Open Chess Tournament in France in 2018, which is an open-sighted championship.
Gaurav Tekriwal
Mathematician
Mr. Tekriwal is the Founder and President of the Vedic Maths Forum, India. He inspires and informs people, helping them to realize their true potential by introducing them to the magic of the world's fastest mental Mathematics system called 'Vedic Mathematics'. He has taken the Vedic Mathematics System to over four million students in India, South Africa, United States, Australia, UAE and Ghana. Named one of India's Top Young Visionaries by Indiafrica and Ministry of External Affairs of India, he was also awarded by the Honorable Governor of West Bengal for his contribution to the field of Vedic Mathematics.
Kajal and Anita
Youth Leaders
Kajal (19) and Anita (16), have lived in shelter homes for the majority of their lives. While one got separated from her family in a crowded train, the other was abandoned for not being born a boy. While growing up in different shelter homes had its own challenges, their strong sense of resilience is what helped them reach better opportunities as compared to others in similar situations. In May 2019, Kajal and Anita left the shelter home system to start new lives in the outside world. The strength that they get from accepting their past, understanding their present, not giving in to their "fate" makes them inspirational young individuals who are now working as influential Youth Leaders at Project KHEL, where they create safe spaces for other children to grow. Theirs is already a story of resilience and grit in the face of adversity to reach where they are today, but, more importantly, it is a story to be continued.
Sutapa Sanyal
Former Director General of Police (India)
Mrs. Sutapa Sanyal was the first female Indian Police Service(IPS) officer to serve as Director General (D.G) in U.P. As a Director General, she started the UP Police Mahila Samman Prakoshth (MSP), an innovative police unit protecting the rights of over 130 million women and children in Uttar Pradesh. She built successful Public-Private Partnerships with UNICEF, Action Aid, and other stakeholders to expand these interventions. These interventions have been recognized by Govt. of India, the Govt. of UK, INTERPOL & the US Department of State. She has been awarded the President's Police Medal for Distinguished Services, Police Medal for Long and Meritorious Service and 'Lokmat Samman for Public Administration' from the Hon. Chief Minister of U.P. Shri Yogi Adityanath, apart from several other awards and honours.