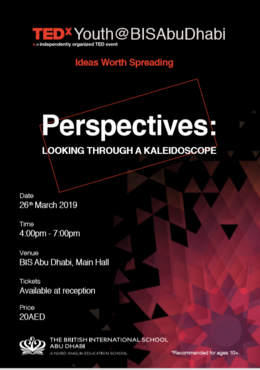 We want to spread ideas about how being open-minded towards the perspectives of others is not only necessary to enhance our own lives, but to continue to develop the understanding of the societies in which we live. So, to embrace the year of tolerance in the UAE, we invite you listen to our speakers talk about their perspectives on issues that affect their lives and their visions for the future.
As Sheikh Mohamed once said: "We must strive for an intellectual and cultural renaissance recognising that development and stability is possible only through tolerance."
Speakers
Speakers may not be confirmed. Check event website for more information.
Ali Qureshi
iGCSE Student
Ali, born in Pakistan, yet having lived away from home for more than half his life, is a talented student studying in an international community. Despite his limited experience in public speaking, Ali is willing to push himself out of his comfort zone and convey his ideas and concerns. Ali has a distinct passion in discussing the concept of education in the modern world. He was particularly moved while watching a series of videos on the same topic by a famous motivational and inspirational spoken word artist and activist. Ali comes from a background where his studies are vital for his success in the future. But he is marveled by his peers who strive towards sport or the creative arts, as well as the various successful people who have earned themselves a fortune with no formal education. Definitively, he is inspired by both these experiences to project his thoughts.
Ananya Dahagam
IB Student
Born in India and currently living in Abu Dhabi, Ananya is an ambitious student, who's been surrounded by an international environment her entire life. Not only does play the violin, she also enjoys acting and painting during her free time. To embrace her innate ability to empathize and connect with people, Ananya is currently aspiring to take up medicine in her higher education. Additionally, since childhood, Ananya has always appreciated writing as a form of catharsis. She aspires to publish a poetry collection that portrays aspects of the human condition, especially those of which society harbors an inherent, but irrational bias. Ananya is passionate about finding another point of view— she will play the devil's advocate at the first chance she gets. She believes that there is always another way to face an issue, and that it is the job of the majority to understand the perspective of minority.
Asim Osman
IB Student
My name is Asim Osman and my interests range from a deep passion for the sport of basketball as well as reading and writing. Additionally, I am an advocate for philanthropy and activism rooted in wherever my endeavors take me. Although, I understand my values and principles to an extent, I have struggled to piece these components together; to answer a profound and deceptively challenging question; "Who am I?" The topic of identity has grown raise questions like how are identities formed? Or to what extent can we shape our own identities. Being a conglomeration of various cultures traditions, and the epitome of structural diversity I hope to evaluate and discuss these topics within my Ted Talk and in a country of such international range as the UAE I hope this will allow the audience to look at the topic of identity in a new light; clarifying any misconceptions and answering any questions.
Hannah Toronto
iGCSE Student
Hannah Toronto is from the United States of America and is currently living in Abu Dhabi. From different cultures, to music, to nature, she loves to learn about the world and the people around her. She also loves to sing, dance, act and swim. She aspires to continue to study musical theatre in university, as well as journalism, so she can tell the stories of the unique people of the world through art and stories. Hannah has always loved to write, perform and talk to others. She has decided to combine the two and present an informative speech about something that happens to us daily, but we never think about it enough to realise it. Our cognitive psychology is something that has intrigued Hannah recently, because we never really think about how we think. She has decided to explore this idea and challenge our way of thinking in order to improve our lives and to create a different perspective on how we see ourselves along with the events and people around us.
Matilda Rice
iGCSE student
Matilda Rice is an Australian teenager living and studying in Abu Dhabi. While this is her first time living abroad, she is no stranger to change, having spent most of her life moving around Australia. From the understated national capital city of Canberra, to the quiet seclusion of the small rural town of Armidale, she has been shaped by the places she has lived and has learnt that diversity is what helps our society to flourish. She is also an avid reader and traveller, and her love of books and of visiting new places are derived from her intrinsic passion for deepening her knowledge of the human condition and of learning to see life from others' perspective. Matilda is a strong believer in individualism and feels that everyones' unique contribution to society should be encouraged. In order to actualize this vision, she believes that understanding and acceptance of our individual differences is vital, and that embracing our idiosyncrasies is key to progression.
Rodina Ghanem
IB Student
Rodina Ghanem is a Student at BISAD who is from Cairo, Egypt but is currently living in Abu Dhabi. She has moved around to several countries and around 9 schools which allowed her international interaction with different cultures and the ability to learn to adapt quick at a young age. Rodina has constantly been a well-rounded individual with her interests in all the arts, piano sports, and academics as she loves trying new things. She is very resilient and goal oriented and is the master of reinventing and improving herself and do better. With all the different cultures assimilation came struggles and hardships. One of those was bullying. Over 3.2 million students are victims of bullying yearly. Her tremendous love for writing is her weapon as her poetry and works reflects her emotions. She supports Anne Frank when she said: "As I write, my sorrows disappear, and my courage reborn." Her writing is her therapy and her advocacy for what she believes in.
Safa Al Dulaimi
iGCSE Student
Living most of her life in London, Safa is an Iraqi student, who has lived in Abu Dhabi since August of 2014. Safa enjoys travelling, meeting new people and experiencing new cultures through the eyes of a tourist. On top of this, she enjoys being innovative, and tries to find different ways to express herself creatively in any form. Art plays a huge role in her life, with her being currently halfway through her GCSE Art course. Having always been passionate about the ways in which the world works, Safa takes interest in the human brain, and how we as humans influence the behaviour of others. A simple question from her younger brother strikes an ongoing 2year project to explore the brains anatomy and see whether it is Nature or Nurture that shaped her. Safa will talk about both sides of this controversial debate, and explore which theory really shapes us to be the way we are.