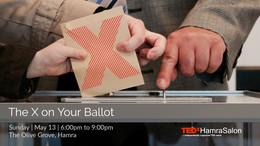 After a 9-year hiatus, election season is finally here! Lebanon heads to the ballot box on May 6th, and new faces have emerged in our political arena. That's why 'The X on Your Ballot' is the theme of our next Salon!
Join us for a cozy Sunday evening with TED talks, musical performances, and riveting conversations about the state of our democracy.
Speakers
Speakers may not be confirmed. Check event website for more information.
Social and political activist. Co-founder of Foodblessed
Maya Terro is a social, environmental and political activist. She is the Co-founder and Executive Director of FoodBlessed, a national hunger-relief initiative, founded in 2012, led by a group of volunteers aiming to reduce hunger and food waste in Lebanon. She holds a B.Sc. in Biology and a Masters of Public Health (MPH) from the American university of Beirut. She also holds an MA in development Economics and International Cooperation from the University of Rome II, and an MSC in Migration, Mobility, and Development from SOAS, University of London as a Chevening Scholar. Her research interests include CSR, development, food waste and food security. She's won several awards including "CSR In Action"-Lebanon (2012), King Abdullah II "Award for Youth Innovation & Achievement" –Jordan (2014), LAU's "Spirit of Service Award"- Lebanon (2015), MBC al Amal "Humanitarian of the Year Award" -Dubai (2016). This year, Maya ran for the recent parliamentary elections with "Madaniyya" electoral list.
Civil rights activist and founder of Donner Sang Compter
Yorgui Teyrouz is a pharmacist and the founder and president of Donner Sang Compter (DSC), a non-profit, non-governmental organization that aims to promote and raise awareness about voluntary non-remunerated blood donation in Lebanon. He ran for the 2016 municipal elections with Beirut Madinati and more recently ran for parliamentary elections (2018) with LiBaladi electoral list.