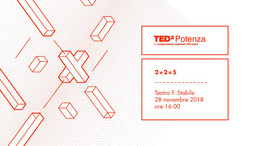 In the spirit of ideas worth spreading, TEDx is a program of local, self-organized events that bring people together to share a TED-like experience. At a TEDx event, TEDTalks video and live speakers combine to spark deep discussion and connection in a small group. These local, self-organized events are branded TEDx, where x = independently organized TED event. The TED Conference provides general guidance for the TEDx program, but individual TEDx events are self-organized (subject to certain rules and regulations).
Speakers
Speakers may not be confirmed. Check event website for more information.
Fabio Zaffagnini
Ha lavorato per molti anni presso l'Istituto di Scienze Marine del CNR di Bologna come geologo, occupandosi di survey ed analisi dati. Dopo un'esperienza pluriennale come libero professionista e come Direttore Tecnico presso uno spin off del CNR, nel 2014 ha fondato Trail Me Up, una start up che realizza sistemi di realtà virtuale aumentata, attraverso la quali gli utenti possono visitare sentieri e luoghi remoti in giro per il mondo. E' l'ideatore di Rockin'1000, la band composta da 1.000 elementi per concerti extralarge che si è esibita la prima volta nel 2015 in un celebre mini concerto per convincere i Foo Fighters a venire in concerto in Italia.
Giorgio Rutigliano
Informatico, è stato il sysop del primo nodo della rete Fidonet in Italia. Appassionato di comunicazioni telematiche e radioamatore, nell'agosto del 1984 ha aperto una BBS per sperimentare le possibilità di interconnessione telefonica. Venuto a conoscenza dell'esistenza della rete Fidonet, si è accordato con l'allora coordinatore per la zona 2, Henk Wevers, per entrare nella rete e diventare il primo nodo a sud dei Paesi Bassi. Ha coordinato l'attività della regione 33, che corrisponde all'Italia, sino al maggio del 1994 quando a seguito dell'Italian Crackdown ha deciso di chiudere la sua esperienza nel settore.
Giovanni Teneggi
Direttore generale Confcooperative Reggio Emilia dal 2007. Ha svolto attività di sindacato e consulenza organizzativa e per lo sviluppo imprenditoriale nel settore cooperativo e consulenza e ricerca in progetti per lo sviluppo dell'impresa sociale e nel settore del welfare dal 1997. E' stato amministratore in società private e a partecipazione pubblica nei settori terziario, sociale e farmaceutico.
Giuseppe Cosenza
Guida Escursionistica e Guida Ufficiale del Parco Nazionale del Pollino, si occupa dei contenuti del sito Viaggiare nel Pollino, del blog pollino.it, della organizzazione di eventi, escursioni e trekking. La sua passione è cominciata quando ero piccolo a casa dei nonni, in piena campagna, tra galline, tacchini, maiali, capre e asini. Poi una lunga "militanza" nel WWF soprattutto negli anni dell'Università di Agraria a Perugia. Fino al 2017 socio dell'AIGAE, ora ha aderito alla LAGAP (Libera Associazione Guide Ambientali-Escursionistiche Professionali).
Jacopo Mele
classe '93, a soli 17 anni crea la figura del Digital Life Coach per affiancare i dirigenti nelle scelte strategiche presidiando le nuove soglie d'innovazione. Oggi è Presidente di Fondazione Homo Ex Machina e Managing Partner di yourDigital, boutique specializzata nella trasformazione digitale. È stato speaker TEDx nel 2016 e nel 2018 su temi importanti come la fiducia per un'economia in crescita e la capacità umana di essere elemento di trasformazione. Ha tenuto Lectures alla LSE, Yale e all'Università Bocconi. Nel 2016 è stato selezionato da Forbes tra i 30 europei under 30 più influenti nella politica europea. Nel 2017 Wired l'ha inserito tra le 50 persone al mondo a cui prestare attenzione. Nel 2018 Forbes l'ha incluso tra i 100 under 30 leader del futuro, nella categoria "Enterprise Technology".
Rockwell Road Band
Una rock band composta da ragazzi latinoamericani provenienti da messico, argentina ed ecuador che condividono la passione per la musica e il ciclismo. Si sono uniti per dimostrare che, indipendentemente dalle circostanze, gli esseri umani sono in grado di raggiungere i propri sogni e raggiungere obiettivi straordinari. Nel 2013 hanno completato con successo un tour ciclistico di un anno di 120 città in Messico, trasportando solo 2 chitarre, un basso e le loro biciclette, dando 370 concerti gratuiti nelle scuole, nelle piazze, nei teatri e nelle fiere a sostegno delle cause della gioventù messicana.
Vincenzo Troiani
E' stato Direttore Tecnico Gruppo Sportivo Fiamme Oro Rugby Roma (Polizia di Stato 2007-2014), Tecnico specialista della franchigia Federale Zebre Rugby Parma (2012-2014), Tecnico della Nazionale Under 20 (2006-2011 e della Nazionale Under 18 (2011-2012 e 2004-2006), Direttore Tecnico de L'Aquila Rugby Club (2016-2018). Il terremoto del 2009 ha segnato uno spartiacque nella sua vita personale e professionale.