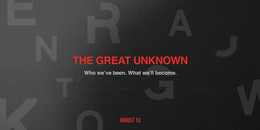 The art of discovery is defined by our willingness to wander into the unknown. Join us on August 13 as we dig deep to uncover The Great Unknown.
It's about letting our senses surrender – to be consumed by an idea – or to cultivate new ones
Speakers
Speakers may not be confirmed. Check event website for more information.
Claire Ashman
Having escaped from two cults, Claire Ashman recounts what it was like to live the first 36 years of her life within the confines of strict rules and locked gates. In this honest talk, Claire shares how she built up the strength and courage to finally escape, and the lessons she learnt about freedom.
David Boyar
One of the youngest Fellow Members of the Institute of Chartered Accountants Australia and New Zealand, founder and CEO of Sequel CFO and contributor to Accountants Daily, David Boyar clearly has a passion for accounting that's bursting to be shared.
Fleassy Malay
Fleassy Malay is an internationally renowned Spoken Word artist, writer and public speaking coach. She is the founder of Melbourne's acclaimed Women's Spoken Word event, Mother Tongue. In 2017 she was the first woman to represent Australia at the National Poetry Slam in the USA. Fleassy Malay is a global advocate for Women's rights and a fierce voice for the power of authenticity and connection as a social change tool.
Josh Brnjac
The Great Unknown "is the deep end of life: the dark abyss of chaos we all inevitably have to navigate to discover our predestined purpose." Josh Brnjac is inspiring young people to "Pursue with Purpose" through his story of being a 12-year-old kid on the brink of suicide to a driven 16-year-old creative entrepreneur of a group of businesses. \
Justin Bailey
He first picked up the violin when he was 7 years old after witnessing his cousin perform a retrospectively terrible version of 'Au Clair De La Lune' and thinking that it was kind of cool that there was a musical instrument which you got to play with a moving stick. He never thought that doing music would lead him to much, but now at 21, he lives out of home, pays his rent mostly on time, records music, and finances the extensive medical, and feed costs of a growing puppy with undiagnosable allergies. His short term plans involve improving his skill level to the point where he can be considered a world class violinist, building a career from music, and retaining enough information on the completion of his degree, that he might find a use for it some where down the line.
Lisa Harvey-Smith
When we look up at the night sky, we are linked to our ancestors. Away from city lights, we can see what generations of people before us have wondered at and weaved stories around. But all that will change. In this talk, astrophysicist Lisa Harvey-Smith tells us what will happen when the Andromeda Galaxy, which is hurtling towards us at 400,000 kilometres per second, collides with planet Earth in about 4 billion years' time. Will the collision will form new stars, a hundred times brighter than the Sun? Or will it tear us away from the Milky Way, firing our solar system into space and leaving us floating into complete blackness?
Lynne Kelly
Science Writer and Mnemonist, Dr Lynne Kelly, has had 16 books published including her latest and highly praised book, The Memory Code. This groundbreaking text explores key concepts on ancient, yet powerful memory techniques that may revolutionise archaeology. Kelly has a vast background in engineering, physics, mathematics, information technology and gifted education and has spent decades in teaching.
Mark McCrindle
Mark McCrindle is a social researcher with an international following. He is recognised as a leader in tracking emerging issues and researching social trends. As an award winning social researcher, Mark has appeared across many television networks and other media. He is a best-selling author, an influential thought leader and Principal of McCrindle Research. His advisory, communications and research company, McCrindle, count among its clients more than 100 of Australia's largest companies and leading international brands. Mark's highly valued research and reports, presented through infographics, data visualisations, videos, media input, resources, and blogs, have developed his regard as an expert demographer, futurist and social commentator.
Penny Locaso
Three years ago, Penny turned her life upside down. In a 7-month period, she left a 16-year career as an executive, relocated a family from Perth back to Melbourne, Australia left an 18-year relationship, and started BKindred. When Penny couldn't find a global education company, that could skill her to future-proof her happiness, she went out and created one.
Peter Xing
"Peter is a Tech & Innovation Manager at KPMG and Co-founder of Transhumanism Australia, a community that educates and invests in scientific research and technologies which enhance the human biological condition. Peter will explore the great unknown of what it means to be human in a time when technology can radically enhance our healthy lifespan, intelligence and wellbeing." Could we all live a type of designer immortality in the near future?
Rabbi Yaakov Glasman
Rabbi Yaakov Glasman was ordained at the Rabbinical College of America in 2003 and went on to complete his Masters Degree in Advanced Jewish Studies. Rabbi Glasman served as President of the Rabbinical Council of Victoria from 2009 until 2012 and as Vice President of the Organisation of Rabbis of Australasia from 2012 until 2014. In 2017 he was elected President of the Rabbinical Council of Australia and New Zealand representing the Rabbinate of Australasia to Government, media and other interest groups. Rabbi Glasman has a keen interest in Interfaith dialogue and presents to a wide variety of audiences on a range of topics. He is an avid and unashamed Collingwood supporter much to the chagrin of his St Kilda based congregation.
Ronika Power
Bioarchaeologist and trained Deathwalker
Deathwalker and bioarchaeologist, Ronika Power, urges us to rethink the convention of death – a topic that has become taboo in the modern Western world. She asks a compelling question: in our efforts to protect ourselves from pain and discomfort, have we become 'death-denying'? In this talk, Ronika shares lessons from the ancient world to teach us how we can reconnect with the extraordinary opportunities for growth, bonding and ripening that emerge through death, prompting us to reclaim the ancient human right and privilege to take care of our own
Steve Sammartino
Steve Sammartino has crowdfunded self-driving lego cars that run on air, written two best-selling books, founded multiple technology startups and spoken to audiences worldwide. After completing studies in Economics, Steve has worked in multiple Fortune 500 companies and is known as one of Australia's most respected futurist and business technologists.
Yossi Ghinsberg
"I've died several times, I know the Great Unknown". Stranded in the midst of the Amazon rainforest for three weeks, Yossi Ghinsberg not only survived, but also found new meaning for life. The author of the international best seller, 'Jungle', which inspired the major motion picture with the same title, Yossi recounts his tales and life learnings with fierce passion.