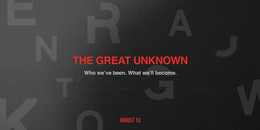 The art of discovery is defined by our willingness to wander into the unknown. Join us on August 13 as we dig deep to uncover The Great Unknown.
It's about letting our senses surrender – to be consumed by an idea – or to cultivate new ones
Speakers
Speakers may not be confirmed. Check event website for more information.
David Boyar
One of the youngest Fellow Members of the Institute of Chartered Accountants Australia and New Zealand, founder and CEO of Sequel CFO and contributor to Accountants Daily, David Boyar clearly has a passion for accounting that's bursting to be shared.
Josh Brnjac
The Great Unknown "is the deep end of life: the dark abyss of chaos we all inevitably have to navigate to discover our predestined purpose." Josh Brnjac is inspiring young people to "Pursue with Purpose" through his story of being a 12-year-old kid on the brink of suicide to a driven 16-year-old creative entrepreneur of a group of businesses. \
Penny Locaso
Three years ago, Penny turned her life upside down. In a 7-month period, she left a 16-year career as an executive, relocated a family from Perth back to Melbourne, Australia left an 18-year relationship, and started BKindred. When Penny couldn't find a global education company, that could skill her to future-proof her happiness, she went out and created one.
Peter Xing
"Peter is a Tech & Innovation Manager at KPMG and Co-founder of Transhumanism Australia, a community that educates and invests in scientific research and technologies which enhance the human biological condition. Peter will explore the great unknown of what it means to be human in a time when technology can radically enhance our healthy lifespan, intelligence and wellbeing." Could we all live a type of designer immortality in the near future?
Ronika Power
Bioarchaeologist and trained Deathwalker, Assoc. Prof. Ronika Power, sees The Great Unknown as the lingering question that connects and contextualises the past, present and future. With her keen interests in this concept, her research lies in Biocultural Archeology, allowing her to work with a diverse range of international populations from early Holocene hunter-gatherers of Kenya; to multi-period cemeteries across Egypt to name a few. Ronika is an elected Fellow of the Society of Antiquaries London, and one of the 30 inaugural Superstars of STEM for Science and Technology Australia.
Steve Sammartino
Steve Sammartino has crowdfunded self-driving lego cars that run on air, written two best-selling books, founded multiple technology startups and spoken to audiences worldwide. After completing studies in Economics, Steve has worked in multiple Fortune 500 companies and is known as one of Australia's most respected futurist and business technologists.
Yossi Ghinsberg
"I've died several times, I know the Great Unknown". Stranded in the midst of the Amazon rainforest for three weeks, Yossi Ghinsberg not only survived, but also found new meaning for life. The author of the international best seller, 'Jungle', which inspired the major motion picture with the same title, Yossi recounts his tales and life learnings with fierce passion.