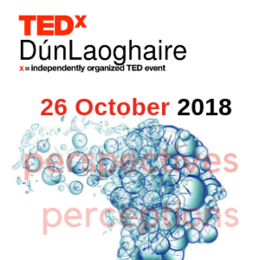 Our theme "Perceptions: Perspectives" asks the underlying question "Is Perception Everything?" and is open to interpretation as our diverse range of speakers will demonstrate.
Our Mission is to let our talks inform, inspire and cultivate a more open minded community, a community which can grow and become ever more sustainable and inclusive; a community in which more people, not just in business, but in life itself, thrive.
Each of our speakers has an idea worth hearing and will give a 'live' talk on the night, knowing that their talk, once uploaded to TEDx, will have the potential to spread their unique perspective in their chosen area of interest and expertise to the wider TEDx global community.
Speakers
Speakers may not be confirmed. Check event website for more information.
Amy Cox
"Why Kids Should Be Able to Vote"
Dan Hatter
"How We Make Change Happen"
David Joyce
"Identity & Cultural Appropriation"
As a Social Justice & Human Rights Advocate & Activist, David Joyce is a lawyer, barrister, practising solicitor and a member of the Irish Human Rights and Equality Commission. Holding positions as a Legal officer with Threshold and Interim Manager of LEAP as well as Co-Ordinator of the Offaly Traveller Movement and Legal Policy Officer with the Irish Traveller Movement. David has served as a member of expert bodies such as the European Roma Rights Centre, Budapest, the National Consultative Committee on Racism and Interculturalism, the Executive of the Irish Council for Civil Liberties and the National Economic and Social Forum and has a keen interest in the rights of minorities and equality of access to education.
Dominic Newman
" How I Defined Myself At 15"
Drummond McGinn
"A Solution to Plastic Pollution"
Eve McGann
"Madness of Meat"
Flossie Donnelly
" Flossie's Fight Against Ocean Plastic"
"Dying With Dignity - The Importance of Choice"
Since graduating in 1981, Helen's nursing experience extended to include Midwifery working in Scotland for four years before working in the Middle East, Saudi Arabia and Yemen and moving to Australia and New Zealand where she stayed for 28 years. Helen loves the big outdoors, sport, hiking, cycling .and swimming and as a keen triathelete, participates regularly in marathons and Ironman events. Her professional experience extended further taking her from Midwifery to be a Cardiac Rehabilitation Nurse Specialist Nurse and was the only nurse in NZ able to prescribe exercise to patients. As an active Humanist and accredited celebrant in NZ, she moved back to Ireland in 2017 to care for her sister who was terminally Ill. Dying with Dignity she feels is a fundamental human right something not afforded to her sister, or many others. She has actively campaigned for social change, including abortion rights, separation of church and state, Removal of Blasphemy Laws from the Irish Constitution.
Kate Doran
"ReDefining 'Fine' - What it feels like to be 'Normal"
"We Carry Kevan"
Kevan Chandler, 32, is a regular guy with an extraordinary story and lives in Fort Wayne, Indiana with two roommates and loves to travel. During summer 2015, he and a group of friends spent three weeks backpacking through Europe, and have plans to explore China. Kevan was able to experience all the incredible things tourists dream of seeing. The extraordinary part is - he can't walk. A backpack was developed for his friends to carry him around. Kevan was born with spinal muscular atrophy (SMA), a genetic disease affecting the part of the nervous system controlling voluntary muscle movement. He's never taken a single step – but his friends carried him through Europe on their backs, and it started a worldwide movement, "We Carry Kevan," gaining momentum by the day. Kevan Chandler and his amazing friends are Advocates for Changing Perceptions on Universal Accessibility and through the adventurous way in which they travel, they work to reimagine accessiblity' showing what's possible.
Lauren Dunne
"How One Conversation Changed My Thinking"
Mary Burnham
"The Prison Book Club"
Mary, an avid reader, has worked in the book trade for over fifteen years and has set up and advised many book clubs locally. For some time she had her sights set on organising a club for disadvantaged members of society and jumped at the chance to create and run a prison book club. With the Governor's permission, Mary set up the club which is flourishing and continues to present interesting challenges that keep her on her toes! Mary believes that reading is a wonderful tool to create empathy, keep loneliness at bay and forms the basis of great conversation. She's passionate about reading, and in particular, reading in book clubs. "Bringing people together through the printed word has a powerful and positive effect', she says, which is why she encourages readers to make it a shared experience. She uses every speaking opportunity to talk about the pleasure of reading and has a wide following on her FB page... : MaryLovesBooks
Niamh McCann
"Copy & Paste' - Hidden Asperger's" - Girls with Aspergers
Niamh Phelan
"Human to Global Humanitarian"
Niamh is a technologist specialising in analytics and digital transformation in large multi-nationals. She has volunteered expertise to charities working in homelessness and addiction support and charities working with older people, sex workers and asylum seekers and refugees. The catalyst for these efforts was the picture of Aylan Urdis, the boy on the beach which gave rise to RefugeeBnB, an Airbnb type platform for refugees. This initiative was taken up by the Red Cross who are actively placing refugees in private homes. Niamh's learnings from her volunteer work include the identification of structural issues in the humanitarian sector that lead to inefficiencies and duplication of effort.
Pat Caslin
"I Am Chronically Ill: I am Very Healthy"
Eleven years ago, Pat was diagnosed with relapsing-remitting progressive multiple sclerosis. After losing his ability to walk he had to make some major adjustments like giving up golf and cycling and using a wheelchair. Pat has replaced the things he's lost with curiosity about himself and people and how we think and see the world, giving him a healthier, more grounded perspective on life and its importance. Pat is still working and may have lost some mobility but has been compensated generously with insight and the time to share it with those who are open to different perspectives. He is both a consultant and professional speaker.
Rory McPherson
"Small Steps to Confidence"
Shalini Sinha
"Are You Consciously Creating A Culture of Respect?"
Shalini Sinha is is a social justice activist, speaker, writer, academic and coach. With a diverse identity, she is both a child of immigrants and an immigrant. Shalini has experienced the pain of racism, sexism, abuse, isolation and exclusion. With a BA in Anthropology and Religious studies and an MA in Women's Studies, she has lectured on the Intersection of Gender and Racism, was an Antiracism and Equality trainer consultant to the Equality Authority, Amnesty International, and the Departments of Justice and Education.