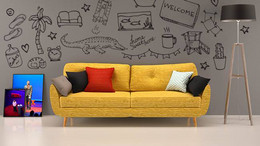 This year's TEDxOrlando theme is "Home." . We'll be examining family relationships, our environment, global issues and more -- all offering a unique glimpse into what the word "home" means.
As a TEDxOrlando attendee, you will be a part of our live studio audience. Please note that you may end up on film. While devices will be allowed in the theater this year, we ask that those wishing to use social media sit towards the back as to not interfere with the cameras!
Tickets are general admission and include access to the TEDxOrlando after party!
Doors open at 1:00pm, show starts promptly at 1:30pm!
2018 Speaker Lineup
---
Nicole Stott - NASA Astronaut
Benjamin Hardy - Author of "Will Power Doesn't Work"
Laura Gallaher - Remote Year
Benoit Glazer & Elaine Corriveau - Timucua Arts Foundation
Savannah Boan - Gatorland
Sharon Hammond - Ideas for Us
Salvador Almagro-Moreno - UCF School of Biomedical Sciences
Ammar Mohrat - Syrian Refugee
Lu Mueller Kaul - Co-living movement
Debi Pedraza - Orange County Public Schools
Cole NeSmith - Creative City Project
Speakers
Speakers may not be confirmed. Check event website for more information.
Ammar Mohrat
Software Engineer
Ammar Mohrat was born and raised in Homs, Syria. When the country's revolution began, he was a university student studying computer engineering. He became a political and media activist but was forced to flee Syria in 2011 due to political persecution and threats to his life. After traveling the Middle East trying to find an alternative place to call home, he received word that he had been awarded a full scholarship to St. Leo University in the United States. Now a graduate, Ammar works in the software industry.
Benjamin Hardy
Benjamin Hardy's work is viewed by millions of people monthly and is featured on Forbes, Fortune, Psychology Today, CNBC, Cheddar, Big Think, iHeart Media, and many others. He has grown his email list from 0 to nearly 400,000 followers in the past 3.5 years without any paid advertising. He is the author of the bestselling book, Willpower Doesn't Work. Ben is nearing the completion of his PhD in Organizational Psychology. After years of fighting in court, Ben and his wife, Lauren, recently adopted their three children. Shortly after the adoption, Lauren became pregnant with twins (2 GIRLS!) and is due around Thanksgiving of 2018. They live in Orlando, Florida, and you'll regularly find them at a Disney park.
Benoit Glazer
Benoit is a musician with 37 years professional experience including 18 years as conductor and trumpeter at Cirque du Soleil. He taught at McGill University for 10 years and Boone High School in Orlando, Florida for six years. For the past 18 years, he and his wife Elaine have been hosting free concerts inside their downtown Orlando home as part of the Timucua Arts Foundation.
Cole NeSmith
Cole is the founder and Executive Director of the Creative City Project which produces IMMERSE, an annual performing and interactive arts festival in the heart of downtown Orlando, Florida. In 2018, they will platform more than 1,000 artists for an audience of 40,000. Cole is passionate about using creativity to shift paradigms and create community. His work has landed him on the list of Orlando's 50 Most Powerful People and the Orlando Business Journal's 40 Under 40. He is a musician, actor, and author of two books.
Debi Pedraza
Mrs. Pedraza is the Senior Director of the Foundation for Orange County Public Schools as well as a long-standing member of the Council for the Advancement and Support of Education (CASE), the VP of Education for the Central Florida chapter of the Association of Fundraising Professionals (AFP), and a member of the Edyth Bush Institute for Philanthropy and Nonprofit Leadership. Mrs. Pedraza is an alumna of the University of Pennsylvania and graduating member of Florida's inaugural four-year International Baccalaureate class. A strong believer in the success students can achieve through a public school education, she is energized by the sheer scope of impact that donors can create for Orange County's children.
Elaine Corriveau
Elaine is a musician with 35 years professional experience teaching music, performing on piano and singing with multiple vocal groups and choirs. For the past 18 years, she and her husband Benoit have been hosting free concerts inside their downtown Orlando home as part of the Timucua Arts Foundation.
Laura Gallaher
Dr. Laura Gallaher is an Organizational Psychologist, Speaker, Facilitator, and Executive Coach. She is the founder and CEO of Gallaher Edge, which she started in 2013. Her noteworthy career began after the Space Shuttle Columbia exploded upon re-entry in 2003, killing everybody aboard. Following the tragedy, NASA hired Laura and a team of organizational psychologists to change the cultural influences that were deemed to play a role in the accident. She worked for 8 years to positively influence culture, develop leadership capacity, and improve organizational performance at Kennedy Space Center. Laura was also hired to help manage the change associated with radical changes in the performance management process and philosophy at Walt Disney Parks & Resorts. Laura is an expert trainer, speaker and consultant, particularly in the concepts of self-awareness, accountability, trust building and team cohesion. She holds a Bachelor's degree in Psychology, and a Masters and PhD in Organizational Psychology. Laura is a Licensed Human Element® Practitioner, a Certified Radical Collaboration Trainer, and a Certified Coach.
Lu Mueller-Kaul
Lu Mueller-Kaul is a leader in Central Florida's co-housing movement, advocating and supporting intentional communities and co-living arrangements. Professionally, Lu is a massage therapist and Advanced Certified Rolfer™ specializing in musculoskeletal pain conditions. She is the founder of Balance Orlando. She also travels across the country teaching continuing education courses for Licensed Massage Therapists.
Nicole Stott
Nicole Stott has explored from the heights of outer space to the depths of our oceans. In awe of what she experienced from these special vantage points, she has dedicated her life to sharing the beauty of Earth from space with others. She believes sharing these perspectives has the power to increase everyone's appreciation of and obligation to care for our home planet and each other. A NASA Astronaut, her experience includes two spaceflights and 104 days spent living and working in space on both the Space Shuttle and the International Space Station. A personal highlight of Nicole's spaceflight was painting the first watercolor in space. Nicole is also an Aquanaut, who along with her NEEMO9 crew, lived and worked during an 18-day and longest saturation mission to date on the Aquarius undersea habitat. An Artist, now retired from NASA, Nicole combines her spaceflight experience and artwork to inspire creative thinking about solutions to our planetary challenges, to raise awareness of the surprising interplay between science and art, and to promote the amazing work being done every day in space to improve life right here on Earth. She is co-founder of the Space For Art Foundation and Constellation.Earth
Nik & Reema Band
The Nik & Reema band have been hired by companies like Walt Disney Parks and Resorts, Universal Orlando Resort, Disney's Yellow Shoes Creative Group, and more, to arrange, produce, and put their unique sound and spin on popular songs; to create a once in a lifetime experience for the guests, and to represent each brand in a unique light.
Salvador Almagro-Moreno
Dr. Salvador Almagro-Moreno received his Ph.D. in Microbiology from the National University of Ireland and was a Postdoctoral Fellow at Dartmouth College. He is an Assistant Professor of Medicine at the University of Central Florida. His research focuses on the evolution and environmental persistence of pathogenic bacteria, and how ecological changes such as pollution and global warming affect them. His investigations have ramifications into public health as well as industries such as aquaculture. He is an avid flamenco guitar player, salsa dancer and poetry reader... and beach dweller of course!
Savannah Boan
Savannah Boan is Gatorland's Crocodilian Enrichment Coordinator and International Ambassador For Conservation. She is dedicated to teaching people about the incredible behavior, anatomy, and ecology of some of the world's most feared creatures. Through groundbreaking content for Gatorland's worldwide social media, she is changing the villainous perception of alligators and crocodiles to create respect for the animals and the world in which they live.
Sharon Hammond
Sharon Hammond is the Program Director of the Hive Orlando. The Hive is a program started five years ago by Ideas for Us, an Orlando-based GNO. The goal is to get citizens to discuss global issues on a local level. The founders wanted to bring campus style activism and connection to a community setting. Sharon got involved in The Hive as a volunteer but now works for Ideas for Us as the Program Director. She cares deeply about the environment.