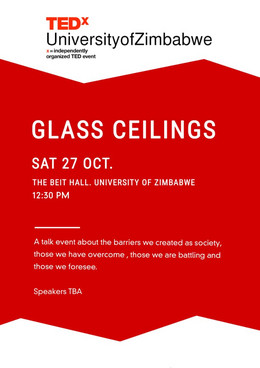 Glass Ceilings is a theme dedicated towards barriers. A theme about obstacles, trials, setbacks, limitations, struggles, insurmountable odds, etc. This theme acknowledges the hardships encountered in our lives. Those barriers that have existed since time immemorial. The barriers that are rising up today and the barriers that are foreseeable in the near future. This theme looks at the barriers that we have managed to overcome, the barriers that we continue to soldier on against and the barriers that have been too gregarious for us to surpass as either individuals or as a society.
Speakers
Speakers may not be confirmed. Check event website for more information.
Barbara Kamba-Nyathi
Author + Professional Speaker
Survivor of Cancer, endometriosis and deafness. Passionate about inspiring people to rise above their circumstances. Raising awareness on domestic abuse and violence
Dudzai Mureyi
Pharmacist, PhD Researcher, Lecturer
I am a 30 year old Zimbabwean pharmacist and also a doctoral student at the University of Edinburgh. I'm a UZ graduate (Class of 2011), Chevening Scholar (Class of 2013/14), current Beit Trust Scholar and former board member of the Zimbabwe Youth Council(2012-2015) . In 2014 the Oxford University Africa Society, identified me as one of the women transforming Africa.
Creative Director: Magamba Network + Co-Founder: Moto Republik + Festival Director: Shoko Festival + Executive Producer: Magamba TV + Publisher: Kalabash & Open Parly
100 Great Zimbabweans - Winner - Alpha Media Holdings, Harare, 2017 Comedian of The Year (Zambezi News) - Winner - African Entertainment Awards (USA), 2016 Promoter of The Year (Shoko Festival) - Nominee - Zim Hip Hop Awards, Harare, 2016 Outstanding TV Production (Zambezi News) - Nominee - National Arts Merit Awards - 2016
Journalist
Founder and Chief Storyteller at 263Chat.com.