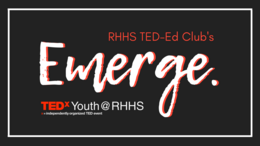 The annual TEDx event hosted by the RHHS TED Ed Club of Richmond Hill High School, comprising of event hosts, speakers, and logistics managers from the RHHS student body. Talks featured are centered around the diverse community represented by RHHS students and focus on expression of both knowledge and ideas. Students, staff, and community members make up our audience. Drinks, food, and other refreshments are served at the event, which is free of charge for all attendees. All students of RHHS are encouraged to attend this annual end-of-year event representing a hallmark of their school's diversity and expression of ideas and knowledge.
Speakers
Speakers may not be confirmed. Check event website for more information.
Alicia Zhang
Urban Spaces Specialist
Alicia is a grade 10 student at Richmond Hill High School wanting to highlight a serious issue concerning everyone's daily lives: transportation. Her talk centers around the efficiency of vehicle transportation and the influence of traffic within our daily lives, urging the audience to consider the alternatives in a technologically advanced world of movement.
Bill Liu
Student Council Trustee
Bill is a grade 11 student at Richmond Hill High School with an extremely involved occupation both at school and at home, whether it is in his duties for the student council or as a representative of the town's board of trustees. He aims to express the dangers of ignoring one's mental health while under the stress induced environment of high school, and urges the audience to adopt healthier and more sustainable living styles for the future.
Computer Science Specialist
Mark Zhang is a graduating student at RHHS heading to the University of Waterloo for software engineering who has strong interest and passion in computer science, classical music, and philosophy. He delves into the world of illusions in his talk on simulation theory, questioning the extent of what is real within our world and what the future of technology has in store for everyone.