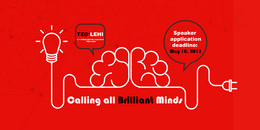 Come and participate in Lehi, Utah's first ever TEDx event. TEDxLehi has 7 incredible speakers with very intriguing topics. This event is not one to miss. Enjoy great speakers, food, and swag!
Speakers
Speakers may not be confirmed. Check event website for more information.
Bob Kittell
Bob has been invited by private and public companies throughout the world to share his expertise and inspiring messages. In the process he has spoken to over 5 million people nationally and internationally. Bob has spoken in packed arenas and stadiums, touring at motivation events with Tony Robbins, Brian Tracy, George Bush, Bill Clinton, Terry Bradshaw, Donald Trump, and many other notable, political, motivational, and sport celebrities. Bob began his speaking career training memory improvement strategies to tens of thousands of college students at over 100 major universities. Bob is the Brigham Young University Athletics volunteer memory expert, teaching all incoming freshman his techniques for recall and reducing stress taking tests. Bob also speaks to middle school and high school students each month across the country.
Cory Leonard
Cory Leonard is a higher education director at the David M. Kennedy Center for International Studies at Brigham Young University with more than twenty years experience teaching, consulting, and collaborating with business, media, education, non-profits, and international organizations. He has received several grants and directed outreach for the university's U.S. Department of Education Title VI National Resource Centers for Europe, Asia, and Latin America. He coordinates simulation programs for thousands of university and high school students and has worked at the United Nations as a non-governmental organization representative. Cory teaches, writes, and directs study abroad programs on diplomacy, international affairs and global competence. He co-produced the Beyond the Border documentary film series, an original project by the Kennedy Center and Combat Films and Research with ten films exploring interdisciplinary, international issues such as the Korean reunification and national cultures (Unfortunate Brother), global supply chains in the auto industry (Global Car), and Brazil's national identity as seen through its borders (Fronteira da Grandeza). He co-founded the Journal of International Organizations, a peer-reviewed journal for diplomacy practitioners. Currently he is updating Citizen Diplomacy, a handbook for informed, everyday engagement and developing a new project called Diplomacy School, translating insights from international relations to help leaders work more effectively in organizations.
Holly Richardson
Holly Richardson is a wife, mother, speaker, writer, humanitarian, lover of travel, communications, social media and kids! She graduated as a Registered Nurse at age 19 and two years later, married her husband, Greg. A year later, their first was born and after that, their family took the path less traveled. She and her husband adopted children from all over the world and ended up with a family of 25 children, now mostly grown. Thirty years after getting her Associate's degree in Nursing, she went back to school and got a Bachelor's degree in Communication, with an emphasis in Public Relations, then went on and got a Master's degree in Professional Communication. She will be starting a PhD program fall 2018. She is also a columnist for the Salt Lake Tribune. In addition to her family, her great passion in life is international humanitarian work. She recently returned from working with Rohingya refugees in Bangladesh and Syrian refugees in Turkey and looks forward to continuing her work in that area.
Jared Olsen
Jared Olsen is a father, husband, entrepreneur, workplace culture enthusiast, millennial, and Nacho Libre lover. Jared has had a fast paced career due to his radical ideas on company culture. What really gives Jared purpose in life is being a husband to his beautiful wife who he met when he was fourteen years old, and his three sons who love soccer, Legos, Daniel Tiger, and going to primary. Jared is the President & Co-Founder of REYFYA, the first outsourced culture consulting business in the Silicon Slopes. Jared is a progressive thought leader who is focusing on the human side of doing business and aligning people with operational outcomes. At the age of 25, Jared became a board member and Chapter President of Salt Lake SHRM, the largest group of HR professionals in Utah. He also created the largest online community of HR leaders in Utah… all while working full time. Since 2016 Jared has volunteered his time with Disrupt SLC, a grassroots movement to rid the HR community of Toby Flenderson's (The Office), HR bureaucracy, and the perception of HR being a bunch of grandmas. In 2015, Jared was named a CXO Winner by Utah Business Magazines for his ability to align people with operational goals and outcomes. Jared is one of the up and coming C-Suite members to keep your eye on.
Leta Greene
Leta inspires each of us to embrace what makes us individually hot and amazing. As an image consultant and makeup artist for over twenty years, Leta has helped clients to not only look their best, but to feel their best. Leta has also built a multi- million dollar business in the beauty industry and is a sought after trainer for women entrepreneurs. Her message is one of honoring yourself through being authentic to who you are. It is through humor, stories, and a new way of seeing the everyday that makes Leta's audiences of all ages want to hold on for more! Her programs range from Maturation programs for 5th grade girls, Confidence workshop for tween and teen girls, Joy-full workshops for women, Seminars for parents on how to talk to your kids about sex, and as an energetic Keynote speaker for conference and seminars on resiliency, personal responsibility and of course the Hotness Factor. Leta is the mother of Nathaniel, Ailsa and Katelynn. Who are the most adorable children. Just follow her on Facebook and you will see that they are amazing. She says her kids and hubby bring it home for her; anytime she thinks she is too cool, it's time to cook dinner. They help her keep it real – but she's still hot!
Martin Hurlburt
Martin Hurlburt has made it his life's mission to help people make better choices with their money. Combining humor, real life stories and cutting edge research in neuroscience, Martin will help you better understand how your brain processes financial decisions. He then teaches simple but powerful principles to help you better manage your money so that you can live a happier, more productive and less stressful life. He is the author of several financial books & courses and is a co-founder of TM Wealth Management, a firm dedicated to helping prepare for, transition to and enjoy a successful retirement.He is married and the father of three children. He enjoys hiking and playing his electric guitar.
Paul Jenkins
With Dr. Paul you get increased engagement, productivity, and happiness. You are about to hear from a speaker who knows the science, and presents it in an engaging and fun way. You will get an iron grip on powerful psychological principles that make an immediate difference in your personal, family, and professional lives. It is like having an owner's manual for your brain – one you can actually understand and apply. Dr. Paul has 20+ Years Experience as a Professional Psychologist and is currently an Author, Speaker, Positivity Expert, Personal Development Coach. His speaking expertise has given him the opportunity to be a Past President of the National Speakers Association, Mountain West. Dr. Paul is also the Host of "Live On Purpose Radio" since 2007, Live On Purpose TV (YouTube channel), and has had Multiple Radio and TV Appearances.