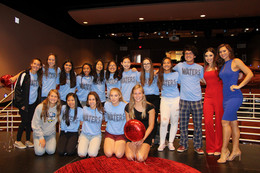 TEDxWoodbridgeHigh is a nonprofit local organization that promotes the spreading of ideas among Woodbridge High school students. The purpose of TEDxWoodbridgeHigh is to create a platform for students who don't often have the chance to share their stories and spread their ideas.
Speakers
Speakers may not be confirmed. Check event website for more information.
Alexander Kerr
Alex enjoys running, writing, and politics, and is an avid reader and writer. Talking and discussing ideas and ideologies has always been a passion of his and he continues to be a strong proponent of change in politics and world events.
Ayra Demirovich
Ayra Demirovich is a 16-year-old Junior at California Virtual Academies where she is dually enrolled in Stanford University's Humanities Circle. She interns with the San Francisco Board of Supervisors and is a Delegate for the California Association of Student Councils. She is also the founder of the Non-Profit Organization, SAFE: Social Advocacy for Equality through which she has published her children's book "Magnificently Different." She is also training to become a professional actress, singer, and dancer. She is a part of the Cabaret Ensemble with the American Conservatory Theater, and studies with Craig Slaight. Her recent credits include debuting the role of Emma Kolemeier in ACT's production of "Homefront." She is ecstatic to be sharing her story through TedxWoodbridgeHigh and hopes you enjoy her talk. Ayra is represented by Marla Dell Talent Agency.
David Gesk
David Gesk teaches Honors Pre-Calculus in the Woodbridge High School math department. When not teaching at WHS, Mr. Gesk is either spending time with his wife and three daughters or taking a yoga class. Mr. Gesk has been practicing yoga for the past 27 years
Frank Harrington
Mr. Harrington was born and raised in the San Francisco Bay Area. He is married to Jennifer Harrington (a history teacher at Irvine High School) and has two children- Meghan (age 13) and Jack (age 11). Mr. Harrington completed his Bachelor of Arts at Pepperdine University, Masters of Arts at University of Colorado at Boulder, and Juris Doctor at Cornell University. He has been teaching for 13 years, 9 of those years at Woodbridge High School. He was formerly the school's Social Science Department Chair for 6 years. Mr. Harrington has taught a variety of classes including AP U.S. History, AP U.S. Government, Honors World History, M.U.N. World History, CP World History, SP U.S. History, CP Economics, and CP Government.
Jana Novakovic
Jana Novakovic is a sophomore at Woodbridge High School. She loves to travel and is working on French and Spanish, along with being fluent in Serbian and English. Jana has been involved in TEDx since freshman year but decided to be a speaker about her experiences traveling alone this past summer. In the future, she wants to visit France and Thailand to experience the lifestyles in different countries.
John Conant
John Conant is a Latin teacher at Woodbridge High School. He currently teaches Latin II, Honors Latin III, and AP Latin IV.
Madeline Dahl
Madeline Dahl is a sophomore at Woodbridge High School. She started out as many young girls do, at dance class and on the soccer field. During summers, Madeline and her family spend their time at Lake Arrowhead where she sails Lasers and is a Youth Activities Instructor at the Lake Arrowhead Yacht Club. Madeline began sailing in Arrowhead at the young age of six and has done so ever since. As a freshman at WHS, Madeline joined Cross Country and Track where she earned a Varsity Letter. Being a team member has helped her be able to grow and develop her character, eventually becoming the Cross Country student representative. Madeline also loves to give back to the community. In 7th grade, Madeline joined National Charity League, a mother-daughter philanthropic organization. During her time in NCL, Madeline has volunteered over a hundred hours at various community organizations such as March of Dimes, United Cerebral Palsy, and Susan G. Koman. Madeline looks forward to the coming summer where she will continue sailing, volunteering, working with children as lifeguard and instructor, and enjoy being a normal 16 year old hanging out with friends.
Makai Aguirre
Makai Aguirre is a 12th grader who is very excited to be speaking. Makai spends his time singing with the Chamber Singers and Entertainers here at Woodbridge. He loves the arts, and constantly works towards making himself better for the next show.
Nikki Holbrook
Nikki Holbrook is a student at Brigham Young University-Hawaii studying Hospitality andTourism-Business Management. She loves outdoor activities, adventure, and trying new things. She is also involved in the Miss America Organization and is currently serving as Miss Barbary Coast 2018. This summer she will be competing for the title of Miss California. Nikki created a program called SNAP (Service Nurtures All People) where she educates students on the importance of service in their communities. She continues to promote service through assemblies at elementary schools and hopes to inspire others to do so.
Sarah Dahdouh
Sarah Dahdouh is a recent graduate of the University of California, Los Angeles, where she studied Psychology and Philosophy. While attending UCLA, Sarah served as a Resident Assistant for three years, sang as a member of the the prestigious ScatterTones acappella group and received the Chancellor Service Award. Volunteerism has long been a staple in her life, as she worked at the UCLA Mattel Children's Hospital, fundraised for Children's Organ Transplant Association (COTA), and taught English in Nicaragua. However, her passion lies in her service as Tell Every Amazing Lady's (T.E.A.L.) Youth Ambassador, raising funds and awareness for ovarian cancer. She has been awarded four Presidential Community Service Awards and the Girl Scouts' Bronze, Silver and Gold Awards. Sarah works as a speech and debate coach for high school students and in San Francisco's Mayor's Office of Communication, and has recently worked under the former Google CEO's Strategic Innovation Fund. Sarah is currently Miss San Francisco for the Miss America Scholarship Organization and is studying for the LSAT in hope of applying to Law School this Fall. You can learn more about Sarah by visiting her website: https://www.sarahdahdouh.com/.