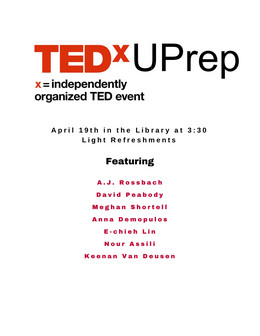 Welcome to the second annual University Prep TEDxUPrep event! Please join us in the Library at 3:30 for an afternoon of sharing ideas and hearing from people looking to create change in their communities. No RSVP required there will be light refreshments.
Speakers
Speakers may not be confirmed. Check event website for more information.
A.J. Rossbach
Student
A.J. is a junior at University Prep, who spent a semester away at the High Mountain Institute in Leadville, Colorado. She is an avid musician, singing since a young age and learning to play instruments along the way, but her love of the outdoor is what prompted her to apply to the High Mountain Institute. There, she was immersed in an inclusive community, which changed the way she thinks about relationships in our society.
Cross Out Cancer Seattle President
Cross Out Cancer Seattle President
Mathematics Teacher and Department Chair, University Prep, Seattle, WA
David Peabody been in education for twenty-one years at positions in elementary, middle, high school, and universities. He's made unconventional decisions to play professional football in Germany, teach in the Dominican Republic, become a professional dancer and juggler, and make poems about Mathematics, but they've all turned out to be unforgettable. He's thrilled to be on the TEDx stage sharing his reflections on reflecting.
E-chieh Lin
Teacher
Keenan Van Deusen
Student
Meghan Shortell
Teacher
Nour Assili
Kennedy-Lugar YES Scholar at University Prep
Nour Assili, a Junior at University Prep, is an exchange student from Tunisia. She has received the Kennedy-Lugar Youth Exchange & Study Scholarship to spend one academic year in the United States, hosted by an American family. She is passionate about social entrepreneurship, computer science and Kung Fu. As a cultural ambassador, she was given the challenge of exploring differences and breaking down misperceptions. Her year abroad became the year that redefined her vision of the world as she built international friendships and acquired a global frame of reference when looking at issues.