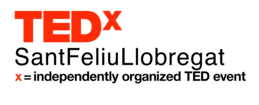 TEDx SantFeliuLlobregat és un esdeveniment sense ànim de lucre, basat en les xerrades TED, que busca el compartiment de coneixements, idees i experiències. La jornada consta de 6 xerrades de temàtiques diverses, d'uns 18 minuts de durada, impartides per experts en una matèria o personatges que hagin viscut alguna experiència d'interès.
Aquesta diversitat de ponències en un mateix acte comporta una visió del coneixement des d'una visió més àmplia. Tanmateix, les xerrades tenen un eix comú basat en dos pilars: primer, la voluntat de despertar interessos en diferents disciplines; segon, l'adequació de cada ponència als objectius de TEDx SantFeliuLlobregat.
Aquest projecte neix amb la intenció de realitzar-se una vegada al any, tenint la primera edició el 15 de setembre de 2018. L'equip organitzatiu tenim l'objectiu de poder realitzar, com a mínim, una jornada de TEDx SantFeliuLlobregat anual.
Speakers
Speakers may not be confirmed. Check event website for more information.
Computació Quàntica
Graduada en física per la Universitat de Barcelona, després va estudiar el màster d' Astrofísica, Física de Partícules i Cosmologia a la mateixa universitat. Recentment ha guanyat un premi internacional relacionat amb computació quàntica: "Teach Me QISKit", otorgat per l'empresa IBM. Actualment treballa en les propietats de la física d'altes energies, entrellaçament multipartit i computació quàntica al Barcelona Supercomputing Center (BSC).
Guillermo Garcia
Recuperació Medul·lar
Doctor en Neuroplasticitat i Regeneneració per la UAB, i professor a la mateixa universitat. La seva investigació es centra en la relació entre el cervell, la mèdul·la espinal, i les ordres motors a través del sistema nerviós central. En particular, estudia com recuperar l'activitat de la mèdul·la espinal després d'una lesió. Actualment és investigador a l'Institut de Neurociències des de 2016, després d'haver treballat en universitats com Boston University, Cambridge University Centre for Brain Repair, State University of New York i University of California.