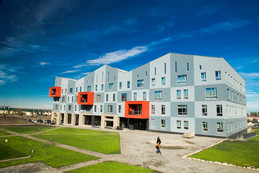 In the spirit of ideas worth spreading, TEDx is a program of local, self-organized events that bring people together to share a TED-like experience. At a TEDx event, TEDTalks video and live speakers combine to spark deep discussion and connection in a small group. These local, self-organized events are branded TEDx, where x = independently organized TED event. The TED Conference provides general guidance for the TEDx program, but individual TEDx events are self-organized (subject to certain rules and regulations).
Speakers
Speakers may not be confirmed. Check event website for more information.
Satellite Creator, Nation Builder
At only 19 years old, Aidana Aidarbekova is already breaking down gender barriers in Kyrgyzstan in the realm of STEM and beyond. Born and raised in Bishkek, over the years it became difficult for her to decide which path in life to take. Yearning for something interesting, creative, future-oriented, and impactful, Aidana landed in the world of IT and at the prestigious Chinese University of Hong Kong (CUHK) Faculty of Engineering. However, she was drawn back home to Kyrgyzstan and became one of the founding women of the revolutionary Kyrgyz Space Program, now highlighted by TED, BBC, Reuters, Reddit, and Global Citizen outlets. Amidst learning about satellite construction, soldering, 3D printing, and nano-satellites, Aidana dreams of being at the forefront of positive change throughout Kyrgyzstan.
Asel Diushenova
Self-Development Evangelist, Blogger + Influencer
Hailing from Bishkek, Asel Diushenova has always been hungry for more knowledge. At 19 and feeling like that guy in Paulo Coehlo's novel 'The Alchemist', she packed her bags in search of the meaning of life and just...went. But in the midst of adventures across places such the US, England, Moldova, South Korea, Japan, Turkey, and Azerbaijan - and wondering where to find her "treasure", Asel realized that the whole universe - including her "treasure" and all of the answers she'd been looking for - were inside of her. Wanting to take her passions of seeing the world, meeting new people, and trying new things to the next level, she founded the self-development platform and online community school, Ipdate Me. Simultaneously, Asel harnesses Instagram to share her growth experiences while living abroad, issues that expatriates may face, and ways for her audience to build resilience. She graduated from the International University of Central Asia with a degree in International Relations.
Banur Abdieva
Civic Leader and Ecotourism Producer
Banur Abdieva is a leader of the women's movement, civil society, and ecotourism in Kyrgyzstan. Since founding the Center for Civil Initiative - Leader, she created the Leadership Youth Volunteer Organization and has worked to help implement countless sustainable projects and innovations, such as the first Internet access in Karakol, social entrepreneurship studies in the Issyk-Kul region, the 'One Village, One Product' movement, and the Women's Social Bank. Now, Banur actively promotes ecotourism on Issyk-Kul's southern shore and serves as a consultant and administrative director of Apricot Guest House. After spending time in Japan to learn how to activate communities to promote eco-tourism, she leads her own Chyngyz Aitmatov intellectual tours and Kyrgyz-Japanese cross-cultural "Sakura and Apricot" and "Momiji" tours. Banur is the recipient of the highest honorary award of the Women's College of Soka University in Tokyo, and was awarded the Dank Medal of the Kyrgyz Republic.
Eric Abdykalykov
Entrepreneur, Social Activist, Filmmaker
Since graduating from the Faculty of English Language and Literature at Kyrgyz-Turkish Manas University, Eric Abdykalykov has not been quiet, opting to wear many hats around Bishkek and Kyrgyzstan. Before serving as the President of the Kyrgyz Union Bishkek Youth Association, he founded and also presided over the Rotaract Nomad Club in Kyrgyzstan, receiving an award, the First World Youth Kurultay of Kyrgyzstan, for the best social project in Central Asia. More recently, Eric founded the 'GrowCon' event, and directed/authored the 'Bishkek 140' media project, which shed new light on the three stages of the capital of Kyrgyzstan: the royal period, the Soviet era and the independent Bishkek.
Kubanychbek Zhumabai uulu
Conservationist
Kubanychbek Zhumabai uulu has long been enthralled by the world of wildlife. In 2002, he began his career in environmental protection as a field specialist focusing on snow leopard conservation. Years later, now Kuban is the director of the Snow Leopard Foundation in Kyrgyzstan and Kyrgyzstan's coordinator of the Snow Leopard Trust. Under his guidance, the Snow Leopard Foundation in Kyrgyzstan's research arm has been able to collect a large amount of scientific data on the current state of the snow leopard population in Kyrgyzstan. Kuban graduated from the Faculty of Geography and Ecology of Kyrgyz National University and the Postgraduate School of the Biological and Soil Institute of the National Academy of Sciences of the Kyrgyz Republic. He received his Master's of Science from the Norwegian University of Life Sciences, with his thesis serving as the first post-Soviet scientific work devoted to the rare snow leopard and its relationship with other large predators in Kyrgyzstan.
Zarifa Adiba
Musician + Rebel
Zarifa Adiba is a 20-year-old New Generation Academy student from Afghanistan at the American University of Central Asia. Thanks to studying at the Afghanistan National Institute of Music over three years, she learned to play the viola and conducted the first all-female orchestra in Afghanistan, Zohra. Following this success, she conducted the Zohra Orchestra at the 2017 World Economic Forum in Davos, Switzerland, also serving as an event panelist. Zohra went on to perform elsewhere in Switzerland and Germany and subsequently won the 2017 Freemuse Award, given to an organization that has worked for musical freedom of expression in a remarkable way. In between, Zarifa participated in several international forums and programs, graduating as a Yale Young Global Scholar in 2016. Now, she works to raise awareness through the arts about key issues such as women's rights, injustice, and corruption, and is currently writing a book about her experiences fighting for her education in Kabul.