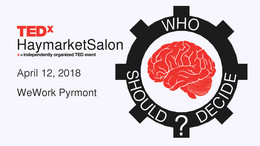 In the spirit of ideas worth spreading, TEDx is a program of local, self-organized events that bring people together to share a TED-like experience. At a TEDx event, TEDTalks video and live speakers combine to spark deep discussion and connection in a small group. These local, self-organized events are branded TEDx, where x = independently organized TED event. The TED Conference provides general guidance for the TEDx program, but individual TEDx events are self-organized (subject to certain rules and regulations).
Speakers
Speakers may not be confirmed. Check event website for more information.
Jason Collins
Jason Collins is a behavioural economist who works with organisations to develop good decision making. He has led a data science team, built a behavioural economics consulting practice, and is a founding columnist with the Behavioral Scientist. He has a PhD combining economics and evolutionary biology, and blogs on behavioural and data science at jasoncollins.blog.
Ky Chow
Ky Chow is a media consultant who has worked for over 10 years in radio, television, written and online journalism. A reporter for Sky News Australia, the Australian Financial Review and the ABC, Ky has covered a diversity of topics including business, technology, politics and social issues. Before working in journalism, Ky worked in marketing and consulting in the corporate sector.