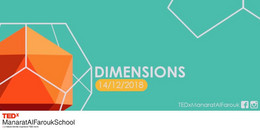 Reshape the universe in your eyes. Why see the world from only one dimension when there is so much more to it? Seeing things one way doesn't mean that's how they actually are. Sometimes, the answer to any problem that we face is right in front of our eyes, but it's just us who can't see it. Although if we just change our perspective, maybe we'll add more depth and meaning to our world. Perhaps if we look differently, from new perspectives, we would be able to dream more and hopefully achieve more.
Through a series of talks, performances, activities and a vast range of ideas; you'll get to inspect different dimensions throughout our event which will leave you with a whole different inner dimension of your own.
Speakers
Speakers may not be confirmed. Check event website for more information.
Ahmed ElGendy
Athlete - Egyptian Team for Modern Pentathlon
Ahmed ElGendy is an Egyptian international athlete who graduated from AlFarouk school. His road is full of regional and global achievements throughout his young age. However, 2018 has been an outstanding year for ElGendy with a tremendous amount of success that has put him in everyone's focus of attention. After winning his gold medal in the world youth championship, a new challenge was set in front of his eyes when he qualified for the youth Olympics. As we all know it, winning the Olympics is every athlete's main goal.
Anwar ElKamony
Tennis player and Aplastic Anemia Survivor
Macedonia 22.06.2007, an unforgettable day. Anwar ElKamony had been through many difficult situations to be here right now. Dream came true to play international tournament, only after 1.5 years since the first time he hold the tennis racket in his hand. In one moment he found himself collapsed on the court, and everything around him was black. He was forced to return to Egypt to make a health checkup, because he was feeling weaker every single day. But in each hospital he went, after checking his blood test he was rejected to enter. Until in the end Kasr Einy hospital accepted him. He was isolated in the hospital room, without a permission for anyone to enter and blood transfusions were conducted every day to keep him alive. While the doctors finally discovered what's happen to him. FAILURE IN BONE MARROW. My body was not producing any blood cells, he had no immunity. He made bone marrow transplant operation. Currently, he is a GVTP survivor who is still playing tennis.
Eslam Wageed
Founder of RoboCup Junior, Robo-Games and Beaver Egypt
Eslam Wageed, International Committee Member of the International Olympiad in Informatics (IOI), Head of robotics department at the Regional Informatics Center AAST and the founder of RoboCup Junior, Robo-Games and Beaver Egypt.
Farida ElSharkawy
Senior Student
Farida ElSharkawy, a 17 year-old highschool senior student who believes in impacting the community around her. To do so, she's moderating such a powerful group as @survivinghijab , and representing the US brand @ASIYA (For Modest Active Wear) in Egypt. She also became the representative of Junior Cairo International Model United Nations in AUC 2017. She accomplished certification of achievement in "How to deal with different personalities Diploma".
Kareem Hassan
Innovation Expert and Sustainability Entrepreneur - Managing Director of "BENAA Foundation"
Kareem Hassan is the managing director of "BENAA Foundation" which aims at building the capacities of youth in order to buildup sustainable WASH projects in Egypt. He is also a lecturer and researcher at Zewail University for Science and Technology. He got his Bachelor of Agricultural and Biological Engineering at Ain Shams University (Egypt), M.Sc. of Environmental Engineering at the American University in Cairo, and Project Management Program in the sustainable development at Cewas (Switzerland). He worked as a researcher in the field of environmental engineering at several Universities in Saudi Arabia, Germany, Egypt and Switzerland. Kareem has initiated and led more than 40 projects, including knowledge production, capacity building, and participatory innovation. He established Egypt's first national research and innovation center for appropriate technologies of energy, water, and environment (NEWEC) in addition to founding and leading 4 enterprises.
Mahmoud Youssef
Professional Wheelchair Tennis Player
Mahmoud Youssuf is a sports enthusiast who is born and raised in Egypt. A previous Kung Fu champion and coach, Mahmoud had an accident and suffered an injury that he became a wheelchair user. His passion for what he does and positive spirit helped him to overcome both psychological and physical struggle and allowed him to become: a Professional Wheelchair Tennis player, a Motivational Speaker and a Personal Trainer.
Mohamed Hamed
Head of the Consultation unit in TREE Human Resources
Mohamed is the head of Consultation unit in TREE Human Resources since May 2015 and he is operating all the consultation activities and services with TREE consultation team in Malaysia and KSA. Mohamed possess pragmatic and hands on professional experience build across the HR field within Multi-national/ International and big local companies. He worked as OD Manager at Guardian industries – Multi-national, previously he was the Head of HR Department at Farm Frites Egypt - Americana Group. He, also, worked as an Organizational Development Consultant PMC – ProMark Cooperation in which he conducted 16 OD projects in 8 different industries that gave him an extensive experience in the field of OD and Human Capital.
Mohammad ElSawy
Businessman - Founder of ElSawy CultureWheel
Mohamed ElSawy, former Egyptian minister of culture and the son of the Egyptian author Abdelmoniem ElSawy. He is an architect, graduated from the Faculty of Fine Arts, Helwan University. He is the founder of ElSawy CultureWheel, one of the most well-known cultural focal points in Cairo. Awarded by the German President by the (Deutsches Verdienstkreuz). Awarded by the Arab Thought Foundation 2009. A strong activist against smoking he created the white circle campaign (Proud to be a non-smoker). Initiated and promoted many social awareness campaigns.
Nora Samir
TV Content Producer
Nora Samir is a Faroukian who graduated from Mass Communication, Journalism Department at Ain Shams university, with 15 years experience in media as a TV Content Producer. She was privileged to work with top notch pillars such as Ahmed ElShugairi and Mostafa Hosny. Moreover, she worked with Iqraa Channel and several production houses. Her successful journey enabled her to produce a short movie entitled "I am Free" (more than 430k views).
Sahar AlBazar
Advisor at the Ministry of Social Solidarity
Sahar AlBazar has a Masters of Public Administration from John F. Kenndy school, she has a vast experience in development and civil society. And she's currently working as an advisor at the Ministry of Social Solidarity.
SoundProofed " Moaz Abdelmoniem - Shehab Nabil "
Student
Moaz Abdelmoniem, a gifted 13 years old student whose passion as a singer will turn him into a great singer. Shihab Nabil a talented guitarist with an amazing sense of tones.
Zain Abas
Singer
A 25 years old singer who sings for a cause and believes in the power of ideas that can change the communities.