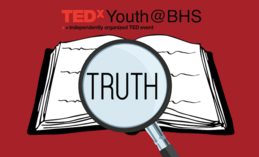 The concept of "truth" and how one understands it is more important than ever. Join us for thought-provoking talks from speakers who strive to seek the meaning of truth in education, marketing, philosophy, and research.
Speakers
Speakers may not be confirmed. Check event website for more information.
Angie Minichiello
Student
Angie Minichiello is a freshman at Burlington High School, raised in a household with two mothers. An accomplished student, she also participates in a number of extracurricular activities, including softball, competitive dance, field hockey, theatre, singing, piano, and art. She is a part of the Red Trebles, Burlington High School's acapella club, and has been in two performances at Burlington High School this year, Fahrenheit 451 and Pippin. She is a proud member of the James L. McKeown Boys and Girls Club of Woburn Keystone Club, which is a nationwide community service program. Angie adapts to the very different skill sets needed for her activities and for school by putting on a positive mindset and working hard to achieve success. She considers herself an optimist, and finds happiness in many places, especially at her summer camp of four years. She loves helping others find positivity in their lives.
Arya Nagraj
Student
Arya Nagraj is a sophomore at Burlington High School and is a dedicated social and political activist. He is the Secretary General of Model United Nations, the Teenage Coordinator for Hindu Swayamsevak Sangh, and the Chair of the Burlington Massachusetts High School Democrats. Arya devotes much of his time advocating for ideas and principles he strongly believes in; this compels him to participate in and organize numerous protests, debating and listening to just about anyone that's willing, and educate himself as much as he possibly can on topics he feels strongly about. With all of this pushing him forward, Arya hopes to one day become a lawyer that follows the work of legends like Harish Salve and Thurgood Marshall.
Brendan Lucas
Student
Brendan Lucas is a senior at Burlington High School. For as long as he can remember, he has been extremely interested in science and philosophy. He deeply enjoys asking difficult questions, finding answers, and proposing his own if there are none. His favorite topics are those that seem to explain or justify human existence. Despite his philosophical inclinations, he plans to study engineering because he cares about practical applications of the ideas that interest him. Brendan will be studying chemical engineering at UMass Lowell next year, and working with nanoelectronics there over the summer.
Christian Wiesse
Burlington High School student Christian Wiesse is a singer who performed at TEDxYouth@BHS 2018
Entrepreneur
Erika Ashley is an award winning entrepreneur, writer, feminist, and TEDx speaker who leverages over a decade of press, branding, and social media marketing experience in her work as a publicist and strategist for entrepreneurs, digital influencers, and small businesses. Her clients have included Grammy-winning bands, celebrities, and entrepreneurs, and you've seen them in Refinery29, Yahoo! Style, HGTV, ESPN-W, Cosmopolitan, SELF Magazine, The Today Show, Brit + Co, + countless other digital and print publications. When she's not helping her clients establish their brand presence or connect with their audience in the press, Erika's probably trying out a new liquid lipstick or watching RuPaul's Drag Race. You've seen Erika in Forbes, Nylon, Health, Bustle, Brit + Co, HuffPost, Martha Stewart Weddings, and more.
Gati Aher
Student
Gati Aher is a junior at Burlington High School and an ardent advocate of self-guided learning. Gati is the leader of her school's programming club, Math League team, and CAD (Computer Aided Design) division of Burlington's FRC robotics team, the DevilBotz. Gati devotes much of her time to the pursuits of the arts. Her artwork has been voted Best Artwork by a Sophmore and Best Artwork Overall by Collab, the school magazine, has won Sargent Art's State-Level Art Competition, and has been published by the Marble Collection, The MA High School Magazine of the Arts. Gati also plays several instruments, including clarinet, bass clarinet, piano, Indian flute, and the oboe. Gati enjoys teaching herself or other students. So far she has taught herself and opted out of Honors Chemistry and Honors Precalculus. She is currently teaching herself how to program in Java and Python, and she spends her free hours tutoring students in math, chemistry, biology, and Latin
Grace Schacterle
Student
Grace is a current senior at Hopkinton High School. She enjoys making art, playing soccer, volunteering, spending time with friends, and meeting new people. She plans to study criminal justice in college next year and eventually wants to join the FBI. Grace has dealt with anxiety and depression for most of her life, and is hoping to show people the truth behind having a mental illness, especially what it is like to have one at a young age. Grace is genuinely excited for her future and aspires to make the world a better place.
Gregory Stringer
Teacher
Gregory Stringer grew up in nearby Manchester, NH. He holds BAs in History and Classics from BU, an MA in Medieval History from UNH and an MA in Latin Pedagogy from UMASS, Boston. He presents broadly on language teaching and learning and leads active Latin programs in the US and Europe. At Burlington High School, students in his "immersive" classroom listen, speak, read and write entirely in Latin.
Jaya Tripathi
Scientist
Jaya Tripathi is a Principal Scientist and an advanced analytics expert in The MITRE Corporation's Information Technology Technical Center. She is the principal investigator in MITRE's effort to apply health IT concepts to address prescription drug abuse and fraud. Her research has covered physician credentialing, patient consents in electronics health records, surveillance of anti-viral drugs, Bitcoin blockchain forensics, telemedicine, and identifying prescription drug fraud and abuse. She is the inventor of two web-based tools, the Fraud Investigator's Analytic Tool, F.I.A.T., and a decision-making tool for opioid management, MeDSS, that prescribers can use at the point of care. Ms. Tripathi has presented her research at major conferences and also to some of our nation's leaders including our Surgeon General, the Comptroller General, governors, Congressmen, the Office of Management and Budget at the White House and the White House Office of National Drug Control Policy.
Mia Campbell
Mia Campbell is a Burlington High School student who performed at TEDxYouth@BHS 2018