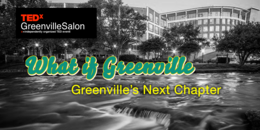 February Salon: Tuesday, February 20, Program begins at 6:30pm
Do you remember what Greenville used to be? Abandoned buildings, a dead Downtown, a polluted Reedy covered by an ugly concrete bridge? We do.
Greenville is now the envy of communities throughout the world and has become a model for Downtown revitalization. However, with this growth comes issues we need to address. If we want to continue to be the most livable city in America, we have to plan for our future with big plans and ginormous ideas.
Join us for the February salon. This one is going to be a little bit different from past salons. Instead of our traditional "two speaker/one TED video" format, we are looking for your input. We will feature the creator of the website "WhatIfGreenville," and then ask for your thoughts through small group discussions.
We will facilitate a group brainstorming exercise to better understand what Greenville's next chapter might look like. Bring your opinions about where you think Greenville needs to be in the coming decades.
Speakers
Speakers may not be confirmed. Check event website for more information.
Adam Gautsch
Community Social Media Champion
Adam is one of the founders of OrangeCoat, another Clemson University graduate (Political Science) and is the person focused on sales and marketing for both OrangeCoat and their clients. A joiner of all things internet, you can find profiles for Adam (almost always under agautsc) at Twitter, LinkedIn, Flickr, SwampFox, AthleteFocus, Delicious, and Vimeo to name a few. Adam founded www.whatifgreenville.com, a website designed to collect big ideas for the future of Greenville.