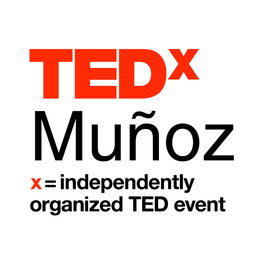 In general, TED is a nonprofit devoted to spreading ideas, usually in the form of short, powerful talks (18 minutes or less). The TEDx Program is designed to help communities, organizations and individuals to spark conversation and connection through local TED-like experiences. TEDx is considered as one of the most prestigious platforms for sharing ideas as it has already welcomed more than 100,000 TEDx talks.
TEDxMuñoz is the first TED initiative in the Central Luzon Region. It is apt that this be held in the city that is considered to be the only science city in the country, where bright ideas worth sharing and innovations have been and continue to be developed.
The theme for the TEDxMuñoz is "muni-muni," which can mean "to reflect" or "to ponder". Reflecting, in its general sense, a recollection of something. This requires analysis of the things that had happened or things that might happen. Pondering, on the other hand, implies thinking deeper or contemplating on something queitly. These acts of reflecting and pondering are the start of bigger plans and bigger ideas. Five speakers shall be chosen to talk on the following themes:
• Arts and Culture
• Mental Health
• Agriculture
• Entrepreneurship
• Entertainment
Speakers
Speakers may not be confirmed. Check event website for more information.
Antonio Barroga
Professor + Zero Waste Advocate
Dr. Barroga is presently a Professor VI at the Central Luzon State University. He finished his PhD in Animal Nutrition at Kyushu Tokai University, Kumamoto, Japan in 2001 and had a one year Post Doctoral Stint at the National Livestock Research Institute in Suwon, Korea in 2005. He have always adhere to the dictum, that there is no waste, as waste is simply a misplaced resource. With the developments regarding the reality of climate change, now is the time to join ranks for the preservation of the environment and he is honored to be involved in this very noble advocacy.
Dustin Jacob Carbonera
Graphic Designer Entrepreneur
Dustin is a graphic design entrepreneur. He started his career in design when he saw Team Manila talk about Filipino designs when he was about to graduate Broadcast Journalism in De La Salle University Dasmarinas. His career track changed because of it, but for the better. His strength of seeing patterns that connects all things guides him to create better design and tell stories through it. He also have a natural penchant to want to solve problems through better design, as God has designed him to. Aside from this, he likes photography, travelling, and he is solid #TeamCap.
Junix Jerald Delos Santos
Psychometrician + Teacher + Mental Health Advocate
Junix is a graduate student at Saint Louis University and a faculty member of psychology at the University of Baguio. He is a registered psychometrician and a licensed professional teacher. Junix is a member of the Philippine Mental Health Association Baguio-Benguet Chapter, Inc. and the Psychological Association of the Philippines (PAP), particularly its rainbow collective called the PAP LGBT Psychology Special Interest Group. In his free time, Junix lectures at review centers in Baguio City. Deeply moved by the quote: "Create the things you wish existed," he hopes to influence more people to create safe spaces for sexual and gender minorities.
Rod Marmol
Filmmaker + Author + Spoken Word Artist
Rod Marmol is a filmmaker, a best-selling author, and a spoken word artist. He has written and worked for TV shows, films, newspaper and zines, and advertising campaigns. When he isn't shooting or writing, he spends his time giving love advice on his literary Facebook page "Utot Catalog" with over half a million followers. He is currently working on a novel counterpart of his directorial debut film "Mata Tapang" (Brave Eye) that competed in the Cinefilipino Film Festival 2018.
Rogerine Miguel
Rural Social Entrepreneur
Rogerine Miguel is a UP Diliman Magna Cum Laude graduate and Alumni of the Asian Institute of Management and Arizona State University,US. She was awarded as the CRS Youth Award National Finalist and the only women in the pool, for her unwavering passion and commitment for Community Development. She has founded several start-ups and movements involving all Passionate Millennials to venture to social entrepreneurship, innovations, and nation building. Among the most notable groups/companies she founded was the Bag Manufacturing Social Enterprise, Guerilla Bags and Co, which partners with over 10 weaving communities and bag artisans all around the Philippines, at 2 years in operation they are already distributing locally and exporting abroad. She also started the online movement she dubbed "Passionate Millennial", which aims to inspire Millennials toward the generations' greatest potential of transforming communities through storytelling, and mentoring.