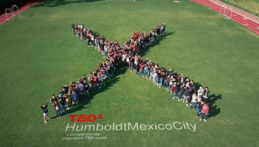 We want to invite students and adults that elaborate around the idea of disruptive thinking, in other words what has meant for them thinking and living "out-of-the-box", breaking routine thinking. Lets get together and find new and fresh perspectives to see things from another angle, another point of view and thus provoking a change.
Queremos invitar a que los jóvenes alumnos y por supuesto también los adultos compartan ideas alrededor del pensamiento disruptivo. ¿Qué significa vivir dentro o fuera de la burbuja? ¿Qué significa pensar fuera de la caja o de lo que normalmente se espera de nosotros? O más retador aún lo que significa tener una vida y una educación con muchos privilegios, con mucha seguridad, siendo que la realidad "allá afuera" es otra.
Speakers
Speakers may not be confirmed. Check event website for more information.
Carlos Egido
Economic expert
Actitud y perseverancia
Cynthia Solar
Life influencer
Madre de familia que no se dio por vencida y gracias a su coraje supo luchar y salir adelante pese a que tuvo una enfermedad que la paralizo
Damiano Bejar
Testimonio de vida, example of survival
Damiano is 12 years old, for 9 years he has been fighting leucemia. A great sense of power leads also to greater responsibility. / Un gran poder conlleva una gran responsabilidad. Tiene 12 años, 9 años luchando contra la leucemia. Damiano va en quinto de primaria en el Colegio Alemán Alexander von Humboldt. A los 3 años de edad fue diagnosticado con Leucemia Aguda Linfoblástica, y a los 7 tuvo una recaída temprana, por lo que es cliente frecuente del área de Hematología Pediátrica en el Centro Médico Nacional 20 de noviembre. Le gusta conocer gente nueva y hacer amigos. - además de su Job title o Rol (algo breve que los describa sobre lo que hacen día a día): Damiano es un hedonista nato, apasionado de los placeres sencillos: una comida deliciosa, una tarde con amigos, juegos de mesa con la familia o una buena película de Marvel... es el más comprensivo de la familia y siempre está listo para escucharte y darte un consejo.
Daniela Berumen
Young advocate
As many students at the German School in Mexico that study one year abroad, learned to appreciate what she had left behind
Doris González Rodhe
Inclusion activist
Inclusión
Fernanda Menéndez
Student activist
Soy María Fernanda Menéndez, pero me gusta que me llamen Fer o Fernanda. Nací aquí en la CDMX, tengo 13 años de edad y una hermana menor. Soy una niña con mucha energía y me encanta hablar; por eso mis maestros me regañan generalmente. Me va bien en la escuela, estoy en la escolta, me encantan los deportes (hace poco fui parte de la copa Humboldt), toco la flauta en la banda del colegio, me encanta estar con amigos y familia."
Fernando Guisa
Youtuber influencer
From youtuber to movie producer, always looking for ideas and examples to share with his audience
Gustavo Solorzano
Disruptive thinker
Student at the Tec de Monterrey, likes to provoque the audiences with this talk about love and hate with corruption.
Heidi Gándara
Community influencer
Heidi Gándara is a successful woman that was trying to be the best mother, wife and employee. Noticing that her life and her health were at risk and without leaving her responsibilities aside decided to make a change in her life balancing all her actions.
Humberto Arroyo
Disruptive thinker
Hoy es el ultimo día que vives hoy.
Loana Barrón
Young disruptive influencer
Cambios en mi forma de pensar
Lukas Toledo
Disruptive
How to change school from a kids perspective
Michel Domit
Visionary
"El arquitecto de todo este proyecto ha sido el espíritu de la pacha mama, la madre tierra, en cada meditación le preguntamos a la montaña qué quiere que hagamos". En 1989 el Grupo Domit atravesaba por un mal momento financiero. A Michel le habían ofrecido la montaña donde hoy está El Santuario, pero él rechazó la propuesta. Sin embargo, en la meditación de esa noche, su padre, que había muerto cuando él tenía 12 años, no sólo le indicó que tenía que comprarla sino que sería la misión de su vida convertirla en un ejemplo mundial de convivencia entre el hombre y el medio ambiente.
Miguel Villa
Life value believer
Cómo conocí al amor de mi vida
Nicole Fink
young athlete and influencer
Loves sports
Patricia Kohlmann
Endurance swimmer
Open water swimmer expert. Fundador y Head Coach Team Kohlmann Entrenador de natación con especialidad en alberca, aguas abiertas y triatlón.
Renata Freyre
Thinker
Cómo lidiar con pérdidas
Reno Rojas
Influencer
With more than 1,000,000 followers, she accepts her responsibilities as an influencer of younger students
Sofia Menéndez
Disruptive young primary student
"Me llamo Sofía, pero en la escuela me dicen Sofi o Sof.Tengo 11 años y voy en sexto de primaria.Me encanta leer, platicar y me apasionan los deportes. Yo soy nadadora y corredora, pero más que nada me gusta competir y ganar.En la escuela me va muy bien y tengo unos amigos fantásticos. Mi materia favorita es español y mate.Toco la tuba en la banda de la escuela y la música también forma parte importante de mi vida, pues soy alegre y me gusta mucho cantar.Adoro a mi familia y me encanta convivir con ellos.
Sofía Ortíz
Young student with a positive attitude
Hacer reír a la gente me hace feliz, me encanta ayudar a quien lo necesite y trato de ser muy positiva siempre. Creo mucho en la idea de que todo pasa por algo y que debemos siempre seguir adelante. Me encanta la música y la fotografía. Aprender a vivir la vida siendo feliz no siempre es fácil pero nunca es imposible y como dije al principio me encanta hacer sonreír a la gente con mis ocurrencias.
Tania Trujillo
LGBT activist
Speaking up in a society that begins to learn how to accept other sexual preferences.
Tiam González
Education advocate
Young high school student that gives experienced adults lectures of a better education.