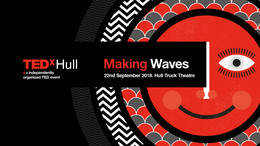 'The people who are crazy enough to think that they can change the world, are the ones who do' – Steve Jobs
Every day, all around us, our world is changing rapidly.
New advancements in technology are making our world safer and more secure, yet leaving us exposed to increasing cybercrime and data misuse. Turbulent economies give rise to fluctuating prosperity intertwined with rampant uncertainty and instability. Meanwhile, new discoveries in science and medicine are helping us fight dangerous diseases, while equipping us to confront future illnesses that evolve out of the ashes.
In the midst of all this unyielding transformation, new, innovative and surprising ideas are reshaping the way we live and operate in our ever-changing landscape. Pioneered by people daring to be different – out-of-the-box thinkers with the imagination and audacity to create something extraordinary. Opening our eyes to new ways of doing things, enhancing societies and communities, and expanding our knowledge of what it really means to be human.
From neurodiversity to creative illustration, examining our most vital organ to exploring our digital future, TEDxHull 2018 brings together 12 of the most inventive and creative minds for an inspiring day of eye-opening talks on the radical and revolutionary ideas that are shaping society as we know it – and changing the world forever.
Speakers
Speakers may not be confirmed. Check event website for more information.
Calvin Innes
Illustrator and Artist
Calvin Innes is an artist, illustrator, author and cartoonist who has spent the last 20 years creating all kinds of weird and wonderful illustrations for thousands of different projects. His ethos has always been, 'if it can be drawn on, it probably should be drawn on'. While this didn't go down too well during his youth, it sparked a diverse artistic career spanning children's book illustration, concept art development, comic book illustration, toy design, large-scale mural painting and even tattoo art. His creative versatility has seen him collaborating with some of the world's most recognisable brands and delivering interactive drawing workshops for schools across the UK, helping children to embrace their inner creativity, express their ideas and imagination through art, and most of all, to have fun through drawing.
Cath Waller
Environmental Marine Biologist and Lecturer
Cath is an environmental marine biologist and a Lecturer at the University of Hull. She focuses specifically on the polar regions, and her research has transported her to some of the most remote and hostile places in the world, from Sub-Antarctic South Georgia through the Scotia Arc to the South Shetland Islands and Antarctic Peninsula in the south, and Greenland in the north. Cath is fascinated by these beautiful, fragile environments, and has devoted herself to understanding and protecting them and the animals that call them home. She co-chairs the Scientific Committee on Antarctic Research action group Plastic at the Poles, and is a key collaborator in the British Antarctic Survey's 3-year research project 'Impact of Plastic in the Polar Regions'. She has undertaken around 80 dives in the icy waters of Antarctica, travelled on HMS Endurance around the Northeast Antarctic Peninsula, and even spent 8 weeks living in a tent on Livingston Island, with no access to a bath or toilet.
Darren Maw
Barrister and Thought Leader
Darren is an experienced barrister and thought leader, and the founder and Managing Director of Vista Employer Services – the first organisation in the UK to be awarded the British Standard in Diversity and Inclusion. Starting his career as a Barrister for the Chambers of Lionel Swift QC, 4 Paper Buildings, and Temple, Darren went on to specialise in Employment Law Disputes, and started Vista in 2005, where he supports and advises HR teams on legal and cultural implications relating to people management issues. Through Vista he has worked with organisations such as Airbus, BAE Systems, Muller, Colgate Palmolive, RB and General Motors. Darren regularly speaks on diversity and inclusion issues, which he is passionate about tackling head-on – no matter how uncomfortable they may be. However, Darren's main claim to fame is his experience outside the legal sector as a professional actor – which has previously seen him taking on two small roles amongst the cobbles of Coronation Street!
Dileepa Ranawake
Community Manager
Dileepa is the Community Manager at C4DI (Centre for Digital Innovation) at the heart of Hull's flourishing digital technology sector. With no technical background or Computer Science degree, his route into the tech industry is an unconventional one – but it's given him a unique perspective that's enabled him to bring together and build a thriving community of digital specialists helping to bring prosperity to local businesses and people. With an avid interest in the latest tech and digital trends, Dileepa's fascinated by the power of digital to broaden horizons, stimulate economic growth and shape societal identity, especially right here in Hull – a city once characterised by mass unemployment and the collapse of its integral fishing industry. He also wants to make digital accessible to all, so that everyone can benefit as it grows increasingly intertwined with our daily lives.
Harry Baker
Poet
World Poetry Slam Champion Harry Baker published his debut anthology 'The Sunshine Kid' with Burning Eye in December 2014. His subsequent show of the same name was voted 'Best Spoken Word show' at the Edinburgh Fringe Festival 2015. Now a fully-fledged maths graduate and full-time poet/adventurer, his work combining his two biggest hobbies has been shared on TED.com and viewed millions of times all over the world, as well as being translated into 15 different languages.
JJ Tatten
Youth Worker
JJ manages The Warren Youth Project, a non-profit organisation providing free support services to 1,494 disadvantaged young people in the local area. Born into a North Dublin working-class community, JJ packed in his job as a kebab-maker and emigrated to London at the age of 18 to study journalism part-time, funding his studies by working as a labourer on various building sites around London's docklands and living in a squat. He went on to specialise in writing about construction, alcohol and transport, forming his own PR & Press agency in 1996. Frustrated by the poor economic circumstances of communities similar to the one he hails from, JJ eventually decided to stop simply talking about it, and attempt to do something about it. When the Warren came close to closing its doors in 2014, JJ took up the mantle in an effort to ensure its survival. Four years later, its doors are still open, he has 1,494 bosses, and what little hair he previously had left has long since disappeared.
Jon Beney
Performer and Choreographer
Jon Beney is a performer, choreographer, movement director, and ex-rugby player who's built a career out of bringing people together through dance. He has taught extensively across the UK, working with Dance United, the University of Central Lancashire, Leeds Beckett University and York St John's University. Internationally, he's overseen performance projects in the Middle East, South East Asia and Japan, working with the Aduna Dance Group in Addis Ababa and the Lajee Centre in Palestine, among others. Jon believes that everyone can benefit from movement and dance both physically and mentally, and he's currently heading up a 'Dancing with Parkinsons' project with his own performance company Tenfoot Dance. On the Rugby front, he's represented Hull Schools, Humberside, Yorkshire and Great Britain, going on to receive British Player of the Year in 1998. He was able to fulfil a childhood dream in 2013 when he scored a try at Wembley Stadium during the Rugby World Cup.
Jonathan Jeeves
Film-maker and Head of Creative Production
Jonathan Jeeves is a film-maker and Head of Creative Production at Sizzl, a Marketing & Advertising Agency. He has produced over 2000 videos for businesses across the country, and has worked at all levels of management in both small and large organisations – giving him a unique sense of what it's really like to operate and grow a successful business. Jonathan is particularly fascinated by how organisations can engage and inspire the general public through creative marketing solutions, especially through the power of visual media. He has often focused on helping small businesses to find a unique voice and stand out from the crowd, and he has seen first-hand the potential of creative originality to sustain small businesses in the face of dramatic shifts in the economic and consumer landscapes. Though it may seem we're witnessing the final days of the retail high street, Jonathan's experience has taught him that what we are experiencing is not its death – rather, its transition.
Kat Sanders
Lecturer in Clinical Anatomy
Kat is a lecturer in Clinical Anatomy at Hull York Medical School. Anatomy is her biggest passion, alongside exploring how playing with language can make it accessible to all. In 2017, she took part in the UK finals of the internationally acclaimed FameLab competition where she linked anatomy with the spells of Harry Potter. Since then she has spent her time introducing anatomy to people up and down the country, performing heart dissections for the public on Valentine's Day as part of an Anatomy Nights public dissection series she co-founded as well as being an active participant in Pint of Science and British Science Association events. When she's not experimenting with organs or fascinating people with talks and presentations, she's inspiring the next generation of doctors at Hull York Medical School, teaching them everything there is to know about anatomy using play doh and that staple of the 90s rave scene, UV body paint!
Matt Davis
Creative Director and Blogger
Matt is the co-owner of integrated creative agency Red Brick Road, and a blogger. He's particularly fascinated by neurodiversity in marketing and advertising, a topic that he writes and comments on regularly. Outside the workplace, Matt spends a lot of his time with his eldest son Issac, who has high-functioning autism. He's charted their inspiring story on his blog, www.mysonisaac.net. Matt is passionate about raising awareness of the challenges that face people with autism and their families on a daily basis, and is currently a trustee for Autistica and Parent Patron at Ambitious about Autism.
Miranda Hutton
Photographer and Lecturer
Miranda is a photographic artist and lecturer in photography. Alongside her passion for the still image, she has a keen interest in anthropology, and her work often combines these two areas to explore challenging and thought-provoking themes. In particular, Miranda wants to open up conversations around death and loss, something that inspired The Rooms Project, through which she examined how we respond to and recover from a loved one's passing. Her work has been exhibited across the globe in media outlets including Stella Magazine, Vice, and Esquire Magazine.
Sarah Pashley
Principal at Ron Dearing UTC
Sarah is the Principal of Ron Dearing UTC, where she heads up the strategic leadership and direction of the college. She has spent over twenty years in high-profile educational leadership roles across Hull and the East Riding, and is passionate about delivering exceptional vocational and technical education to give local students the skills, knowledge and qualifications they need to excel at school and in their careers, as well as meet the ever-changing needs of our rapidly evolving region. She is especially committed to promoting the roles of women in the Engineering and Digital Technology industries. Sarah's successes in the education sector are second-to-none, having led Southfield Lodge Pupil Referral Unit to achieving a 'Good' rating in 2013, and transformed Bridlington School from a struggling institution to one of the most successful schools in the country for student progress.