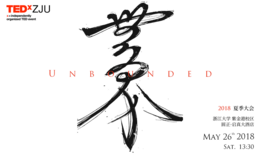 人类的进步,也就是界线的消除。
从海底万米到光年百亿,从政军学商到文体曲艺,从三千世界到巴别塔顶。边界,眼界,意界,我偏爱无界。
无界,是无所不及,四方四隅都有余地供我开拓;
无界,是无所不可,再没有出界一说,我自成规矩;
无界,是无所不容,世物在承认差异的基础上交叉渗透,制造无限未知。
在各自孤独的世界里,你我之间也可以无界,于是无数的你、无数的远方都与我有关,无数的交融发生在你我晕开之后。
五月,TEDxZJU2018夏季大会"无界",等待消磨你我界线。
Speakers
Speakers may not be confirmed. Check event website for more information.
Dengsong Guo
Vinyl record player craftsman.
Feng Zhou
An early Internet practitioner and a financial professional. VNT Chain Co-founder. Blockchain project senior practitioner.
Honglei Yu
CEO of krvision Technology
Huaqing Shen
Associate Professor and Master tutor in Zhejiang University.
Ivan Zhang
Phoenix Design General Manager China
Jie Sun
Jie Sun is a contemporary designer, artist, curator. Appointed Distinguished Professor (National Distinguished Experts) and Head of Contemporary Jewelry and Fashion Culture ( NoCC ) in College of Design and Innovation ( D&I ) in Tongji University in Shanghai since early of 2016; Visiting Professor in Tianjin Academy of Fine Arts. He is also founder of TRIPLE PARADE (annual international cultural exchange celebration/event, since 2014 ), and has worked on major collaborative and curatorial projects, actively engaged in both European and Asian design culture.
Sarah Liang
Student in Shanghai International Studies University. Singer in Xiami's Light seeking plan.
Shanyun He
Dr. Shanyun He is an Associate Professor at the Department of Curriculum and Learning Sciences, College of Education,Zhejiang University, China. She studied as a visiting scholar at the University of California, Los Angeles between Sept. 2010-Sept. 2011 and at Teachers College, Columbia University between Jan. 2017-2018. Her research interests have centered on the endeavor of China's NPO in the educational field, curriculum reform, and Curriculum theory. She has published a dozen related papers and a book Innovation of Governance Mechanism of Curriculum Reform: From the Perspective of Non-Profit Organization. Her researches have been supported by grants offered by China's MOE, Provincial Nature & Science Foundation and etc. She also participated in the consulting report for MOE.
Wenshan Ding
Hunan Satellite TV Channel sound. National level announcer. Sound in its territory guest.
Organizing team
BAICHEN CHEN

Post production

Guangxi CAI

Production

Hao Yu

Operations

Huizhong Ye

Operations

Jiajing Liang

Marketing/Communications

Jiajun Xiong

Operations

Jiangping Zhou

Operations

Jiawen HUANG

Operations

Jingchen An

Post production

Karl Xiong

Post production

Ming Yan

Operations

Wang Siyun

Operations

Wangjun Qian

Production

Xiayin Ying

Marketing/Communications

Xinrui Qi

Post production

Xinyi Tang

Post production

Ying Shan

Operations

Zhiyi Zhou

Team member

Zihao Wang

Operations

ziyi wang

Post production

吴 姗姗

Marketing/Communications

诗佳 胡

Operations

雪怡 周

Marketing/Communications