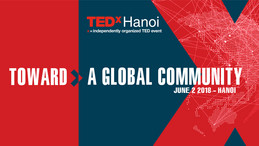 The world is becoming a smaller place. It's easier now than ever before to move commerce around the globe; to study on foreign soil; and most of all to share ideas. This year's TEDxHanoi conference will explore the theme of humanity living as one globalized community.
The era of the online homo-sapiens has ushered in a golden age of internet memes, cat videos, and being forced to relive embarrassing memories years after they occurred.
However, it has also provided the platform from which this conference can later be watched by thousands of curious minds around the world. It has opened the doors to a whole new generation of entrepreneurs, researchers and artists, who can share their visions with one another in a web of information.
Our world has become inextricably linked together. So how do we ensure the best for our local community in this larger web? How do we ensure the best for this global community as a whole?
Throughout June 2nd, our lineup of expert speakers will share their visions for their local communities, and for the wider one that we are all a part of. From their unique backgrounds in business, education, research, tech and the arts, their perspectives will each offer a piece of the puzzle to the riddle of how we manage and participate in a community of such scale.