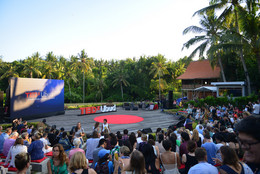 For TEDxUbud 2018, we witnessed the tangible and intangible, speakers uncovered the secrets of the Komodo dragon's blood in the fight against antibiotic resistance, the role of cross cultural immersions in changing minds and developing tolerance, and more. We explored intangible cultural heritage, things that have only recently become 'seen' and how us—humans—deal with what we can't explain.
In Bali, we live within a culture that makes no distinction between the tangible and the intangible. The intangible, or unseen, may not be perceived using the five senses, but is still very real.
The tangible has a stronger presence and commands greater respect in Western culture, but when we consider that it was only a few decades ago that much of the invisible world became visible, who are we to make those distinctions? Today DNA, molecular physics and the study of bacteria and viruses, are all commonplace knowledge—two or three generations ago, these concepts would have been relegated to the unseen and the unable to be perceived. There is still so much that remains unknown even today. We are inspired by these unexplored frontiers, the power of gaining knowledge and the sheer magic all around us on a daily basis!
Part of our interest in this theme came from the desire to understand the balance that our multicultural society here in Ubud has forged. The meeting of different belief systems and philosophies creates a dynamic society, tolerant of new ideas as well as firmly based in traditional beliefs, seamlessly melding technology, art, science and design.
TED represents Technology, Entertainment and Design.
TEDx = ideas worth spreading. This is the single concept that has become the heart and soul of more than 16,500 TEDx events around the world. TEDxUbud, like all TEDx events, is about both speakers AND audience. It's not just about the talks. What happens between the sessions matters no less.
Speakers
Speakers may not be confirmed. Check event website for more information.
Angga D. Martha
United Nations Youth Advisor
Angga D. Martha is currently the UN Youth Adviser for Sustainable Development Goals in Indonesia and plays an interface role between the government and the UN country team in coordinating and mobilising youth around awareness and implementation of the 2030 Agenda for Sustainable Development (SDGs). Recently graduating from The Fletcher School of Law and Diplomacy, he has studied sustainable development, human security, and cross-sector partnership. Angga is also part of the CIVICUS Youth Action team, a group of youth leaders from around the world that are mandated to give input to mainstreaming youth participation and ensuring the availability of civic spaces for youth. Angga and the team work to ensure that young people are not a just checkbox, but rather that they are key stakeholders and active participants in shaping future development.
Scientist
Dr Bishop is currently part of the Department of Chemistry and Biochemistry at George Mason University and is also Director of Science at Ceres Nanosciences. His current research interests include molecular engineering, antimicrobial peptides and the design of novel therapeutic agents for combating infection.
Artist and Advocate
Daniel Connell, a visual artist from Adelaide, uses his art to bring change to society. Daniel's practise is large-scale, often ephemeral, often public, naturalistic portraits which merge into an ongoing practice of work in advocacy for migrants and displaced peoples both in Australia and overseas. He has created public art projects in the UK, Europe, US and Canada. After living in India for three years and meeting an integral group of people who were to shape his future practise, Daniel's works are often inspired by Indian people and he is actively involved in the Sikh community in Australia—helping to fight against challenges that newly arrived migrants face in their new country. Currently a PhD Candidate in the School of Art, Architecture and Design at the University of South Australia, Daniel is also a lecturer in portraiture, drawing and painting at Adelaide Central School of Art.
Ian J. Stevenson
Singer/Songwriter
Ian Joshua Stevenson is a master chameleon, whose voice can seamlessly transition in seconds from heart-soaring heights, to the dark depths of grunge and rock. From his early days as one of the original members of Dialog Dini Hari, Ian was part of Kaimsasikun and is now the vocalist for Zat Kimia. An accomplished songwriter, Ian also writes for a raft of well-known Indonesian acts.
Anthropologist
Kelli Swazey manages the Voicing Diversity project, a collaboration between the Center for Southeast Asian Studies at the University of Hawai'i (CSEAS UHM) and the Center for Religious and Cross Cultural Studies (CRCS) at Gadjah Mada University. The project supports the production of digital resources on diversity in Southeast Asia for educational use in the US and Indonesia. Swazey and digital storyteller Matt Colaciello's documentary film focuses on a Bajau community in Wakatobi Marine National Park, who are grappling with the impacts of coral reef extinction, environmental degradation, and discrimination. Swazey believes biodiversity and cultural diversity are inexorably linked. Her work insists we can't protect one without defending the other.
Kim So Ra
Percussionist
Korean traditional percussionist Kim So Ra is a performer and ambassador of Honam Province Jeongeup folk music, a tradition in which she has been trained under the direct apprenticeship of human cultural asset Master Jihwa Yu. For ten years, she has been entertaining and educating audiences about Korea's folk music not only in Korea but also in Japan and the USA.
Lisa Sibagariang
Chef
Lisa was born and raised in Siantar, a small town in North Sumatra. After dropping out of college she left her hometown and started a culinary career in Batam island, which eventually led her to Bali. Joining the Locavore team in early 2017, Lisa went over to Nusantara when it opened in mid-2017, alongside Chef Putu, the former Sous Chef of Locavore. Lisa loves the flow of a finely tuned kitchen, as she says 'when I am on the line with my team, dancing through the flow of the ticket printer rhythm and fire the dish right on time, receiving a good feedback from our guests—it's like an achievement, something that I will carry home'. Although Lisa has only been cooking for six years, she holds her own in an industry still dominated by men and is currently working in Locavore's Lab on some special, new experiments remixing the best of Indonesia's traditional flavours with contemporary culinary techniques.
Diversity Advocate
In 2013, along with her co-founders, Meiske Demitria Wahyu founded a non-profit, student exchange program called Sabang Merauke to promote tolerance between religions in Indonesia. Being from a Chinese/Christian background this is a subject close to Meiske's heart and she is determined to show people the futility of the prejudices people can hold on to. Each year Sabang Merauke picks 15 students from remote areas in Indonesia to spend two weeks in Jakarta with a family with a different faith to theirs, to meet people in the program and most importantly to learn about diversity.
Musical Group
NonaRia consists of three ladies—Nanin Wardhani (piano & accordion), Nesia Ardi (vocal & snare) and Yasintha Pattiasina (violin). Influenced by old Indonesian songs that are rooted in ragtime and swing, NonaRia also cover other Indonesian favorites in their performances. The combination of lyrics based on daily life and the simple instrumentation makes NonaRia's music easy listening with a whole lot of soul.
Contemporary Dance
Pancer Langiit is a community of young passionate Balinese dancers founded by Anak Agung Gede Agung Rahma Putra in 2012. The community started with Agung Rahma's vision to create art without leaving the traditional elements of Bali behind and to have youth to be a vital part of the process. Pancer Langiit has performed in several events including the Bali Art Festival, as well as religious ceremonies in temples in Bali and Java.
Prehistoric Soul Project
Multimedia Theatre Company
Prehistoric Soul creates conceptual art performances that reconstruct prehistoric life through multimedia and various scientific disciplines, to remind people not to over consume or exploit nature. In the future, Prehistoric Soul hopes their art projects will help the communities they work with to fund local museums, where footage and records of ancient traditions can be archived for future generations.
Creative Entrepreneur
Will Travis is a globally renowned creative entrepreneur and global brand builder. He has over 27 years of leadership experience in the brand and marketing communication world; launching, navigating and selling two of the world's leading and largest creative agencies (Attik and SidLee) to global multinational holding companies (Dentsu and Hakuhodo). He is the founder and CEO of brand building consultancy group Elevation Barn, guiding some of the world's most transformative leaders and he advises global celebrities and executive leaders through his consultancy group Anderson Short. Toyota, BlackRock, The Ministry of Happiness, MissionBlue, Absolut, CocaCola, Intel, Disney, and a list of confidential celebrity figures have all been supported and guided by Will's laser focussed strategic approach to unique brand messaging.