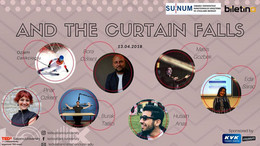 In the spirit of ideas worth spreading, TEDx is a program of local, self-organized events that bring people together to share a TED-like experience. At a TEDx event, TEDTalks video and live speakers combine to spark deep discussion and connection in a small group. These local, self-organized events are branded TEDx, where x = independently organized TED event. The TED Conference provides general guidance for the TEDx program, but individual TEDx events are self-organized (subject to certain rules and regulations).
Speakers
Speakers may not be confirmed. Check event website for more information.
Burak Tatlıcı
Youtube Entrepreneur
Burak Tatlıcı is the founder of a YouTube channel, Tepkikolik, that stands out with a unique concept. Tatlıcı was born in 1991 and graduated from Koç University Business Administration Program with a Bachelors Degree in 2014. After his graduation, he started working in an independent consultancy agency as Financal Auditor. Throughout his financial career the rise of YouTube attracted his attention and he created his first YouTube channel with a comedy concept. After his first interaction with creating and editing videos, he decided to start a channel that would change his career entirely. He then quit his day job and started creating reaction videos. He is now uploading videos regularly to YouTube with the concept of children, teens and Youtubers reacting to videos, foods and games.
Eda Saraç
Teacher
Husain Anas
Traveler
Masis Aram Gözbek
Boğaziçi Jazz Choir's Conductor
Between 2005 and 2007 he sang with the Turkish National Radio Youth Choir. In 2007, he took over as the conductor of BUMC Jazz Choir. His composition 'Dante's Last Day' was performed at the 3rd Young Composers Festival. He composed and arranged several choral pieces, among which 'Alive' was awarded the 'World Championship' in the World Choir Championships in Graz, Austria and 'Alive II' earned a gold medal in the 7th World Choir Games in Cincinnati, USA. In 2013, he won YTU 'Rectorship Award' and 'The Most Successful Young Person' award at the Turkey finals of 19. TOYP (Ten Outstanding Young Persons). In 2014, he earned the 'Young Conductor Special Award' in the 35th International May Choir Competition 'Prof. Georgi Dimitrov'. Most recently, he was awarded 'The Music Entrepreneur of the Year' by the METU Young Entrepreneurs Society.
Özlem Çarıkcıoğlu
Olympic Alpine Skier
My name is Özlem Çarıkcıoğlu. I was born in İstanbul in 1994. Currently I am studying Industrial Engineering in Koç University. My skiing career started when I was 8 years old in a school camp. I started racing at the age of 10 and 3 years later I was selected to the national team. After graduating from elementary school, I continued racing professionally with national team until the last year of high school. Then I choose to quit for a year in order to study for the university exam. After my comeback, I studied and skied professionally at the same time to be able to qualify for the Winter Olympics in PyeongChang 2018, South Korea. Last February I had the chance to represent my county in the Olympics, which was the greatest achievement of my life. My next goal is to take part in 2022 Beijing Winter Olympics and have an improved performance.
Pınar Kaçar Özkent
Motivational Speaker
After 15 years of experience in corporate life, Pınar Özkent decided to drive her career into a new direction, in order to live her dreams and passion. She is in love with motivating and helping people to live a better life. She is a motivational speaker, who enables people to trust in themselves, work harder and achieve their goals. She believes everyone is unique with their own strengths and potential and if people focus on their strengths everyone could achieve higher. She is also mentoring the corporates who wants a better career life for themselves. Pınar Özkent is also an accredited certified coach by International Coaching Federation since 2010. She has two master's degrees, one is from Galatasaray University and the other is from London School of Business. Prior to quitting corporate life, she was working at Turkcell 9 years long as award winning learning and development program manager