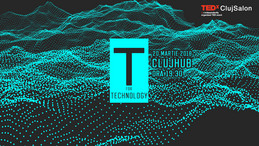 TEDxClujSalon is a series of monthly events with the main purpose of sharing and spreading ideas while we will screen the most interesting TED talks curated in the monthly theme.
At a TEDx salon, attendees watch TED Talks and have informal discussions about the talks they witnessed. Salons re-engage the community and team during the time between the official TEDx events, and spark discussion on issues of interest to the local community. Find out more about TEDx Salon event type here: http://bit.ly/1Fd28ez
Acording to the TEDxClujSalon licence, we are NOT hosting live speakers.
March theme for TEDxClujSalon is "T" for Technology.
"Any sufficiently advanced technology is indistinguishable from magic." - Arthur C. Clarke
The term "Technology" is broad, and everyone seems to have their way of understanding its meaning. Whether we are talking about the most mundane tools (like lightbulbs, pens or refrigerators) or about reusable super heavy-lift launch vehicles (like Falcon Heavy), all these items were at some point or are today the pinnacle of technology. Some of them we take for granted and some of them are still partially theoretical or in their early stages of development.
In short, technology can be defined as products and processes used to simplify our daily lives. Technology is also an application of science used to solve problems.
At this TEDxClujSalon we will watch a few of the most inspiring talks on the subject of technology and its enormous, undeniable influence on our society and on humankind as a whole.
Participation to TEDxClujSalon - "T" for technology is free but registration is mandatory. Join our incredible community now!