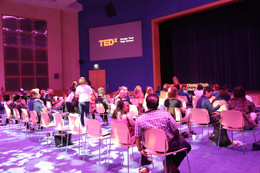 Our goal is for the talks to be so inspiring and interesting that the audience will exit the event saying "Wow, imagine that."
TEDx Flickr Tags: TEDxDesignTechHighSchool, 2018
YouTube Playlist: https://bit.ly/2LoLbU0
Speakers
Speakers may not be confirmed. Check event website for more information.
Teen Physician
Dr. Adekemi Oguntala is a teen physician who received her undergraduate education at Berkeley. She earned her medical degree from what is now Drexel University and her pediatric residency at St. Christopher's hospital for Children. She completed her adolescent medicine fellowship at Stanford University. She worked under a professional pioneer at Oakland Children's Hospital in their teen clinic before running the teen clinic in Daly City. She also sees clients in her private practice, helping teens and parents communicate and connect emotionally while helping teens self-actualize. She focuses on raising the emotional intelligence of the teen with the sub-focus of improving their sense of self-worth, lovability and personal value. She does speaking appearances in schools, conferences and educates parents, teachers and clinicians on enriching their teen awareness and knowledge.
Daniel Stoiber
Freshman at Design Tech High School
Daniel Stoiber learned web design skills in sixth grade and jQuery in eighth grade, and he has been using those skills to design beautiful websites ever since. He also taught himself C#, used for Arduino programming. He's made an Arduino-based web server with secure authentication, a web-controllable robot, custom alarm system, an in-progress tortoise monitor and humidity controller, a $5 Alexa-controllable smart switch and web server-based sensor monitoring. He's also designed and built a flamethrower he describes as "scary powerful."
James Abraham
Senior at Design Tech High School
I was born in Fresno and have lived in California for my entire life. After spending the early years of my life near the Sierras, I moved down to the Bay Area, and eventually joined Design Tech High School after seeing that its model emphasized collaboration and problem solving rather than simply memorizing information. My personal interests include: sci-fi, politics, writing, technology, and philosophy. I think that the human body and mind can be improved through the use of technology. However, while I believe there is a lot of good for technology, I also think that we need to look at the social impacts. No matter how logical or mathematical one may be, in order to navigate our world we must learn to love and cherish the connections that we have with our fellow people. I look forward to seeing the future, and I think if we play our cards right, you will too.
Director of the Center for Deliberative Democracy
James S. Fishkin holds the Janet M. Peck Chair in International Communication at Stanford University where he is Professor of Communication, Professor of Political Science (by courtesy) and Director of the Center for Deliberative Democracy. His work focuses on deliberative democracy and democratic theory in books such as Democracy When the People Are Thinking (Oxford 2018), When the People Speak (Oxford 2009), Deliberation Day (Yale 2004 with Bruce Ackerman) and Democracy and Deliberation (Yale 1991). He is a Fellow of the American Academy of Arts and Sciences. He has also been a Guggenheim Fellow, a Fellow of the Center for Advanced Study in the Behavioral Sciences at Stanford, and a Visiting Fellow Commoner at Trinity College, Cambridge. Fishkin was educated at Yale and Cambridge. He holds both a Ph.D. in Political Science from Yale and a Ph.D. in Philosophy from Cambridge.
Jaya Reddy
Junior at Design Tech High School
Jaya Reddy is currently a junior at d.tech, where she focuses on the evolution of education, personal passions, and maintaining the lead of PR in Leadership. Jaya has worked with Oracle Education Foundation, the d.school at Stanford, and the Camp Jones Gulch community. She is also part of a junior Olympic archery development program at Pacifica Archery in Daly City. Jaya attended Oracle OpenWorld, a large annual tech conference in San Francisco, with a few of her friends to present their safety wearable prototype created during an OEF workshop. She continues to work with the program as a teacher assistant during the school year. After completing a Moonshot Design Lab course where she built her first computer and used Virtual Reality to enhance human experience, Jaya received an award from Stanford entitled "Design Excellence In Applied Mathematics". In her free time, she enjoys Archery, cooking, listening to music, photography, painting, and spending time with her friends.
CEO at Club Parli Debate
Jon is the founder of the POI Debate Institute at UC Berkeley and is the CEO and founder of Club Parli. Jon also founded the debate program in 2007 at Oakland's Bishop O'Dowd High School and served as its coach until 2017. During his tenure, O'Dowd parliamentary debaters won almost every major tournament at least once, including Yale, Stanford, the California State Tournament, and the Parliamentary Debate Tournament of Champions and his debaters finished 1st in the national rankings three times. In addition to coaching, Jon created and developed the National Parliamentary Debate Invitational and the 6x4 Invitational, two of the most prestigious tournaments on the high school parliamentary debate circuit. At Club Parli, Jon has assembled a best-in-class coaching staff led by David Saulet and this year made history by qualifying middle schoolers and freshmen to the 2018 Parliamentary Debate Tournament of Champions.
Kleiton Macrohon
Senior at Design Tech High School
Kleiton Macrohon loves sports and helping people with their problems. He is the leader of dM, the mentoring program for Design Tech, and is head of PR for yearbook. He is also a black belt in karate and has won several medals in the AAU, including a gold and silver medal in his first tournament. Ever since Dwyane Wade had a monster jam over Anderson Varejao in 2009, he has had a strong love for basketball. He is very interested in the analytical side of the game, the history, mechanics, and even plays now and then. He is mostly unbiased, but is a player fan - and loves watching superstars play and make history. His favorite players of all time are Dwyane Wade, Kyrie Irving, and LeBron James. When he's not learning in a classroom, Kleiton loves to play and run outside. Family and friends matter to him the most, and he loves parties! His main interests in entertainment lie with YouTube, Netflix, anime, and NBA TV. He also loves shiba inus, Beyonce, Bruno Mars, and spicy tuna rolls!
Adjunct Professor of Rhetoric and Language
Nicole Mauro is an Adjunct Professor of Rhetoric and Language at the University of San Francisco, where she has taught for 19 years, mainly teaching intermediate and advanced rhetoric, as well as a First Year Seminar course titled Intersection: Sidewalks, and Public Space. She has published poetry and scholarly articles in numerous publications, and is the author of many chapbooks, and two volumes of poetry, The Contortions (Dusie, 2009), and Tax-Dollar Super-Sonnet, Featuring Sarah Palin as Poet (Black Radish Books, 2014). She is co-editor of Intersection: Sidewalks and Public Space (A'A Arts/CahinLinks, 2008), and is the co-founder of Black Radish Books, a poetry publishing collective focusing on avant-garde and experimental literary works, including the anthology Kindergarde: Avant-garde Poems, Plays, Stories, and Songs for Children, co-winner of the 2014 Johns Hopkins University Press Lion & Unicorn Award for Excellence in North American Poetry.
Sam Mendelson
Freshman at Design Tech High School
Sam's passion for computers began the summer in Paris when he was three years old, right after he taught himself to read. With unrestricted access to a PC with a fast internet connexion, he started to Google. This interest continued through grade school, where he readily assisted teachers with technology. During the same period of time, he furthered his interest by white hat hacking— for good— both at school and at home. Programming came as second nature, beginning with Scratch, followed by C# and currently JavaScript and Node.js. His latest collaboration project is a network management utility for which he created a RESTful API. He's been providing tech support to family, friends and customers since he was an primary school student.