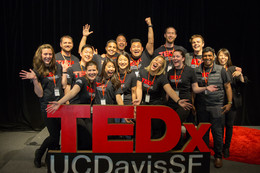 Our world moves fast, and it's easy to passively consume the latest trends, news or ideas that come our way. Yet, there are times when we are spurred to take some sort of action, write a groundbreaking code, or choreograph an inspiring dance because we are moved by the meaning we find in the chaos around us, or because we are emboldened by our own perseverance amid personal strife. How do we discover joy in uncommon ways, take steps on an unbeaten path, leverage the tools of the modern world, and, of course, inspire others to do the same?
Speakers
Speakers may not be confirmed. Check event website for more information.
World Record Holder & Comedian
Alex Weber is a World Record Holder, Stand Up Comedian, and American Ninja Warrior. Alex also plays International lacrosse, and received US Lacrosse Coach of the Year. Alex is also an Award-Winning Host for NBC's American Ninja Warrior, FX, Under Armour, The Grammy's, and a new Gameshow for The Discovery Channel. Alex is also a documentary filmmaker having created and directed the #1 film in America's fastest growing sport, Lacrosse. Alex was awarded Academic All-American playing Division 1 Lacrosse for UPenn in The Ivy League. Upon coming to Los Angeles, Alex coached Harvard Westlake HS. The team had not won a playoff game and in Alex's first year, the team won the Los Angeles Championship garnering Alex US Lacrosse Coach of the Year. Alex now plays international lacrosse with Spain, Bulgaria, Switzerland, Poland, Slovakia and more. This summer Alex will be competing with the Argentinian National Team in the World Championships played in Israel.
Choreographer & Deaf Advocate
A Bay Area native, Antoine Hunter is an award-winning internationally known African-American Deaf choreographer, dancer, instructor, speaker and Deaf advocate who performed throughout the Bay Area and the world including Europe, Africa and South America. Crowned King of SF Carnaval 2017 and esteemed keynote speaker for Kennedy Center's VSA 2017 Intersection conference on Arts and Special Education. Mr Hunter actively supports DeafHope, an organization whose mission is to end domestic and sexual violence in Deaf communities through empowerment and education. He teaches dance and ASL in both Hearing and Deaf communities and is the founder/artistic director of Urban Jazz Dance Company and has been producing the Bay Area International Deaf Dance Festival since 2013. His projects have been awarded funding by CA$H Theater Bay Area, the Zellerbach Family Foundation, California Arts Council and SF Arts Commission.
Dante Love
Tiny Homes Visionaire
Dante leapt head first into the small house movement in 2013 joining Four Lights Tiny House Company as its COO. In 2014, Dante founded Pendant Homes with the mission of developing small, energy-efficient homes, in walkable neighborhoods at attainable prices. Pendant was a finalist for Y Combinator's W15 batch and has been featured on ABC, NBC, CBS, and FOX. Pendant's first multi-family development, Huntley Square - a ten-home, net-zero energy studio project in Sonoma County - is on track to break ground early next year.
David Lee
CEO & Basketball Fanatic
David Lee is Co-Founder and CEO of NEX Team Inc., a Silicon Valley-based startup building mobile AI technologies that understand and analyze mobile video capture in real-time. The team is currently focused on their iOS app, HomeCourt, which applies these technologies to basketball, allowing players to better understand and improve their own game one shot at a time. Prior to founding NEX Team, David spent over 8 years at Apple where he led the engineering group behind iWork for iCloud, which further developed technologies from his earlier startup, EditGrid (acquired by Apple in 2008).
Eddy Zheng
Advocate of the Formerly Incarcerated
Eddy Zheng's mission is to use his experiences to inspire and motivate young people to invest in their education, raise awareness about the detrimental impact that the Prison Industrial Complex has on the Asian and Pacific Islander population, and promote racial harmony among people of color. Eddy is the Co-Director for the Oakland based Asian Prisoner Support Committee (APSC) and serves as the Chair of the San Francisco Board of Supervisor appointee on the Department of Children Youth and their Families' Oversight and Advisory Committee, Commissioner at the Alameda County Department of Juvenile Justice Delinquency Prevention Commission, the Board of Directors in San Francisco's Chinese for Affirmative Action (CAA) and the Chinatown Community Development Center (CCDC). Eddy is also the subject of the award winning documentary, "Breathin' The Eddy Zheng Story."
Gina Dokko
Researcher & Professor
Gina Dokko is an associate professor at the University of California, Davis, Graduate School of Management. She received her Ph.D. in management from the Wharton School at the University of Pennsylvania. She has a M.S. in industrial administration from Carnegie Mellon University and earned a B.S. in economics, also from the University of Pennsylvania. She is a former assistant professor at New York University's Stern School of Business. Gina's current research focuses on organizational theory and behavior, careers, social networks, and technology and innovation.
Ji Seon Song
Juvenile Justice Advocate & Public Defender
Ji Seon has dedicated her career to changing the criminal and juvenile systems. Ji Seon focused on juvenile issues in her practice and policy work with particular emphasis on improving the plight of young people in custody and creating better ways to ease youths' transition back into the community. Ji Seon is currently a Thomas C. Grey Fellow and Lecturer in Law at Stanford Law School where she writes in the areas of juvenile and criminal law. She previously worked as a Prettyman fellow at Georgetown University Law Center and a policy advocate at the National Juvenile Defender Center. Ji Seon received her JD from Columbia Law School and an LLM in Trial Advocacy from Georgetown. Ji Seon was a founding member of the Asian American Criminal Trial Lawyers Association and the Bay Area Public Defenders for Racial Justice, and currently serves on the Executive Board of the Pacific Juvenile Defender Center.
Kristin Fracchia
Education Advocate
Kristin Fracchia is an advocate for improving access to higher education. She's worked in the education field for over 15 years as a high school teacher and university professor and as an independent college and graduate school admissions counselor and expert tutor for standardized tests, helping hundreds of students gain acceptance into premier national and international institutions. She currently works for Magoosh, a company whose mission is to provide world-class standardized test prep that is accessible, effective, and enjoyable for all students, everywhere. She has a PhD from the University of California, Irvine, where she also received an Excellence in Teaching award. Her free online content and YouTube videos providing test prep and college admissions advice have received over 4 million views in over 125 countries
Filmmaker
At age 6 Luke broke his family's TV. They didn't get another one. Instead he explored the woods, read encyclopedias, and built things with LEGOs. Everyday he imagined new worlds and learned to tell his owns stories. After graduating Magna Cum Laude BA/Cinema from San Francisco State University, Luke moved to Los Angeles where he's worked as an extra, grip, PA, camera operator, AD, producer, editor, falconer, writer and director. But it was a chance thrift store find in his hometown of Bremerton, WA that lead him to the found photography and writing project that became "Found in Kitsap." If he weren't writing or making films you'd find him doing something involving snowboarding, cooking, or politics.
Attention Artist
As an Attention Artist, Luke Brady works with entrepreneurs, leaders and influencers who have a growth mindset and want to think differently. They need something to disrupt their thinking and get them out of their head and more connected to their best self, help them to be more present and connected. Luke uses his background in psychology, influence, suggestion, magic, and conversational hypnosis to change the filter in which people experience the world.
Sean Montgomery
Entrepreneur & New-Media Artist
Sean Montgomery is a technologist, new-media artist and educator in New York City. Using research methodologies combined with emerging technologies, Sean takes a trans-disciplinary look at the human condition to examine the changing relationship between the physical and metaphysical world. From developing wearable bio-sensors and algorithms that derive meaning from sensor data, to creating interactive new-media art installations that have shown around the world, Sean's work focuses on how technology can enhance our understanding of ourselves and create new ways for people to interact with one another and the objects around them. After finishing his Ph.D. in Neuroscience, Sean founded Connected Future Labs, an agile R&D consulting group that utilizes a depth of expertise in circuits, algorithms and design to bring cutting-edge technology out of the research lab and create real-world applications.
Performing Artists
Unlikely Heroes is a psychedelic Hip-Hop/Punk band from Oakland, CA. This band has been making waves in and outside of their local scene with exciting/introspective jams that leave concert goers physically drained and mentally well-fed. They are releasing their self titled debut EP 4/7/18 that has been long awaited for by fans and playlist curators throughout the U.S. and overseas. This band has been compared to a unique blend of rapper Kid Cudi and band Rage Against the Machine for their witty/catchy conscious lyrics and unique blend of psy-punk beats that flow seamlessly even in their genre stretching style.
Yardley Ip
Community Founder & Product Executive
Yardley is the General Manager of Trulia Rentals, where she runs the operations and strategy of the rentals business. Yardley is also the co-founder and board member of Women in Product, a non-profit organization with 8,000+ members focused on building a strong community of women builders and leaders. Yardley began her career as a New Products Engineer at Apple before changing career paths to focus on Product Management at companies such as Trulia, eBay, Yahoo, and Dun & Bradstreet. She is a mentor to women in tech in Sequoia's Ascent program and an advisor to several startups. Born in Hong Kong, Yardley graduated from the University of California, Davis with a Bachelor of Science degree in Electrical Engineering, and she earned her MBA from the University of Chicago with Strategy, Finance, and Marketing concentrations.