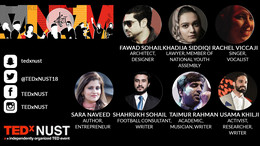 The theme for the 2018 TEDx NUST is derived from the work of Lenin prize winner Faiz Ahmed Faiz - crowned by many to be the greatest Urdu poet of his generation. Our leading inspiration comes from a poem that highlights the sufferings and hardships faced by people in the time they themselves live in.
Aaj Ke Naam aptly translates to 'In the Name of Today'. The event will revolve around taking a step back from the lamentations that rise with the past, whilst not yet turning to look at the worries plaguing the future, but instead taking a minute to remember what really matters: today.
In doing so, we hope to be able to gaze into ourselves to provide clarity in who we are and where we are as a society, race and people.
And who better to shine a spotlight than our spealers, cherrypicked from all walks of life? For our today, we have identified various facets of our life and with them brought representatives who can tell us better than anyone else on how they dedicate themselves to their today, and by doing so shape our tomorrow.
We can't wait to put forward the best of what anyone could show you: the neglected present that will define the uncertain future.
The talks will be based on ideas from a diverse speaking line-up and will focus on improving tomorrow, by working today.
Speakers
Speakers may not be confirmed. Check event website for more information.
Fawad Suhail Abbasi
Architect
TEDxNUST Published by Saad Humayun Page Liked · 6 April · It is not possible to have a discussion on the contemporary social fabric of Pakistan without first delving into the history of its culture and arts. The art and architecture of a country are the physical markers of its social situation. Ticking all those boxes is a certain individual who has us giddy with excitement; Fawad Suhail Abbasi will be the next speaker joining us, and bringing a fresh perspective to the fold.
Khadija Siddiqi
Lawyer
Stabbed 23 times in broad daylight last year, Khadija Siddiqi is now inspiring young girls to speak up. It was a case which made headlines summer of 2016 in the first week of May. Khadija Siddiqi, a 21-year-old law student in Lahore, Pakistan, was stabbed 23 times in broad daylight on a busy road while she waited to pick up her 6-year-old sister from school. The attacker, Shah Hussain, the son of a well-known lawyer in the city, was Siddiqi's classmate at a private, local law school. After a harrowing wait that stretched out for over a year, justice was finally served when Husain was delivered a seven year sentence on July 29, for attempted murder.
Rachel Viccaji
Musician
With Coke Studio being the phenomenon that it has become, we've seen many hidden talents rise to stardom. It is with eager hearts and ears that we welcome a woman who, with her powerful voice and personally, went on to become a household name. Rachel Viccaji will be at TEDxNUST 2018 to extend to us the experiences of her life outside of the studio and remind us that each next milestone in the road of your life is built in your today.
Sara Naveed
Author, IT Entrepreneur
Sara Naveed is the author of Undying Affinity and Our Story Ends Here. Being a writer has always been her dream. Having written in many fan fiction forums, Sara's interest grew and her writing skills improved. She earnestly hopes people appreciate her writing—an asset she deeply covets. Despite being a business graduate, she did not give up her love for writing and literature. Currently, she is working as a content developer at a leading software firm in Lahore and also running her own monthly book subscription box service known as The Book Shook. Her third book is expected to come out by the end of this year.
Shahrukh Sohail
Entrepreneur, Football Consultant, Writer
CEO Wonderworks Ad Agency, Chief Editor Football Pakistan
Taimur Rahman
Academic, Musician, Writer
Form the earliest era of language, song and writ have been used to propagate ideas. Alas, where once the words of scholars and bards raged across the world, now we see it to be a dying art. We could not be more ecstatic to host one of those true artists of Pakistan, Taimur Rahman - a man who, through those very mediums, has embraced the mantle of scholars past. With his music and his books, he is evidence personified that the noblest of all arts are not yet gone from Pakistan.
Usama Khilji
Writer, Researcher, Activist
In a country riddled with social apathy, it is rare and intensely gratifying to see a true proponent for peace and prosperity. One of these shining diamonds is Usama Khilji, advisor to London-based Refugee Rights and Chevening scholar at the London School of Economics, who continues to use his powerful words and voice to tirelessly advocate for the needs of Pakistan's social and political stability. We are very enthusiastic to have him share his views with us at TEDx NUST'18.