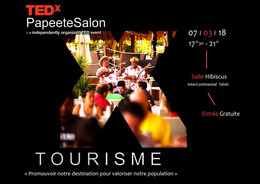 2018 s'annonce riche en partage avec les "afterworks" de TEDxPapeete dont le premier rendez-vous est fixé au mercredi 7 mars 2018 à 17h30 à l'InterContinental Tahiti.
Pour aborder ce premier TEDxPapeeteSalon sur la thématique du tourisme avec cette question "Comment promouvoir notre destination pour valoriser notre population ?"
Ce sont trois intervenants qui viendront partager leurs passions devenues sources d'activités professionnelles. Leurs idées innovantes, parfois originales voire sans limites, contribuent au développement et à la promotion du tourisme de notre fenua. Le public est invité à venir découvrir et échanger avec les trois premiers talkers de l'année qui partageront leurs visions en tant qu'acteurs économiques de la Polynésie française.
Speakers
Speakers may not be confirmed. Check event website for more information.
Founder
Hinatea Colombani was born in 1985 in Papeʻete and made her first steps in ʻOri Tahiti with Makau Foster-Delculvellerie. At 13, she joins the troupe "TOA REVA" where she met Mehiti Hart, who taught her the basics of stage performance. In 2006, Hinatea moved to France for her studies. Longing her fenua, she joined a fresh dance troupe with fellow students. In 2008, she came back to the island and worked with Makau as an assistant and, upon advice from her she decided to open her own school of ʻOri Tahiti - Matehaunui - and make it a living for herself. Hinatea always thought about creating a cultural center, but in 2008, when she launched her dance school, she didn't have the material nor human resources required to help her in a project combining so many activities. In 2015 they built the cultural center of their dreams, a place where one can learn and get a hand on multiple artistic disciplines and which is, above all, a place that conveys humane values and a true philosophy in life.
Matthieu Petit
Marine Biologist
Matthieu PETIT is a marine biologist specialised in major iconic marine species. He has worked for 11 years on protecting and raising awareness on the ocean in French Polynesia. His former role in the environmental association Te mana o te moana enabled him to lead and participate in numerous research programs on turtles and on other sea animals and got involved in multiple educational projects for schools, tourism professionals and the public at large. He also coordinated teams of volunteering individuals such as the Reef Check Polynesie network which aims at monitoring the health conditions of coral reefs. A consultant and instructor in sustainable tourism himself, he started his own ecotourism company so he can share the wonders of polynesian marine wildlife and his passion for the ocean.
Raitini Rey
Founder of Matasphère
Raitini Rey was born in 1982 on Raʻiātea island. He soon developed a passion for everything connected with aeronautics thanks to his father, an air traffic controller. After he completed his pilot training for commercial jets in France, he came back to Tahiti in 2006 and worked as a private pilot for the Presidency of the Government of French Polynesia. In 2009, he joined Air Tahiti airline as a commercial jet pilot officer. In 2011 he launched with his like-minded friends a business specialised in aerial photos and videos using remote-controlled drones. Since 2013 he has been the business manager and has refocused operations on technical and industrial drone applications.