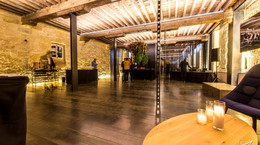 Dans l'esprit TEDx, ce nouveau rendez-vous réunit une cinquantaine de personnes dans un lieu intime et convivial pour discuter, questionner et débattre d'une thématique prédéfinie.
Alors à vos agendas ! Le premier TEDxBordeauxSalon se déroulera le 28 mai prochain et engagera la conversation autour du thème de la ville, de ses récits et de ses interprétations. Nous aurons le plaisir de recevoir Julianne Huon, designer et chargée de projet au sein de l'agence Deux Degrés, et Yvan Detraz, architecte et membre du collectif Bruit du frigo.
Réservez vite, les places sont limitées !
Speakers
Speakers may not be confirmed. Check event website for more information.
Maxime Ghesquière
Bordelais depuis 18 ans, Maxime se balade à vélo dans cette belle ville ! Depuis 10 ans, il s'implique dans l'accès à l'eau pour tous, tant localement qu'à l'international ! Il a de plus participé à la création d'un composteur collectif et s'investit dans l'amap de son quartier. Fervent défenseur des libertés informatiques, il s'implique dans une association qui créer des bouts internet. Co-fondateur d'un cursus d'éducation populaire sur la création monétaire, quand il ne rame pas sur la Garonne pour faire de l'aviron, il danse !
Mylène L'orgilloux
As a pattern maker specialized in CAD systems (Computer Aided Design) Mylène L'Orguilloux initiated the R&D project MILAN AV-JC, to explore Zero Waste Design philosophy. Tired of being asked to follow environmentally absurd industrial design rules, she now explores new design techniques to create zero waste clothing patterns. Being able to see the "zero waste" constraint as a source of creativity is, according to her, a sustainable and innovative answer to the environmental disaster caused by the "world's second most polluting industry"...the fashion industry. Garment creation, is not only about fashion designers' skills, it's also about pattern makers', pattern graders', pattern cutters'.. even though we often forget them. This R&D project brings them all together at the same level, in order to recreate a multidisciplinary discussion and make conscious design decisions. After a 10 year long journey in textile, this project has a unique objective: Initiating a meaningful change in conventional fashion design & static pattern making practices. MILAN AV-JC also supports initiatives which fight against ethical & ecological fashion drifts By the way...our power as consumers is nothing other than a political power. Never underestimate it !
Nicolas Sénéchau
Nicolas SENECHAU, est expert en économie circulaire et en management public. Haut fonctionnaire et administrateur territorial, il est actuellement Directeur Général du SMICVAL, une collectivité de Gironde qui assure la gestion des déchets de 140 communes et de plus de 200 000 habitants. Doté d'un budget de 40M€, le SMICVAL emploie près de 250 agents et assure la collecte, la valorisation et traitement de l'équivalent du poids de la tour Eiffel tous les mois! A l'initiative de plusieurs innovations publiques dont le SMICVAL'Market, le programme de développement économique NOUVEL'R , le HOT SPOT Economie Circulaire ou la Fabrique ZW. Nicolas SENECHAU déploie toute son énergie à trouver des solutions innovantes, durables et coopératives pour transformer l'action publique et replacer les citoyens au cœur des politiques publiques.
Yohana Cabaret
Née en Argentine et titulaire d'un diplôme de géologue, Yohana est venue en France pour faire sa thèse sur la géochimie d'un lac climatiquement sensible à Córdoba, sa ville natale. Amoureuse de Bordeaux mais pas que, elle a décidé de rester en Nouvelle-Aquitaine et travaille depuis pour le projet AcclimaTerra sur les impacts du changement climatique dans la région.