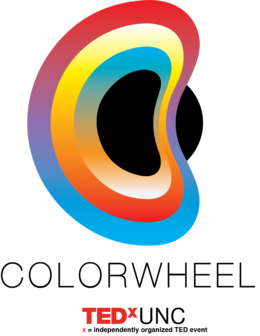 TEDxUNC: Colorwheel will challenge audience members to rethink their notion of a black and white world and embrace a more nuanced and colorful understanding of humanity, taking into account the amazing diversity found across disciplines and cultures.
The conference will begin in the binary, wherein the world is seen as black or white. Speakers will discuss the problem with using this binary lens and provide a call to action to lift our collective consciousness. The conference will then introduce the invention of color (literally and metaphorically) as an alternative to the binary. Speakers will discuss how the invention or insertion of a color into their lives has changed their perception of the world. The conference will end with the exploration of the colorwheel. Speakers will cover multiple disciplines, in which the world is viewed with nuance and a diversity of expressions are accepted and celebrated.
Speakers
Speakers may not be confirmed. Check event website for more information.
Chérie Rivers Ndaliko
Chérie Rivers Ndaliko is a UNC Chapel Hill professor in the Department of Music. She is also Executive Director of the Yole!In- stitute, an educational & cultural program located in Goma, Demo- cratic Republic of the Congo. Her research focuses on art & social justice in African war zones.
Emily Rose Laochua
Emily Rose Laochua is the writer & creator of The Convergence, a graphic novel & motion book app that speaks of human energy & Earth's living soul.
Flynn Coleman
Flynn Coleman is an international human rights attorney, educator, author, & social entrepreneur.
Imagine Circus
Imagine Circus is a booking & production company providing performances & shows that feature cirque-style entertainment, aerial dancers, acrobatics, fire performers, stilt walkers, jugglers & dancers in theatrical costuming & makeup. Fully insured & equipped to offer customized stage shows from 3 to 90 minutes as well as interactive, ambient, & roving entertainment & instruc- tion, Imagine Circus is based in Raleigh, North Carolina, & actively works with companies & event planners all over the east coast.
Mary Ward
Mary Ward is a co-founder of Counter Culture Labs, which conducts research in biotechnology.
Mas Subramanian
Mas Subramanian is a professor of Materials Science at Oregon State University.
Megha Kadakia
Megha Kadakia brings a unique blend of business experience & artistic vision to the world of independent filmmaking through her production company – Blue Velocity Pictures. Kadakia has also produced MISS INDIA AMERICA, currently on Netflix & RASPBER- RY MAGIC. Kadakia's latest film THE TIGER HUNTER was released nationwide fall of 2017. Kadakia has recently co-founded the global media entertainment brand for young girls, SUPER AMAZ- ING PRINCESS HEROES & works with filmmakers & activists to create social impact media at Creative Visions.
Melissa McCracken
Melissa McCracken has synesthesia, which allows her to see colors in the sounds that she hears. As an artist, she paints using vibrant colors to depict the movement of music.
Samantha Farley
Samantha Farley is a student of Health Policy Management at UNC Chapel Hill.
Shizu Saldamando
Shizu Saldamando is a visual artist whose work centers on sub- cultures & perseverance.
Toshi Reagon
Toshi Reagon is a talented & versatile singer, composer, librettist, musician, music director, curator & producer with a profound ear for sonic Americana—from folk to funk, from blues to rock. While her expansive career has landed her at Carnegie Hall, the Paris Opera House, & Madison Square Garden, you can just as easily find Toshi turning out at a music festival or local club. In addition to collaborating with many esteemed artists, Reagon founded WORD*ROCK*&SWORD, a community festival that takes place throughout NYC every September. Together with her mother Bernice Johnson Reagon, she has created two operas with director Robert Wilson. Toshi co-composed music for two Peabody Award-winning films & received a NYFA Award for Music Composition, the 2010 OutMusic Heritage Award, & The Black Lily Music & Film Festival Award for Outstanding Performance. She is a National Women's History Month honoree & was named a 2015 Art of Change Fellow by the Ford Foundation. Most recently, Toshi developed an Opera based on Octavia Butler's novel "Parable of the Sower," which debuted fall 2017.