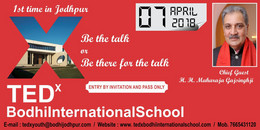 There are five topics as follows:
1. Youth perspectives and Revolutionary Changes in Education
2. Destruction of Desert Habitat
3. Honesty Versus Practical Wisdom
4. Fitness Encashed
5. Cyber Citizenship
Speakers
Speakers may not be confirmed. Check event website for more information.
Cherish Mundhra
Student
Cherish is a flamboyant girl who loves to read and write. She is a student of Cambridge AS and A Levels and aspires to become an author.
Col. Inderjeet Singh
Ex- Director Military intelligence MI-13, Ministry of defence.
Col. Inderjeet singh is an Ex- Director of Military intelligence MI-13, Ministry of defence. He is a certified Data Center Professional and Certified Data Center Specialist . He is a Post Graduate Diploma holder in Cyber Law from Indian Law Institute.
Dr Kuldeep Kothari
Entrepreneur
Dr Kothari is an entrepreneurwho skilled at creative advertising. He has been associated with Rupayan Sansthan as Secretary cum assistant joint Director in Fort Foundation Projects. He is actively involved in conserving the desert culture and folk music of Rajasthan.
Dr Shankar Goenka
Educationist, Author and Business Coach
Shankar is an author, business coach, country head of WOW factors India Private Limited. He conducts trainings on relationship, parenting, Team, happy life and whole brain thinking.
Dr Sonal Parihar
Doctor
Dr. Sonal Parihar is the director of a multi-speciality, advanced endoscopy and joint replacement center. She is a trained endoscopic surgeon and colposcopist for cervical cancer screening and prevention. She has worked at various NHS hospitals , UK-to gather vast clinical experiences.
Dr Vikas Baliya
Lawyer
A lawyer and qualified chartered accountant with a passion for sustainable living ideas and a wide exposure to several areas of law and finance. He founded the Desert Leaf Foundation. He believes a good story heals all wounds, a good story brings new life.
Dr. Vikas Balia
A lawyer and qualified chartered accountant with a passion for sustainable living ideas and a wide exposure to several areas of law and finance. He founded the Desert Leaf Foundation. He believes a good story heals all wounds, a good story brings new life.
His Highness Maharaja Gaj Singh ji
Diplomat, Entrepreneur, philanthropist
HH Gaj Singhji (born 13 January 1948) is a former member of the Indian parliament and a former High Commissioner of India. He was the Maharaja of Jodhpur from 1952 until the royal powers, privileges and privy purses were abolished by an amendment to the Constitution of India in 1971. He is a social business entrepreneur and a well revered philanthropist.
Master Lakshya Bothra
Student
Lakshya is an ambitious boy. He possesses good communication skills. He has a keen interest in research; aspires to be an entrepreneur.
Master Rajat Bothra
Student
Rajat is a keen learner and ready to explore and learn. He wrote his 12th grade board examinations this year. He is moving out for his Higher studies in a few months and is driven by the values of an entrepreneur and so is his kin.
Master Yashwardhan Bhati
Student
Avid towards public speaking. Yash is a grade 11 student , who loves to research about different global perspectives and crisis around the world.
Miss Ira Ali
Student
An enthusiastic debater and MUN-er , Ira is a 10th grade student who is eager to learn and research. An avid reader who loves to explore new dimensions of knowledge.
Mr Harshit Adhikari
Musician
Harshit has been actively working as a Karate Mentor for over 7 years now. Besides his love for fitness and sports,he is a musician at heart who has worked as sound designer for various projects initiated by the UNICEF and various NGOs.
A passionate Mathematician, Poet and School Administrator
Mr Sharma is a passionate Maths teacher who loves to write poems.
Mr Praveen Wadalkar
CEO, Business Story Teller
Praveen is the co-founder and CEO of Techizer Tech Solution Pvt. Ltd. a highly specialised healthcare digital consulting firm. As a business story teller, he loves to convert real life experiences and observations to stories. He loves to explore life as a solo traveller and mountaineer.
Mrs Rashi Rohatgi
Teacher
Rashi is a studious and passionate teacher who intends to make a change in the lives of the students who she teaches. A well read person who continuously researches how to make the classrooms very interactive, She brings novelty in mundane topics even.
Mrs. Sreela Sujikumar
Academic Coordinator- Pre Primary and Primary, Bodhi International School, Jodhpur
An ardent disclaimer, she is a high spirited teacher with an enthusiastic mind to learn new skills. A tech savvy by nature, she runs a blog of hers in the name of mendurmind#sreela.
Ms Ankita Parakh
Dancer
Ankita believes that it is the Art that makes life, makes interest , makes importance. Trained in Kathak she has performed with India's leading dance companies like Abhinava and Sheth. Ankita is also The Creative Director at Aangik Studio of Arts.She is a firm believer of the fact that Art helps people become like themselves instead of more like everyone else.
Ms Harshita Baid
Student
Blessed with the skills of oratory, Harshita is a treat to hear. She is a doodling artist and aspires to be a successful and contended human being.
Ms Meghal Jain
Student
Meghal is a studious girl who has a flair for language. She possesses leadership qualities and wants to become a successful entrepreneur.
Ms Mimansha Charan
Student
Graduated with an overall A+ grade , Mimansha has cleared spoken English-7 exam from Trinity College , London with distinction. Awarded with the excellence in language and communication skills prize, Mimansha also has a diploma degree in Public Speaking and Oration from National Institute for Skill Development.
Ms Padmaja Rathore
Wild Life enthusiast, entrepreneur
Padmaja loves challenges and believes facing ones fears is the reason to live. A hotelier by profession, she is working towards the sensitive wildlife. She is a South Asia art patroness and a National Shot gun shooter;she hopes to represent India in Olympics someday.
Ms Radhika Sisodia
Teacher
Change is the only constant thing and this is what i believe in. My change came in the interval of my movie called life when i was hit with reality to choose between life or the shadow corners of my undenying attitude to change myself. I am Radhika Sisodia - Lawyer cum teacher sharing my story of how i chose life over my XXXL size.