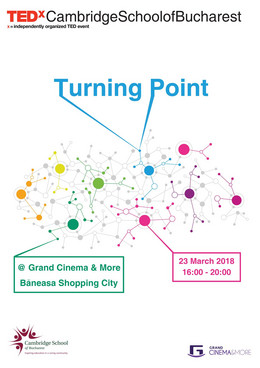 All of 2017 has been filled with talk about turning points, events without precedent or news regarding changes which affect communities. All of 2017 has been for us here at Cambridge School of Bucharest a year of changes and a year of insights and evolution. Personal changes, personal losses, personal revolutions. All of it has been important for each of us and for all of us in ways we may not understand yet. And this TEDxCambridgeSchoolofBucharest is here to celebrate this new perspective on life: there are moments, encounters, decisions and choices that take less than a minute to fix and completely change your entire life, past and future.
Speakers
Speakers may not be confirmed. Check event website for more information.
Elena Ioana (Jo) Lazar
Writer
Jo Lazar is an alumna of Cambridge School of Bucharest, a graduate of University of East London (Creative Writing), and a writer. Ms. Lazar reads books and people, loves dogs and unusual shapes and metaphors, and will be sharing with us a speech about accepting self-worth in a multicultural time-frame. TEDx #TEDx #Baneasa #CSB
Gabriela Watts
EMBA, Writer
Gabriela Watts is an author, a mother, and writer. She has studied Business Management and Drama/Acting and has an EMBA. Her book, "Furia Adolescentei"/ "Teenage Rage" was published in 2015 by RAO Publishing and speaks about the perks and the troubles of growing up and understanding who you are. @TEDx #TEDx #Baneasa #CSB
Shibu Nambiar
COO Genpact for Europe, Africa and Latin America
Mr. Shibu Nambiar is the Chief Operating Officer for Genpact Europe, Latin America & Africa. Mr. Nambiar has deep expertise in the business services industry and in people management. He coordinates ground-breaking projects with high organisational impact. He is a curious spirit and explores new ideas and human possibilities everywhere he goes. TEDx @Shibu Nambiar #TEDx #Baneasa #CSB
Sotiris Chatzidakis
Executive VicePresident of CEO Clubs
Sotiris Chatzidakis is the Executive Vice President and founder of CEO Clubs, Next Gen and SARGIA Partners in Romania. One of his biggest passions is connecting people with ideas or other people. He still writes on paper and he just it loves when others tell him, "You can't do that." @TEDx @Sotiris Chatzidakis #TEDx #Baneasa #CSB
Sughra Solangi Ghulam
CEO of Marvi Rural Development Organisation Pakistan, International Women of Courage Medal in 2011
Ghulam Sughra Solangi has risen against all odds to become a leader and voice for oppressed women in her native Pakistan. She is a renowned trailblazer for women's rights and leadership, and she has spent most of her life struggling for the rights of marginalised communities in rural Sindh. She is the Founder and Chief Executive Officer of Marvi Rural Development Organization and one of the luckiest Pakistani women to become a Ashoka Fellow in 1999, and then in 2011 she received an International Women of Courage Award from then US Secretary of State Hillary Clinton and former-First Lady Michelle Obama.
Tedy Necula
Movie Director, Activist, Motivational Speaker
Mr. Tedy Necula is a director and image-maker. He has created numerous adverts and short movies for national campaigns for children's rights, women's rights, and has been helping NGOs in building and shaping public opinion in Romania and Europe. Mr. Necula likes paradoxes and experiments. He believes in being brave to the point of no return, continuing the journey, and meeting yourself over and over in different ways. TEDx Tedy Necula #TEDx #Baneasa #CSB
Viorica Pintilie
Musician, Jazz Singer
Viorica Pintilie is musician and jazz singer. Ms Pintilie is one of the most exciting, profound, and refreshing performers of live, on-stage music in Bucharest. Her repertoire spans from jazz to Christmas songs, pop and bossa nova. She believes in a higher purpose and meaningful moments, and she tries everyday to become a better human and artist. TEDx Viorica Pintilie #TEDx #Baneasa #CSB