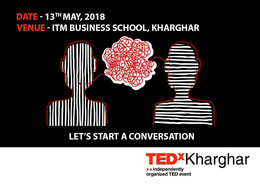 TEDxKharghar is a community of like-minded people from all walks of life, engaging in sharing and spreading revolutionary ideas to bring about the change in our life, neighbourhoods and the world.
The main aim of this event is to serve the local community and focus more on local ideas which are worth spreading.
Date- 13th May 2018
Venue- ITM Business School, Kharghar
Speakers
Speakers may not be confirmed. Check event website for more information.
Aditi Verma
Entrepreneur with a difference
Aditi Verma is a 23-year-old girl with Down syndrome, whose course of life was different from those of her age, She had to undergo a major surgery at the age of two and half years to mend a hole in her heart. She now runs a successful cafe named Aditi's Corner in CBD Belapur, Navi Mumbai. She manages her business by taking orders, managing accounts and wiping tables all by herself. During her talk at TEDxKharghar, she will share with us about her journey to a happy life and her idea of a better world for specially-abled children.
Chaitanya Lila Das
Ex-IT Engineer, Monk, Thinker
Chaitanya Lila Das is an IT Engineer with a Post Graduate diploma degree from IIT Kharagpur and Bachelors Degree from the University of Delhi. After 3 years of corporate work experience with an IT MNC, he decided to serve a larger audience as a resident monk at ISKCON Chowpatty, Mumbai. For the last 10 years, he has been actively involved in sharing life enrichment lessons with others, conducting a variety of inspirational seminars at prestigious educational & corporate groups. His messages, a blend of ancient wisdom and personal realizations, inspire & guide modern-day individuals, helping them upgrade the quality of their lives.
Dr. Amrit Karmarkar
Doctor, Director- InClinition, Mumbai
Dr. Amrit has done Ph. D. in Clinical Research from Texila American University, South America. He is also Dale Carnegie Certified Trainer from Dale Carnegie Institute, USA. He has been awardedas "Best Emerging Entrepreneur Award" at World Health Congress, Hyderabad in year 2017. He has worked in Rubicon Research Pvt. Ltd., Arnita SEZ, and Pharma Utility. He is also a trainer in pharmaceuticals and is also a life coach. He is advisor for Mendley Software, London, Operant Pharmacy Federation (OPF), India and is life member of Indian Pharmaceutical Association and Karad Pharmacy Students Federation. He is a member of board of studies for North Maharashtra University, Jalgaon, Maharashtra. He is also Director board member of Kalpana Chawla Science Centre, Karad. He is expert in medical writing and editing, translations, regulatory affairs, and clinical research domains. Currently, he is looking after Medical Writing and Business Development activities at InClinition.
Dr. Armaan Pandey
Psychiatrist, Author
Dr. Armaan Pandey is a Psychiatrist based in Mumbai, India. He completed his graduation in medicine and specialization in psychiatry, from the prestigious L.T. M. Medical College, known popularly as Sion Hospital. Apart from getting an extensive training in adult and child psychiatry, he has also done certified training courses in Learning disability, Cognitive Behavior Therapy (CBT), Rational Emotive Behavior Therapy (REBT) and Transactional Analysis. He has been in Private Practice for 7 years now. Dr. Armaan is the co-founder of Sexuality Matters, a comprehensive sexuality-education platform. He has co-authored a book titled 'Sexuality Begins At Home'
Manish Upadhyay
Stutter, Entrepreneur
An Engineer by Qualification and Stutter by Nature. Manish Upadhyay is a Stutter who learned his life learning through his stuttering. He transformed his biggest Weakness into the biggest Strength. Manish has helped and spoke to 50000+ people in last 7 Years on Life Skills, Personal Development, Sales, and Managerial Development. Presently running his own Corporate Consulting Firm and associated with some of the Non-Profit Organisations like 'The Indian Stammering Association' and 'Lila Poonawala Foundation' to bring change in Society. His mission is to Inspire people to take Action.
Mr. Dinesh Pillai
Cyber Security Expert, Founder and the MD of Acquisory Risk Consulting Pvt Ltd
Mr. Dinesh Pillai is the Founder and the MD of Acquisory Risk Consulting Pvt Ltd and the former CEO of Mahindra Special Services Group. A postgraduate in Electronic Engineering, Mr. Pillai comes with rich industry experience spanning 28 years. He also pursued the executive program at ISB and in Business Leadership at Harvard Business School Institute in 2010. Being an active member of the CII, BCCI, FICCI and ASSOCHAM and a member of the working group of Government of India for PPP in Cyber Security under Deputy NSA, he is recognized as a global thought leader and has spoken on topics like Cyber Security, Business Risks, Innovation and several topics both in national and international forums and is published exclusively in The Economic Times, Times of India, Hindu Business line, Mint, and other key publications.
Nimesh Shetty
Architect, Director & co-founder of 'Third Eye Cafe'
Nimesh Shetty is an Architect by profession and has completed his B.Arch from Rizvi College of Architecture, Mumbai. He completed his thesis in 2014, which proposed a community center for transgenders. His first step into the professional sphere started with him working as an architect under Architect Hafeez Contractor and also was deeply involved with Gauri Sawant's Ngo, which is committed toward the betterment and amelioration of the transgender community. He is also a part of a trust called 'Aji Cha Ghar' and is also associated with them as an architect, helping them grow bigger by the day. Nimesh is the Director & co-founder of 'Third Eye Cafe' which is known for hiring the third gender as the personnel. Third eye cafe has now become a platform for the transgenders to get trained and serve in a friendly and supportive environment, helping them create a life full of opportunities and smiles.
RJ Archana Pania
Radio Jockey, Anchor, Voice Over Artist, Actor
Born and raised in Kuwait, returned during the Gulf war - is her story; the story of Archana Pania encapsulated to a degree in the Akshay Kumar's hit movie 'Airlift'. She has always had a keen interest in philanthropy, environment & spirituality. All this before she embarked on her journey to becoming one of the top voices on radio in india. She has been hosting the most loved breakfast show for 12 years now, KASA KAI MUMBAI & is also seen supporting great movements like Save Aarey to making toilets in Mulund, Ramghar. Archana hosted the opening series of "PRO KABADDI LEAGUE". She is awarded the most stylish RJ Award.
Sunil Agarwal Shruti Agarwal
Social Activist
Sunil Agarwal is a Chartered Accountant and Shruti Agarwal is a TV Serials producer. The Agarwals do not have any formal degree, training, or experience in conservation — all they have is a combination of sensitivity and determination to preserve the environment. Refraining from the usual practice of blaming authorities for destruction of mangroves and wetlands in their area on Palm Beach Road, Nerul. When they came to know of authorities plan to handover 80 hectares of these mangroves and wetlands to a builder, this Navi Mumbai couple felt obligated to make a change, they started creating awareness by organizing drives and raising the issue on different forums. Slowly their numbers multiplied which culminated in them filing a petition in Bombay High Court in March 2018.