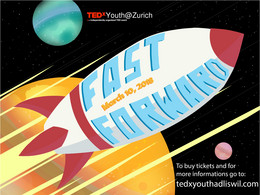 Learn about the future of mindfulness, artificial intelligence, and the human language at TEDXYouth@Zurich on Saturday, March 10th. The event will take place at Zurich International School in Adliswil from 13.00- 16.30.
Speakers
Speakers may not be confirmed. Check event website for more information.
Anotonia McGrath
Antonia McGrath is a student in the Netherlands, studying International Studies with a specialization in Latin America. She's also the co-founder and chair of a small non-profit called educate. that works to empower children and youth in Honduras through education and preventative healthcare.
Cameron Weibel
Cameron Weibel is a ZIS alumnus who graduated with a bachelor degree in Computer Science and Engineering cum laude from the Eindhoven University of Technology and is now studying Robotics, Systems and Control at ETH. He has worked in the Internet of Things space for a Swiss startup and is currently working at ETH's Multi-Scale Robotics Lab using machine learning on magnetic manipulation systems. Alongside studying, he is bringing robotics education to schools in Switzerland through high-tech workshops and curriculum design.
Ivan Vercoutere
Ivan Vercoutere is a Managing Partner at LGT Capital Partners Ltd and co-founder of its private equity activities in 1998. Bringing over 25 years of private equity investment experience, Mr. Vercoutere is responsible for leading and coordinating the global private equity investment activities of the firm and chairs it global investment committee. Prior to LGT, Mr. Vercoutere worked at Pacific Corporate Group in La Jolla, California since 1992 where he was responsible for U.S. and European private equity investments on behalf of institutional investors including CalPERS, State of Oregon, World Bank pension fund among others. Mr. Vercoutere serves on the advisory boards of a number of private equity funds globally and is fluent in English, French, and Spanish.
Mahima Klinge
Renowned Self Mastery Mentor, Mindset Trainer, International Bestselling Author and Award Winning Speaker, Mahima was born and brought up in Zimbabwe. At the young age of 22 she had already worked as a top model, manager of a modeling agency and as a fashion buyer for a prestigious fashion house. She left Africa after her divorce and her life took an unexpected detour to India, where she found herself profoundly moved by a deep personal breakthrough. It was there that after just one session of meditation mindfulness-guided practice that she was able to stop feeling confused and emotionally drained. After that experience, Mahima become passionate about self realization and self mastery and went on for the next 5 years to study intensively under the powerful guidance of Harilal Poonja a happiness coach and personal growth guru. Today Mahima has done over 10,000 hours of meditation practice and has helped transform the lives of thousands of people, with her unique creations, "the inner peace formula" and "Own your Superstar Mentorship Program". Mahima will be talking about how important it is going to be to upgrade what we learn in schools. As we fast-forward with such speed, human beings will need to find a way to move with more awareness about what makes us human, and what we need to stay powerful and grounded.
Mark Cieliebak
Mark Cieleback was born in Hagen, Germany; he studied computer science in Dortmund and then moved to Switzerland to complete his PhD at ETH. He has been a professor at the Zurich University of Applied Sciences (ZHAW) for the last 5 years.
Martin Benjamin
Martin Benjamin was raised in the rural American state of Vermont. As a teenager, he visited India, witnessing deprivation on a scale he never imagined. This experience led him to Tanzania as an economic anthropologist, examining the relationships between development agencies and aid recipients deemed 'the poorest of the poor'. Learning Swahili was paramount for him to be able to interact with his village neighbors, but few resources were available. Unable to create better tools alone, the Kamusi Project was born as an early cooperative effort to learn from a language's speakers and share that knowledge online. Kamusi is a non-profit NGO that now aims to compile data on myriad languages around the world, and deploy and apply this knowledge in creative technology.
Shawn Jensen
Shawn Jensen is the founder & CEO of Profila, a startup that aims to introduce solutions that enable individuals to harness and control their data and privacy online. He is the Switzerland co-chair for the International Association of Privacy Professionals, an organization that drives privacy awareness in enterprise. Shawn's mission is to ethically and securely enable personal data management: an important point of contention in today's increasingly digitized world.